Casio EXILIM Card EX-S770
Casio, Inc. has announced the release of the EXILIM Card EX-S770. TheEX-S770 shoots 7.2-megapixel still images and records high-quality movies in MPEG-4 format. In addition, it features Casio's Super Bright 2.8-inch wide-screen LCD but still retains the ultra-slim card size of its predecessors. Its wide-screen display employs a 230,000-pixel LCD that boasts a maximum brightness of around 1100cd/m2--more than bright enough to see outdoors on a sunny day. Casio has also added new functions to make the most of the EX-S770's new wide screen. The EXILIM Card EX-S770 is available in three colors: silver, blazing red, and graphite blue.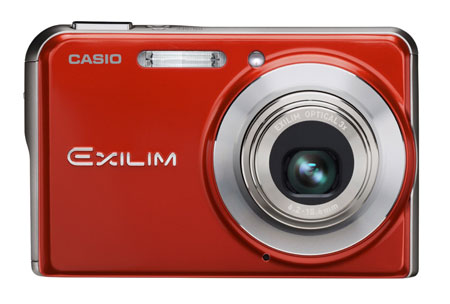 In addition to high-quality, VGA-size movies in MPEG-4 format, the EX-S770 can record 16:9 aspect ratio movies compatible with wide-screen TVs. The camera records impressive movies with a simple press of the movie button. There is no need to change modes. It also features an electronic anti-shake function that delivers beautiful movies by minimizing blur from shaky hands.
The included Data Transport software enables computer data -- including business documents, e-mail, and Web pages -- to be automatically converted to JPEG format and transferred to the camera. For instance, tourist attractions and maps that users have looked up on the internet can be viewed on the camera's LCD, eliminating the need to carry around a guidebook. The camera also includes PHOTO TRANSPORT for transferring stored photos in a PC to the camera.

Exclusive to the Casio EXILIM line of digital cameras in the U.S., is the eBay Best Shot mode. The eBay Best Shot mode is the 22nd of 34 Best Shot Modes in the EX-S770. eBay Best Shot takes photos at a size that is image optimized for display on eBay, allowing picture takers to more quickly and easily create photos for selling items on eBay. eBay Best Shot mode also includes Auto Macro, an ideal setting for capturing images of small items such as jewelry, tags, etc., thus automatically adjusting the focus from acquiring fine details in close up shots to capturing large items from a distance. eBay Best Shot mode allows users to capture optimized images at an ideal size for eBay.
The EX-S770 has a suggested retail price of $379.99 and will be available at retail in September.

EXILIM CARD EX-S770 SPECIFICATIONS
Effective Pixels: 7.20 million
Imaging Element: 1/2.5-inch square pixel color CCD (total pixels: 7.41 million)
Image File Format: Still images: JPEG (Exif Version 2.2), DCF standard, DPOF compliant
Movies: MPEG-4, AVI format
Audio: WAV (monaural)
Recording Media: Built-in flash memory (image area: 6.0MB), SDHC Memory Card / SD Memory Card / MultiMediaCard compatible
Image Size (Pixels): Still images: 3072 x 2304, 3072 x 2048 (3:2), 3072 x1728 (16:9), 2560 x 1920, 2048 x 1536, 1600 x 1200, 640 x 480
Movies: 640 x 480 (HQ), 704 x 384 (HQ Wide), 640 x 480 (Normal), 704 x 384 (Normal Wide), 320 x 240 (LP)
Data Size: Still images Image Size (Pixels) Image Quality Recording Time File Size Built-in Flash Memory (6.0MB) SD Memory Card 256MB*1

3072 x 2304 Fine/Normal/
Economy Approx. 4.32MB/2.1MB/1.44MB Approx. 1 shot/2 shots/3 shots Approx. 55 shots/110 shots/158 shots
640×480 Fine/Normal/
Economy Approx. 360KB/240KB/120KB Approx. 15 shots/22 shots/40 shots Approx. 625 shots/937 shots/1739 shots
Movies 640×480 (HQ)
704×384 (HQ Wide) Maximum Recording Time per File
Until memory full*2 Approx. 4.0 Megabits per Second
(30 frames/second) Approx. 8 seconds Approx. 8 minutes and 17 seconds
640×480 (Normal)
704×384 (Normal Wide) Approx. 2.1 Megabits per Second
(30 frames/second) Approx. 15 seconds Approx. 15 minutes and 44 seconds
320 x 240 (LP) Approx. 745 Kilobits per Second
(15 frames/second) Approx. 42 seconds Approx. 43 minutes and 54 seconds

*1. When using Panasonic (Matsushita) 256 MB card. *2. Within limits of memory and battery life.
Operating Speed: Power on to first shot: approximately 1.0 second*3
Shutter release time lag: approximately 0.01 second*3
Image playback: 0.1 second
Shot to shot time: approximately 1.6 seconds*3*4
Continuous shutter: approximately 1.1-second intervals*4
High-speed continuous shutter and Rapid Flash: approximately 3 frames per second
*3. With built-in flash off
*4. With image size set at 3072x2304 and using normal image quality
Lens/Focal Distance: F2.7 to 5.2, f=6.2 to 18.6mm (equivalent to approximately 38 to 114mm on a 35mm film camera), 6 lenses in 5 groups, including aspherical lens
Zoom: 3X optical zoom, 4X digital zoom (Image size: 3072 x 2304 pixels, 12X in combination with optical zoom)
Focusing: Contrast Detection Auto Focus,
Focus Modes: Auto Focus, Macro Mode, Pan Focus, Infinity Mode, Manual Focus
AF Area: Spot or Multi; with AF assist lamp
Approximate Focus: Auto Focus: 15.75" to 8, Macro: 5.91" *5 to 19.69",
Range Infinity Mode: 8, Manual Focus: 5.91*5 to 8
*5 Range is affected by optical zoom.
Exposure Control: Metering: Multi-pattern, center weighted, spot by imaging element
Exposure: Program AE
Exposure Compensation: -2EV to +2EV (in 1/3EV steps)
Shutter: CCD shutter, mechanical shutter
Still images (Auto): 1/2 to 1/2000 second*6, Still images (night scene): 4 to 1/2000 second*6
*6 Shutter speed range may be different depending on the BEST
SHOT scene.
Aperture: F2.7/F4.3,*7 auto switching
*7 Using optical zoom causes the aperture to change
White Balance: Auto, fixed (6 modes), manual
Sensitivity: Still images: Auto*8, ISO50, ISO100, ISO200, ISO400, Movies: Auto
*8 When using Anti Shake or High Sensitivity function, maximum is ISO 800.
Recording Functions: Still images; still images with audio (maximum around 30 seconds); macro; self-timer; continuous shutter (normal speed, high speed, rapid flash), BEST SHOT, movies with audio (Normal movie, Short Movie, Past Movie), voice recording
Self-timer: 10 seconds, 2 seconds, Triple Self-timer
Built-in Flash: Flash Modes: Auto, On, Off, Soft Flash, Red Eye Reduction
Flash Range: approx. .49' to 12.8' (W), approx. 1.31' to 6.56' (T)
Flash Continuous Shutter: approx. .85' to 5.51' (W), approx. 1.31' to 2.85' (T)
Monitor Screen: 2.8-inch TFT color LCD (14:9), 230,400 pixels (960 x 240)
Timekeeping Functions: Date and time: Recorded with image data; Auto Calendar: To 2049
On-image time stamp function
World Time 162 cities in 32 time zones, City name, date, time, summer time
Input/Output Terminals: USB cradle connector, USB2.0 (Hi-Speed) compatible
Power Requirements: Rechargeable lithium ion battery (NP-20) ×1
Battery life: Approx. 200 still images*9 (CIPA Standards)
Continuous playback: approx. 4 hr. 50 min. (still images)
Continuous recording: approx. 1 hr. 30 min. (movie)
Continuous recording: approx 6 hr. 40 min. (voice recording)
*9. Auto Mode, standard brightness monitor setting
Dimensions: 3.72" (W) x 2.38" (H) x .68" (D) (excluding projections, .54" at thinnest part)
Weight: Approximately 4.48 oz (excluding battery and accessories)
Bundled Accessories: Rechargeable lithium ion battery, USB cradle, USB cable, AV cable, Special AC adaptor, AC power cord, strap, CD-ROM
Main Bundled Software: DATA TRANSPORT: Windows® XP, Windows® 2000, and Mac OSX (10.2.8 or later) compatible; Photo Transport: Windows® XP, Windows® 2000, Windows® Me, and Windows® 98 compatible.
Specifications are subject to change without notice.

LATEST VIDEO

SPONSORED VIDEO
Testing Tamron's SP 150-60mm G2 lens while capturing birds and alligators in Apalachicola, Florida.