Canon EOS 20Da Digital SLR
The new EOS 20Da digital SLR is based on the EOS 20D camera and joins it as a companion model in Canon's product line. The new EOS 20Da digital SLR helps address the specific requirements of astrophotography with features such as a live preview LCD and a modified low-pass filter optimized to help photograph the clear night sky in brilliant detail. The EOS 20Da digital SLR will be available in July at an estimated selling price of $2199.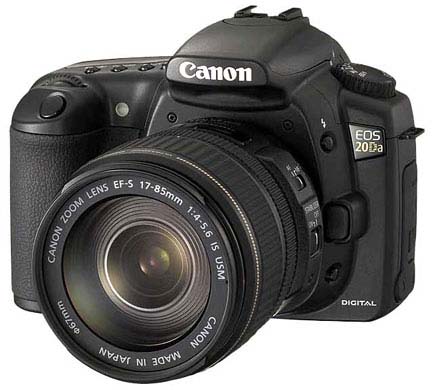 The low-pass filter positioned in front of the EOS 20Da's 8.2-megapixel CMOS sensor has been modified from the EOS 20D to yield sharper and higher contrast images of various astronomical phenomena such as diffuse reddish nebulae. The modification increases the transmission of light at the specific wavelength of 656nm, known as the Hydrogen Alpha line, or Ha wavelength, by a factor of 2.5x compared to the standard EOS 20D digital SLR. Although optimized for astrophotography, the EOS 20Da can also be used for most conventional photography by mounting an optional filter on the lens in use.
While traditional digital SLRs lack a live preview due to the blocking of the image sensor by a reflex mirror and shutter, the EOS 20Da digital SLR addresses this issue by locking up the mirror and opening the shutter to display a magnified live view of the subject on the 1.8" LCD monitor. (This feature is effective for clear night viewing conditions only.) To help ensure a sharp focus, the central portion of the image can be magnified on the LCD by 5x (4% of the picture area) or 10x (1% of the picture area). The live view mode can also be viewed through most TV monitors while connected to the EOS 20Da camera's video OUT terminal.
Photographers can also attach the EOS 20Da digital SLR to a telescope through the use of widely available optional T-mounts. The EOS 20Da is also compatible with all Canon EF and EF-S lenses. The EOS 20Da digital SLR features enhanced noise reduction for long exposures, achieved by incorporating an optimized CMOS control system. A custom function is also available for noise reduction, so users can enjoy the wide array of ISO settings ranging from 50-3200.

www.usa.canon.com.

FEATURED VIDEO