Canon Announces EF 11-24mm F/4L USM Wide-Angle Zoom Lens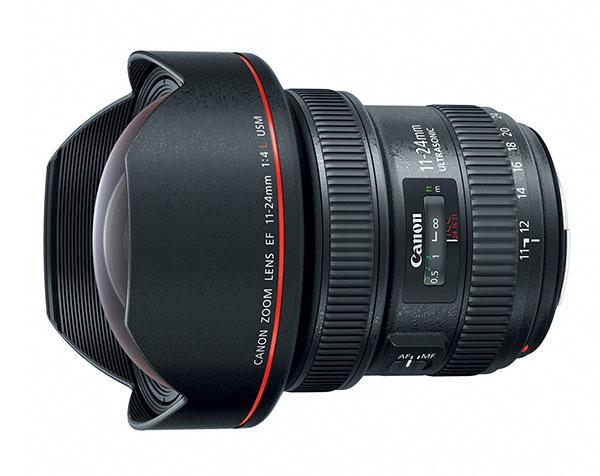 Canon just debuted the new EF 11-24mm f/4L USM ultra wide-angle zoom lens, which is designed to deliver high quality, minimally distorted images throughout the entire zoom range. Canon says the new lens features the widest angle of view (126º 05' diagonal) ever achieved for a rectilinear full-frame Digital SLR lens, along with a minimum focusing distance of 11 inches (at 24mm).
Compatible with all EOS cameras but oprtimized for full-frame cameras such as the new Canon EOS 5DS and EOS 5DS R Digital SLR cameras also announced today, this new L-series lens features newly developed optics comprised of 16 elements in 11 groups with a three group zoom system and rear focus. The new optical design utilizes four aspherical lens elements to help minimize distortion from the center of the image to the periphery, across the entire zoom range.
This new optical array provides straight lines with minimal curve throughout the zoom range, ideal for architectural, event, and forensic photography. The lens also features one Super UD element and one UD lens element to help significantly reduce chromatic aberration and deliver sharp images with high resolution. Canon's advanced lens coating technologies are also liberally employed to help minimize ghosting and flare, while simultaneously enhancing accurate color balance and maximum light transmission efficiency.
The new Canon EF 11-24mm f/4L USM lens' 11mm starting focal length and 9-blade circular aperture are designed to deliver beautiful, high-quality, detailed images. The new lens is designed to reproduce straight lines in the subject with minimal distortion, ideal for architectural and landscape photographers looking to create images with tremendous depth and strong perspective.
Wide-angle lenses are especially prone to flare and ghosting. To help reduce these effects, the new Canon EF 11-24mm f/4L USM lens features Canon's proprietary Sub-Wavelength Structure Coating (SWC) and Air Sphere Coating (ASC). SWC is applied to the rear surface of the first and second aspheric lens elements, while ASC is used on the front of the fourth element. The SWC coatings are particularly effective for combatting flare and ghosting caused by light rays entering the lens at a large angle of incidence, while the ASC coating helps mitigate the same problems for light rays entering the center of the lens. The new lens also employs Canon's Super Spectra Coating (SSC) to enhance light transmission while at the same time optimizing color reproduction accuracy.
The Canon EF 11-24mm f/4L USM lens features a meticulously designed inner focusing system and zoom ring, as well as a built-in petal type lens hood with light-shielding grooves. Along with a high-speed CPU and optimized AF algorithms, this lens enables fast and accurate autofocusing, while its full-time manual focus feature allows manual focus adjustment even in AF mode. As with all L-series lenses, this durable new lens is highly resistant to dust and water -- ideal for outdoor photography even when conditions are harsh. In addition, a fluorine coating on the front and rear surfaces of the lens helps reduce smears and fingerprints and makes the lens easier to clean.
The Canon EF 11-24mm f/4L USM ultra wide-angle zoom lens goes on sale in late February 2015 for $2,990.

LATEST VIDEO