Canon's Third Annual Photography In The Parks Photo Contest Winners; "Inspirational Nature Images" Theme
For the past three summer seasons Canon has sponsored their Photography in the Parks Photo Contest, highlighting images made by photographers in our nation's national parks. Along with the contest, Canon, in cooperation with the American Parks Network, publisher of guides about and presenters of informative programs in national and state parks, offers special workshops in the parks throughout the summer. Led by top nature photographers, including Canon's Explorers of Light members, each free workshop features loaner equipment such as lenses and cameras and an informative walkabout with the professional nature photographer. The day's events are topped off by an evening photo show and discussion open to all visitors in the park.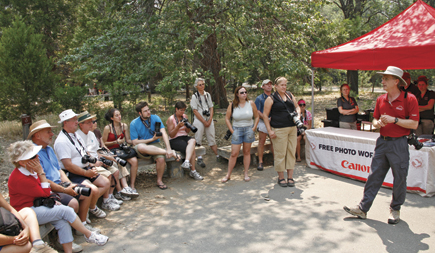 Adam Jones, Canon Explorer of Light, preps a group of photographers as they get set to head out on the trail at the Canon workshop in Yosemite National Park in July, 2008.
© 2008, George Schaub, All Rights Reserved
Robert Altman, of Canon's marketing department, said, "This type of activity is one of the ways in which we promote photography while helping raise awareness about our national parks. These programs are free, and we understand that the attendees are on vacation, so we try to keep things light and fun and make every moment count." Yuichi Ishizuka, senior VP and general manager of Canon, added, "Through our Photography in the Parks Photo Contest we want people to seek out inspirational images and enjoy the beauty of the outdoors while doing it. As an environmentally-conscious organization we encourage everyone to enjoy the beauty of nature and also work to protect it."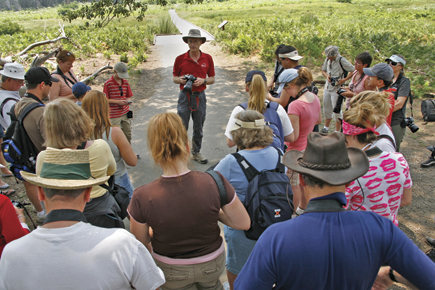 Adam Jones giving tips on the trailhead in Yosemite National Park.
© 2008, George Schaub, All Rights Reserved
The winning photos shown here were all submitted via Canon's Digital Learning Center (www.usa.canon.com/dlc), where those who uploaded photos could also forward an e-postcard of their submitted images to family and friends. At Shutterbug we're happy to support this program by publishing the contest winners. We contacted the photographers and thought it would be interesting for all to hear about their images, their work, and their motivation—in their own words.
Grand Prize: Xavier Cohen
"Winter Storm Sunset in the Gates of the Valley"
© 2008, Xavier Cohen, All Rights Reserved
"I took this picture in February, 2008, in Yosemite National Park at the viewpoint called 'Gates to the Valley.' It was 5 minutes before sunset after one of the biggest snowstorms of the past years. I used a Canon EOS Digital Rebel XTi and an EF-S 17-85mm mounted on a Markins Q3 ball head on a Manfrotto 190MF3 tripod. Exposure was f/8 at 1⁄3 sec at ISO 200.

"I am a 35-year-old French system engineer working at HP in the Bay area. I am married and I have two daughters. Since my honeymoon in 2001 in Australia, I've always been fascinated by landscapes and landscape photography. I found that my pictures did not pay justice to what I'd seen. I purchased my first camera in 2003 and started photographing the US national parks one by one (I've visited more than 30 now!). I first took my inspiration from Ansel Adams, Galen Rowell, and Art Wolfe, then tried to develop my own vision from there. Going to Yosemite is like a pilgrimage…I try to go there at least twice a year with my family to capture its pristine beauty.

"A lot of people visit Yosemite in the spring or summer, but for me Yosemite is magical after a snowfall in the winter. Monitoring the weather forecast and webcam, I picked one weekend to go with this image already in my mind. I wanted to capture the sunset at this location reflecting on the Merced River. Clouds almost ruined my hope, until 15 minutes before the sunset when the sun struck El Capitan.

"Initially I was planning to shoot it vertically, focusing on El Capitan only, but the contrast between the red, black, and white of the entire scene struck me and I changed my mind. The clouds brought the last touch that makes this picture one of my best: esthetically but also memory-wise. (I waited an hour and a half in the snow for the sun to show up!)"
1st Place: Robert Blanchard
"Reflections of a White Morph"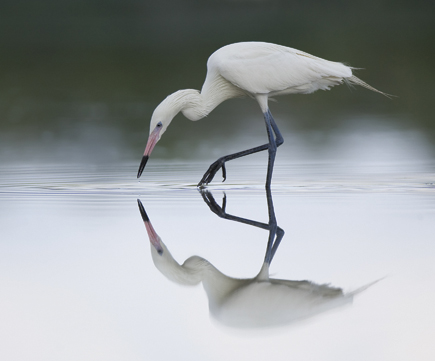 © 2008, Robert Blanchard, All Rights Reserved
"This image was captured at the J.N. 'Ding' Darling National Wildlife Refuge (NWR) on Sanibel Island, Florida. I used my Canon EOS-1Ds Mark II camera with an EF 600mm f/4L Super Telephoto on a Gitzo 5540 tripod with a Wimberley II head. Exposure at ISO 200 was f/4 at 1/640 sec. To get the shot I used my Gitzo at ground level while lying prone in the mud by the water's edge.

"I am a very serious 'Weekend Warrior' photographer. My interest in bird/wildlife/nature photography came about in early 2007 when I began photographing some Sandhill Cranes that live near my home in Southwest Florida. I photographed these birds many times, and somehow a switch just went on. I loved it!

"This particular image was captured on a special day. I had recently completed an Instructional Photo Tour taught by Arthur Morris (one of Canon's 'Explorers of Light'), and was out at Ding Darling NWR practicing some of the techniques I had learned. I had moved down near the water's edge, and positioned myself at 'bird's eye' view by lying prone in the mud with my tripod legs extended out flat so the camera was at near ground level. Everyone else was photographing from up on the road, or at the viewing tower. I still remember hearing occasional comments and snickers from tourists and other photographers who were looking at the silly photographer lying down in the mud.

"I've looked at this image more times than I can count, and it causes me to pause every time. It has a tranquility and peace about it. Nature gives us gifts every time we go out to see her, but she only gives us these extra special ones every now and then. I am happy to have shared it with so many people, and that so many people feel its serenity as I do."
2nd Place: Brian Rueb
"El Capitan Reflected"
© 2008, Brian Rueb, All Rights Reserved
"I took the photo in Yosemite National Park last winter. I'm not really sure of the exact location, but I parked and walked to a spot of the Merced River that had a nice view of El Capitan. The river was frozen in parts, so getting a good view required actually going onto the ice. The ice was really thin, and every time I took a step I could see ripples in the river. I could tell the water wasn't more than 3-ft deep so if I did fall in, while it would suck, I wasn't going to die. It would just be a cold drive home. Once I was able to get near the edge of the ice, I looked for areas that had nice views of the reflection. I found a spot where the curve in the ice matched the curve in El Capitan pretty well, so I used it to frame the shot on the bottom…then took the photos, and got off the ice! A few people stuck around to see if I would fall in.

"I used a Nikon D70S to shoot the shot with an 18-70mm Nikkor lens (an old film camera lens from my FM2). I also used a crappy tripod, which broke later that evening. Exposure at ISO 400 was f/19 at 1⁄30 sec.

"Photography for me is a passion…I can't imagine myself not doing it. I enjoy the challenges of trying to capture each location in a way that hasn't really been done before. I also love the chance to show people what a beautiful world God created…I know the religious aspect sometimes turns people off, but the more I shoot, the more I realize how very little I have to do with the images in the grand scheme of things. I just push the button. Without the landscapes He created…I'd have nothing to photograph. I think that mentality helps me get out and push myself to places others might not go. Money and awards are an added blessing, but certainly not why I do it."
3rd Place: Gerald Hill
"Uprooted and Washed Ashore"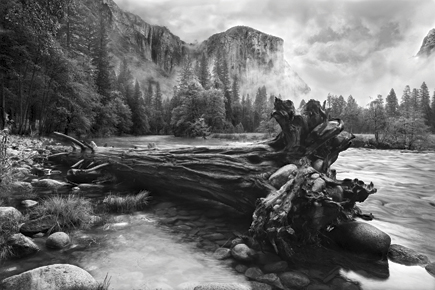 © 2008, Gerald Hill, All Rights Reserved
"I took the photo 'Uprooted and Washed Ashore' in the Yosemite Valley on the Merced River. There is something undeniably magical about the awesome scenery found in Yosemite National Park. I used a Canon EOS 5D, an EF 17-40mm f/4L lens, and a Manfrotto 3011 tripod/410 geared head. I shot it at a focal length of 22mm and the exposure was f/15 at 0.8 seconds.

"I was in the water about knee-deep with a rain suit and an umbrella over my camera. It had been sprinkling; I took the shot just before the rain started.

"When I saw this shot I thought of the tree growing, probably for well over several hundred years. Its tall trunk and strong branches gave rest for the birds of the air, and shade for the forest floor. For some reason the force of the flooding river uprooted it and sent it downstream until it came to rest as the high water receded."
Honorable Mention: Jessica Ellis
"Alaskan Brown Bear and Cub"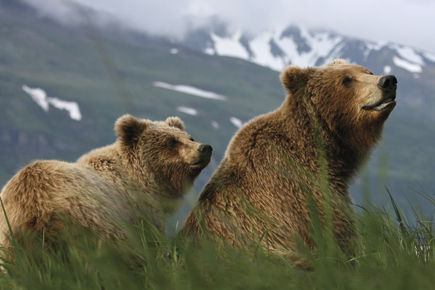 © 2008, Jessica Ellis, All Rights Reserved
"My photo was taken in Katmai National Park, Alaska. I used my Canon EOS Digital Rebel XTi and my Canon EF 100-400mm telephoto zoom lens which is equipped with an Image Stabilizer. I love this lens!

"Exposure was f/5 at 1/1000 sec. I took this photo at about 100mm. The bears were in very close range. To give you a perspective: I settled in a spot on the outskirts of a meadow in Katmai that had an incline to my immediate left. Before this shot, the female bear was grazing with her two cubs to my right (about a 45? angle). Then the mother decides to walk straight in front of me (I have images of this) and one of her cubs immediately follows. Then they both passed by me; they walked up the incline to my immediate left (one after the other) and sat down and started smelling and looking around. I felt like they were almost posing for me. This was a fantastic moment.


FEATURED VIDEO