Canon's Third Annual Photography In The Parks Photo Contest Winners; "Inspirational Nature Images" Theme Page 2
"I am a producer for CNN International, responsible for creating and producing informative, stimulating, and innovative segments. For instance, this year I created the program 'iReport For CNN,' which showcases citizen journalism. I am also delving into being a free-lance photographer and videographer—specializing in animal welfare and environmental issues. On my own time, I have been traveling around the world with my still and video cameras filming, documenting, and sharing my footage and the stories gathered in order to inspire and raise awareness.
"I believe it is a human responsibility to continue learning throughout one's life with an open mind and finding the right outlet to share the knowledge discovered; especially in the areas of viewing all living things as equal and protecting our earth and all its living things. I have learned through my travels that we, as the human race, really need to stop and think about what we are doing to this planet. We need to ask ourselves what we are evolving into and learn how to conserve and respect all living things and their natural habitats."
Honorable Mention: Daniel Ewert
"Shi Shi Beach Storm"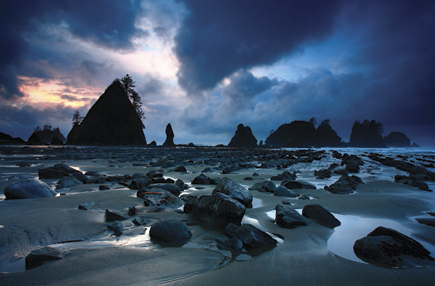 © 2008, Daniel Ewert, All Rights Reserved
"This photo was made in the Olympic National Park in Washington State. I worked with a Canon EOS 5D and a Canon EF 17-40mm f/4L lens. Exposure at ISO 100 was f/13 at 6⁄10 sec.

"I took this photo during a winter camping trip on the Pacific Coast in Olympic National Park. It was in January and it rained almost constantly the whole trip. I hiked to this spot during the rain before sunset just to be there in case the weather cleared up. Right near sunset it stopped raining and a little bit of light and color came through the clouds for about a minute, which gave me enough time to take this photo. To me, this photo represents the remote beauty of this wonderful national park.
"I am a lawyer during my day job but I am building up a substantial portfolio during weekends and vacations."
Honorable Mention: Michelle Minor
"Moth"
© 2008, Michelle Minor, All Rights Reserved
"I captured the photo of a moth in a local park near my home called Jackson Bottom Wetlands Preserve. I photographed with a Nikon D300 and a Nikkor 18-200mm lens. Exposure was f/5.6 at 1⁄60 sec at ISO 200, with fill flash.

"I started photography back in junior high school years ago learning how to shoot and develop black and white film in a darkroom. I put the camera down for several years until I had my son back in 2005. He became my inspiration to pick up the camera again and I have not put it down since.
"I have worked in the computer tech industry for over eight years and learned to build my own PCs along with many types of editing software."
Honorable Mention: Kevin Pieper
"Second Beach Reflections"
© 2008, Kevin Pieper, All Rights Reserved
"This photo was made on Second Beach, Olympic Peninsula, Washington State. I made it with a Canon EOS 5D and an EF 17-40mm f/4L lens with a Singh-Ray Color Combo Polarizer, Gitzo tripod, and Kirk ball head. The exposure at ISO 100 was f/22 at 0.4 seconds.

"I am a full-time physician from Snohomish, Washington. I've been photographing for about five years, mostly landscapes. I'm drawn to this image mostly due to the unique circumstances that were presented. This was taken after sunrise during a very low tide. I was very surprised to find starfish at waist level (and higher). The starfish, combined with the reflection, a nice sky, and warm light seemed to pull the whole image together."
Honorable Mention: Clane Gessel
"Bamboo Forest"
© 2008, Clane Gessel, All Rights Reserved
"The photo was taken in Haleakala National Park in Hawaii. It was taken with a Canon EOS Digital Rebel XTi and an EF-S 10-22mm lens. The exposure at ISO 400 was f/4 at 1⁄50 sec.

"I was in Hawaii and decided to head over to Haleakala National Park for a day trip. I ended up getting this great shot and decided to submit it to the Canon Parks Contest."
Honorable Mention: Joshua Huber
"Delicate Arch Under the Stars"
© 2008, Joshua Huber, All Rights Reserved
"I took this photo in Arches National Park, at the base of the Delicate Arch. I used a Canon EOS 5D and a Canon EF 24-70mm L lens. The exposure at ISO 160 was f/2.8 for about an hour; because of that I applied noise reduction in Photoshop.

"I took a road trip to Vail and wanted to hit all the national parks along the way. I'm constantly trying to make new images in iconic locations. I knew I wanted to photograph the Delicate Arch, but it wasn't until a night at Bryce Canyon that I realized that there was a new moon and that it would be perfect for a star trail photo. I hiked the 2-mile trail well before sunset with the crowd, then one by one they all left. After a few test tries about an hour after sunset with just a little light left in the sky, I snapped this shot and waited. (A little advice to anyone who tries this in the future: be sure to bring a few good flashlights and warm clothes.)

"I live and work in Los Angeles and I'm building a portfolio as an adventure photographer."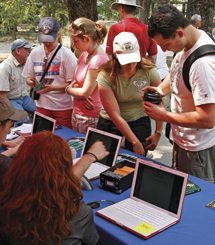 Workshop attendees gearing up at the checkout table staffed by National Park Network crew where free loaner cameras and lenses are available during the workshop "walkabouts."
© 2008, George Schaub, All Rights Reserved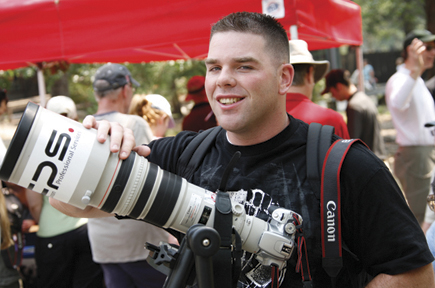 Kevin McCarthy, of Canon U.S.A., Inc., with a loaner lens available to participants in the Canon workshops.
© 2008, George Schaub, All Rights Reserved
Photographers young and old participate in the free Canon Photography in the Parks workshops.
© 2008, George Schaub, All Rights Reserved
Contacts
• American Parks Network (Park Guidebooks): www.ohranger.com
• Canon U.S.A., Inc.: www.usa.canon.com
• Canon Digital Learning Center: www.usa.canon.com/dlc

LATEST VIDEO

SPONSORED VIDEO
Testing Tamron's SP 150-60mm G2 lens while capturing birds and alligators in Apalachicola, Florida.