Canon's PIXMA iP8500 Photo Printer; Top Of The Line Model In PIXMA Printer Offerings Page 2
Advanced Features
As you would expect, the Canon software includes a wealth of additional user-selectable features. For example, the Page Setup screen allows for selecting double-sided ("duplex") and borderless printing. Other options available are also worth noting:

· Simplified Quality level (from Fast to Fine), Grayscale Printing (with black ink only), and Preview Before Printing can be selected; these are self-explanatory.

· Manual Color Adjustment allows for controlling (in plus or minus levels) the cyan, magenta, yellow, or black color balance. Because the Preview Before Printing screen does not provide an accurate view of the effect produced by any adjustment, the process depends largely on trial-and-error experimentation. Even a very tiny change (especially in black) makes a significant difference in the overall look of the resulting print.

· The Intensity slider can be used to control color density for a darker effect (using more ink) or a lighter effect (using less ink). I found this feature useful for reduced ink output when making prints on certain soft, after-market papers.

· Enable ICM (Intelligent Color Matching) is intended for those who use a Windows operating system; it allows the printer to employ the wider color range available in the Adobe RGB color space range instead of the standard sRGB. This was my preferred option for most prints that I made from image files in the Adobe RGB 1998 color space.

· Monochrome Effects allows for making monochrome prints (with color inks) with a sepia, blue, green, or other color cast.

· Image Optimizer employs special algorithms to improve low-resolution images, made with inexpensive digicams or from images off the Internet. Jagged edges become smoother and sharpness/contrast is enhanced. I found that this feature allowed me to make surprisingly nice 8x10" prints--and good 4x6" glossies--from small (750KB) files. When starting with a tiny (256KB) file, the software produced a slight improvement but could not work miracles.

· Photo Optimizer PRO corrects images with poor white balance due to artificial lighting as well as incorrect exposure and/or low contrast. With very difficult images, this feature produces a noticeable improvement, although the prints are not perfect. (Avoid using this feature with technically good images, because contrast and saturation will be artificially high.) Think of this as a problem-solving tool when you simply do not have time for correcting difficult images with Photoshop or other software.

· Photo Noise Reduction is a despeckle feature that reduces the mottled effect of objectionable digital noise in shadow areas or in large mid-tone areas such as the sky. It can be useful for making cleaner prints from high ISO images, although photo enthusiasts will prefer the results produced by noise reduction software (such as Noise Ninja 2.0 at: www.picturecode.com). If you decide to try this feature, use the Normal setting only, because the Strong option produces an unnatural effect.

· Vivid Photo produces richer colors (especially in reds and blues), snappy contrast, and high sharpness. It's not intended for every image, but it's great for making prints of colorful icons, graphic patterns, and landscapes that benefit from a very "punchy" effect. Do note that this feature is optimized for printing from images in sRGB color space (used by most digital cameras) and not from those in Adobe RGB color space.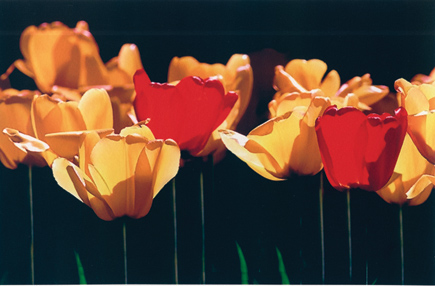 The Image Optimizer feature is surprisingly effective in improving the quality of prints made from low-resolution image files. In this case, I started with a 756MB file (generally considered too small for anything but a very small output) and made a 7x10" print that would satisfy many families.
Other Important Considerations
As mentioned in previous reviews of Canon printers, the company does not make a very wide range of media. You will find the most common and most popular papers in the Canon brand, including glossy, matte, semigloss, and transparency media. I tried the iP8500 with various brands of softer papers, such as Concord Rag and Velvet; the results ranged from very good to excellent especially with media that does not have a warm tint. With independent brands of glossy paper, the results were inconsistent, ranging from poor (due to color or contrast problems) to very good. Frankly, the high-gloss Canon Photo Paper Pro is excellent, so I see no need to try other brands.

If you want to try "fine art" media not available from Canon, order a sampler pack of your favorite brands: a few sheets of several types of paper. Use the most logical "paper type" setting (such as matte) in the driver software or check the media manufacturer's website for a recommendation as to the optimal setting with the eight-color Canon printer. Avoid using very thick papers, canvas, or fabrics however, because jamming may occur.

Consumer-grade inkjet photo printers were not designed to generate perfectly neutral monochrome prints and the iP8500 is no exception. After converting color images to black and white with the Channel Mixer in Photoshop, I made some prints using the color inks. The resulting outputs exhibit a slightly warm balance; this effect is emphasized when using warm-tone fine art papers, a very pleasing effect for many images. (In gray scale printing--using only black ink--the photos are more accurate, with rich dark blacks and clean whites.) With a bit of experimentation with color adjustments in the driver software, it is possible to produce fairly accurate monochrome prints with color inks.

And what about the lightfast rating of the prints? Wilhelm Imaging Research (www.wilhelm-research.com) had rated the outputs from the older i950 at 27 years with Photo Paper Pro, but has not published findings for printers using ChromaPLUS inks. (The estimate assumes that prints are matted and framed and not displayed in strong, direct lighting. In dark storage, in archival albums or boxes, the prints should last much longer before noticeable fading occurs.) I believe that most families will be happy with prints that last a quarter of a century or much longer in archival albums.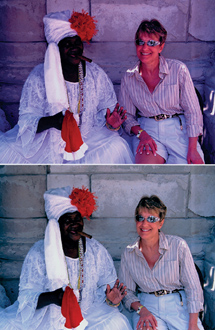 In order to test the effectiveness of Photo Optimizer PRO, I first made a print from an underexposed image that was made with an incorrect white balance setting (Photo A). Then I selected the Optimizer PRO option and made a second print (Photo B). While it's not perfect, the improvement is substantial, confirming the value of this problem-solving tool. (Print A made from an image with fluorescent white balance setting.)
The Bottom Line
With high-resolution image files optimized for printing in Photoshop, I was able to make many prints of superlative quality, with remarkable resolution and sharpness, gorgeous colors for high visual impact, attractive (slightly warm) skin tones, and snappy contrast. Dynamic range is also wide, for lots of detail in both highlight and shadow areas. My only complaint? As with many printers, the iP8500 dialog screen does not show an accurate preview, so it's impossible to evaluate the effect of any color adjustments in the driver software. After making a few prints, I became quite adept at guessing at the settings that would produce the intended results.

The Canon PIXMA iP8500 would be a fine choice for serious photo enthusiasts who do not require prints larger than 8.5x11" and for novices who will take advantage of its many enhancing features. Landscape photographers will particularly love its gorgeous greens. Although more expensive than the six-color PIXMA machines, the iP8500 is just as fast and easy to use, while producing richer, more pleasing hues and tones thanks to the extended color gamut.

If your budget cannot justify the $329 street price, check out the PIXMA iP6000D, a 4800x1200dpi machine that uses six individual ink tanks. This one also benefits from the new FINE technology using a 1536-nozzle head that ejects droplets as small as 2 pl and offers the same driver software options. It's not as fast and does not employ the ChromaPLUS inkset, but the price is right at $170, especially considering the extras. These include slots for printing directly from memory cards, a 2.5" LCD monitor for image preview, controls for image adjustment in direct printing, and even wireless connectivity to a compatible (IrDA Version 1.2) infrared cell phone or PDA.

While the lower-priced models will be preferred by some, the iP8500 has become the best seller in the PIXMA line. That's understandable because it is an ideal photo printer for the entire family, from snapshooters with PictBridge-compliant digicams to highly experienced photographers who expect outstanding print quality.

For additional information on the entire PIXMA line, contact Canon U.S.A., Inc., One Canon Plz., Lake Success, NY 11042; (800) 423-2366, (516) 328-5000; www.usa.canon.com.
Technical Specifications
Maximum Resolution: Up to 4800x2400dpi, color or black
Cartridge: Eight individual tanks of ChromaPLUS ink: black, cyan, magenta, photo magenta, yellow, photo cyan, red, and green, in individual tanks
Paper Sizes: Letter, Legal, Credit Card (2.13x3.39"), 4x6", 5x7", and US #10 Envelopes; maximum printable area 8.5x11"
Paper Thickness: Not stated, but at least 11.2 mil, the thickness of Canon double-sided paper
Interface: USB 2.0 High Speed, compatible with USB 1.1; Direct Print Port for Canon PowerShot cameras or PictBridge-compliant cameras of any brand
OS Compatibility: Windows XP/Me/2000/98; Mac OS 9.x, Mac OS X Version 10.2.1 to 10.3.x
Size/Weight: 17.8x6.7x11.5"; 15.4 lbs
Price: $329 (street)
A long-time "Shutterbug" contributor, stock photographer Peter K. Burian is the author of two recent books: "Magic Lantern Guide to the Konica Minolta Maxxum 7D" and "Mastering Digital Photography and Imaging," covering all aspects of the topic in 270 pages. Visit his website at: www.peterkburian.com.


LATEST VIDEO