Canon's EOS-1Ds Mark III; The Big Kahuna Has Landed Page 2
Canon recommends that Live View is at its best when shooting on a tripod, particularly for close-up photography. It also helps to reduce vibration by lifting the reflex mirror out of the optical path in advance of the exposure, improving image quality at slow shutter speeds. Since the release time lag is miniscule, even instantaneous movements that happen in nature photography can be more easily captured. The 3" LCD screen on the back of the camera, carried over from the 1D Mark III, provides the same 100 percent field of view as the optical viewfinder, but somehow seems smaller than the same-sized screen on an EOS 40D. By pushing the little "plus sign" button on the upper right-hand back of the 1Ds Mark III, the LCD-viewed image can be magnified by five or 10 times to ensure the shot is sharply focused, which is especially important when manually focusing during Live View.
(Above): Canon's software continues to improve. Digital Photo Professional (DPP) 3.2 and EOS Utility 2.2 support the camera's Remote Live View and Dust Delete Data functions. DPP 3.2 has a new Lens Aberration Correction Function that corrects image defects such as chromatic aberration, color blur, vignetting, and distortion. Initially, the Lens Aberration Correction Function will support images captured by the EOS-1Ds Mark III and 11 other EOS D-SLRs using any of 29 individual EF and EF-S lenses. Canon's bundled software is the best free product that's offered by any camera company. (Below): The EOS-1Ds Mark III supports Canon's Picture Styles function and provides three "User Defined" slots in the menus for new downloadable styles. When people ask why I use Picture Styles to shoot monochrome, as in this example, when I may want the image to be in color at some later time, I suggest they capture using the camera's raw+JPEG option. This mode lets you have a monochrome JPEG that you can use right now as well as a color photograph captured as a raw file.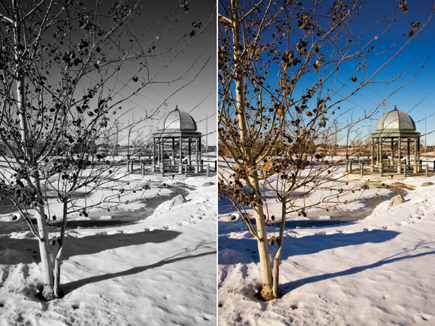 Thanks to the camera's EOS Integrated Cleaning System I was able to shoot several thousand images and almost all of them were sparkling clean. When shooting raw files at f/16 and smaller, the occasional speck did show up in sky areas. The CMOS sensor has a lightweight infrared (sigh) absorption glass cover that vibrates for 3.5 seconds when the camera is turned on or off. If it bugs you, that and the little dancing logo on the LCD screen can be cancelled upon start up by pressing the shutter button halfway. Dust that has been shaken or blown loose of the sensor is trapped by adhesive surfaces à la DUST-AID (www.dust-aid.com) surrounding the sensor unit housing, preventing the particles from reattaching themselves to the filter.
Since noise is also a function of shutter speed I decided to make some long exposures. This image was captured at ISO 640 with an exposure of 1 1/3 sec at f/7.1 and there was no visible noise. While making this series of photographs I did experience a "curious incident of the dog in the nighttime" moment. Read the text to find out what it was and how it was resolved.
The shutter has a durability rating of 300,000 cycles and, though it generates less dust, it still charges itself three times during the cleaning process so that dust is shaken off shutter curtains, too. This cleaning system doesn't use much battery power and can be turned off with a Custom Function menu. The second part of the dust management system maps the location of any spots that may remain on the sensor and saves it as Dust Delete data; this is attached to the image file as a sidecar file that can be accessed with the bundled Mac OS and Windows Digital Photo Professional software. Or you can just use Photoshop's Clone Stamp tool and save lots of time bouncing back and forth between image-editing programs.
A Canon representative told me they are issuing a firmware update for problems I encountered writing to CompactFlash memory cards that they said was especially a problem for users of SanDisk cards. I encourage new EOS-1Ds Mark III owners to check for and install new firmware upgrades as soon as possible after they unpack the camera and charge the battery.
Other than that big wonderful CMOS sensor, much of what is really new in the 1Ds Mark III is also part of the 1D Mark III, so instead of repeating everything I said about that camera, I'll direct you to my review in the November 2007 issue of Shutterbug or you can read it on the magazine's website, available by typing Canon 1D Mark III in the Search box on the homepage.
In The Field
The ergonomics of the 1Ds Mark III are far superior to the more fussily designed but clearly less bulky Nikon D3 that plays Lamborghini to the Mark III's Maserati. Neither camera is a Ferrari. I'm still waiting for the carbon ceramic-framed model 1D Mark III I suggested Canon build last year. Image quality, on the other hand, was sublime. You can open a raw or JPEG image--at any ISO setting--in Photoshop and keep clicking the Magnifying Glass tool and it never falls apart. Is it better than 35mm film? Oh yeah. Medium format film?
(Above): This was one of my first experiments with the EOS-1Ds Mark III in Live View mode and while not as convenient to use as Olympus' E-3 I was still able--in real time--to adjust white balance settings to produce neutral white balance. Because you will be manually focusing while in Live View mode, it may be convenient to use a tripod for these kinds of shots but I handheld this at 1/8 sec using an EF 28-135mm Image Stabilized lens. Aperture was f/5.6 with a +2/3 stop exposure compensation that was not easy to see in real time as were similar exposure adjustments made using an Olympus E-3. (Below): I predict that Live View mode will be a hit with both architectural interior and wedding photographers who want to adjust color balance on the fly without having to make an exposure, check the LCD screen, make a change, check the LCD screen... The image was captured in real time and I was able to try different color balance settings. While some may prefer the traditional "warm" look, I liked the realistic interior colors and liked how the gradually diminishing daylight went really blue using the tungsten setting.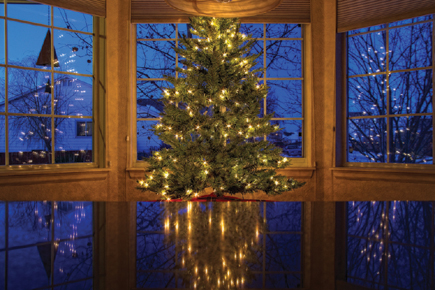 Maybe, depending...
While making a series of long exposures of holiday lights, I encountered an interesting problem. While making exposures for longer than 1 second, the shutter would fire, an exposure would start to be made but would never complete the write operation. I could not shut the camera off and had to remove the battery to reboot the camera. A Canon representative told me they would issue a firmware update for this glitch that was especially a problem for certain brands of CompactFlash cards. Sure enough, firmware update Version 1.0.6 fixes communication reliability problems with some (or in my case all) CompactFlash cards and solves a phenomenon involving color cast and vertical lines appearing in images--something that I never encountered. I think we are getting to the point that with these increasingly complex D-SLRs that it's not a bad idea to wait--as some do with Version 1.0 software--until the first few firmware updates are issued. Being a pioneer may mean you can be the "first kid on the block" with a new toy but it also means that you'll be the one with arrows in your back.

I really liked the 1Ds Mark III--what's not to like about a 21-megapixel SLR?--but have nagging questions about reliability of any new premium D-SLR, especially one costing $8000. Unlike our sister publication Motor Trend, no photo magazine does really long-term tests and the AF problems reported by some 1D Mark III users, including my friend Ralph Nelson, only appeared after extended use and not during the time I tested the camera. To keep the automotive analogies going, Canon's response to this problem borrowed heavily from Volkswagen's disastrous handling of defects in certain turbo-powered automobiles, but with the issuance of a recent service bulletin they seem to be acknowledging responsibility much as VW did after two coil packs on my GTI blew up. Based on the apology letter Canon's Joseph Warren sent to owners of repaired 1D Mark III's, I'm guessing this "AF Mirror Adjustment Repair" is a dead issue, much as coil pack problems are a thing of the past for VW turbos.

The $4499 1D Mark III has the same look and feel as the 1Ds Mark III and both cameras, for the first time in any Canon pro D-SLR's history, offer simple, readable menus. For $8000 you can buy a 1D Mark III, two EOS 40Ds, and have enough cash for lots of memory cards. But riddle me this: Why does a used 16-megapixel Hasselblad digital back cost more than a brand-new 21-megapixel 1Ds Mark III? Where's the bargain now, medium format shooters? If maximum image quality is your main overriding question, then Canon's EOS-1Ds Mark III is the answer.
Technical Specifications
Recording Medium: Dual slot UDMA-compliant CompactFlash Card Type I and II, SD/SDHC Memory Card and/or external media (USB 2.0 hard drive, via optional Canon WFT-E2A transmitter)
Image Format: 36x24mm (full-frame sensor)
Pixels: Approx. 21.10 megapixels
AF Points: 45-point (19 high-precision cross-type AF points plus 26 Assist AF points)
Metering Modes: 63-zone TTL full aperture metering--Evaluative, Partial, Spot, and Center-Weighted
ISO Speed Range: 100 to 1600 (in 1/3 stop or whole stop increments), can be expanded to ISO 50 and 3200 via Custom Function
Shutter Speeds: 1/8000 sec to 30 seconds, X-sync at 1/250 sec (with EOS dedicated external Speedlites; 1/250 sec maximum with other shoe-mount flashes, and 1/60 sec to 1/250 sec with studio strobes)
Continuous Shooting Speed: Approx. 5 fps (at a shutter speed of 1/(TBA) sec or faster in all Recording modes)
Max. Burst During Continuous Shooting: JPEG: approx. 56 frames; raw: approx. 12 frames
Dimensions: 6.1x6.3x3.1"
Weight: 42.5 oz
Price: $7999

For more information, contact Canon U.S.A., Inc., One Canon Plaza, Lake Success, NY 11042; (800) 652-2666, (516) 328-5000; www.canonusa.com.