Canon's EOS-1Ds Mark III; The Big Kahuna Has Landed
Twenty-one megapixels. Think about it. Once the exclusive domain of those Tiffany-priced medium format digital backs, that same kind of high-end resolution is now possible with a D-SLR, albeit an expensive one. While it has the same $7999 price as its 16.7-megapixel predecessor, Canon's 21-megapixel EOS-1Ds Mark III could hardly be called inexpensive, but to pros who need the image quality, it could be, in Visa TV commercial terms, "priceless." Wearing the same clean sheet of paper design skin as its sibling, the 1D Mark III, Canon's 1Ds Mark III goes where no other D-SLR has gone before.
Mark Three Take Two
Built on the same rugged magnesium-alloy chassis as the 1D Mark III, the 1Ds Mark III has a 5 frame per second (fps) shooting rate with bursts possible of up to 56 Large JPEG or 12 raw image files. The camera's new 36x24mm CMOS image sensor offers 21.1 million effective pixels (5632x3750) at a pitch of 6.4 microns. You can select any one of six capturing resolutions, from 21.0 megapixels in Large JPEG or raw format, 16.6 or 11.0 megapixels in two medium JPEG sizes, or 5.2 megapixels in small JPEG or the sRAW, a.k.a. small raw format that I'm still trying to figure out. In JPEG mode, you can set one of 10 compression rates while sRAW image file format cuts the file size in half "retaining all of the flexibility and creative possibilities" associated with BIG files. Got it? I don't.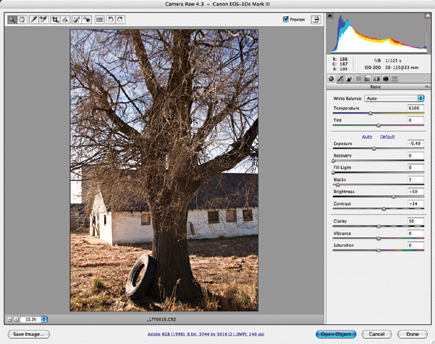 The latest versions of Adobe Camera Raw and Lightroom read raw files from the EOS-1Ds Mark III but Canon always suggests (and I believe them) that the maximum quality images can only be extracted from .CR2 files using their own Digital Photo Professional (DPP) software that's bundled with the camera. DPP also lets you assign the standard or downloadable Picture Styles (there are now seven online) to any raw file and the processed image can be directly handed off to Photoshop.
All Photos © 2007, Joe Farace, All Rights Reserved
Canon incorporates two DIGIC III imaging engines into the camera that, much like a dual processor desktop computer, results in faster, parallel signal processing. The CMOS sensor simultaneously reads out to both DIGIC III processors in eight channels and is responsible for fine detail and Canon's trademark natural colors, as well as the virtual absence of noise even at the highest ISO settings. The camera's 14-bit Analog-to-Digital (A/D) conversion process produces 16,384 colors per channel, which is four times the number of colors recognized by the 1Ds Mark II. Given the significantly larger image file sizes--28MB in raw--created by the 1Ds Mark III, the camera offers compatibility with Ultra Direct Memory Access (UDMA) CompactFlash memory cards. I've done some testing of Lexar's (www.lexar.com) 300x cards and their UDMA FireWire 800 Reader and found a 70 percent reduction in transfer and download times over standard CompactFlash cards using a FireWire connection. Big files plus faster transfers equals a good thing. Think about it.
My favorite place to test for image noise is my train room where I make photographs at a high ISO setting using only the miniature lights on the layout. This O-scale replica of the "Best Friend of Charleston" locomotive was shot at ISO 1600 and when looking at it on screen I had to double-check the EXIF date to be sure it was not made at ISO 200. A higher ISO setting of 3200 is possible with Custom Function gymnastics. The exposure (1/6 sec at f/5.6) is a classic high noise situation but no noise is visible. That's right, no noise.
The 1Ds Mark III autofocus system uses the same 45 AF points with 19 high-precision cross-type points and 26 Assist AF points as the 1D Mark III, and I'm not sure that's good news or bad news. I never had any AF problem with either camera during the time that I had them for testing. (More on this factoid later.) During manual AF point selection, the AF point area is expandable in two stages via a Custom Function control that I found really handy when photographing under snowy winter conditions.
My cold weather testing of the EOS-1Ds Mark III included making photographs at single digit temperatures. This frosty scene was captured in my front yard when the thermometer read 6° Fahrenheit. I was cold but the camera didn't seem to mind and I made 60 similar frosty images in my neighborhood. This one was captured with my EF 28-135mm IS lens at 1/250 sec and f/10 and ISO 200. A +1/3 stop exposure compensation was added to make the snow white.
What Else Is New?
In addition to a viewfinder with 100 percent picture coverage and a magnification factor of .75x, the 1Ds Mark III offers Live View shooting mode, providing a shooting option beyond traditional through-the-lens viewing. Far from being a gimmick, I think Live View will be a standard feature on all D-SLRs in the future and while Canon's acting like it invented the whole deal, let's not forget who introduced it first--Olympus. This is one place where the contrast between Big Oly's top-of-the line E-3 and the 1Ds Mark III becomes most obvious. To active Live View on the Olympus E-3 you push a button on the camera's back. On the 1Ds Mark III you must:
· Set the lens to manual focus.
· Select Live View function settings from the second "wrench" menu.
· Select Live View shoot from the submenu.
· Select Enable and you're ready to go.
The EOS-1Ds Mark III performed admirably in my Mickey Mouse basement studio. When the model scheduled for the shoot failed to show up--tear sheets aren't enough for some models, they want cash--I drafted Mary for the job and made this image using the mondo cool Flash Waves (www.boothphoto.com) Wireless Sync transmitter mounted in the Mark III's hot shoe to trip the equally mousy monolights I was using. Exposure with my beloved EF 135mm f/2.8 SF lens was 1/60 sec at f/11 and ISO 100 in Manual mode.
Did I mention that you only have to push one button on the Olympus E-3? OK, so there's a big difference between the two approaches because the E-3 enables autofocus and actual capture can be, to put it politely, leisurely, but it works amazingly well for some subjects. That last tidbit is also true for the 1Ds Mark III because when Live View is enabled, it becomes a kind of digital view camera. Combine the 1Ds Mark III with a Horseman (www.horsemanusa.com) LD View Camera with SLR Adapter ($1999) and you have a combination that used to require a view camera and a $25,000 digital back, and you get similar results.


LATEST VIDEO