Canon's EOS-1D Mark II N; Speedy Framer Sports Dual Slots, New Image Options Page 2
Like many digital SLRs today the Mark II N is obsessed by color balance, with more settings and tweaks than you could ever use, but it's nice to know they are there. There are seven presets, including Auto, Custom (most useful for studio photographers), and even a Kelvin setting of between 2800 and 10,000. You can even bracket the white balance in a three-shot sequence in various degrees in the magenta/green or amber/blue biases.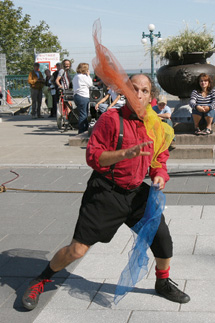 Fast Framing Rate, Part II
Street Scene: While not strictly a sports scene, this street performer in Quebec City gave us a chance to work with the quick framing rate of the EOS-1D Mark II N. The 48-shot set of images gave us plenty to choose from to capture just the right expression and play of his juggled scarves.
There are 45 autofocus (AF) points in the finder, a critical factor in the effective use of the burst and framing rates the camera offers. I think the best way to capture all the action is to set the AF point to Automatic and to set the camera to AI Servo AF mode. This way, the camera first uses the center point to set AF and then works with focus tracking using the entire Area AF ellipse to follow the subject should it stray from that first point. You can set any AF point or set up groups if you desire. There are many other focus mode options as well, including the standard Single, best for those doing more studied, less hectic shooting.

Exposure is of course a key element and here you have a 21-zone TTL setup with an option for linking any evaluative metering to an AF point (or not) as well as partial (about 13 percent of the screen), center-weighted, and spot. With spot you get to choose center spot (about 4 percent of the viewfinder center), AF point spot or multi-metering spot, with a maximum of eight spot metering entries. There are also the usual metering mode suspects.
Fast Framing Rate, Part III
Multi-Shot: Just for fun we moved around this colorful tree as we kept pressure on the shutter release for a 4-second burst of images on Continuous High-Speed mode. We then created this collage using Picasa 2's Collage feature. It's not the way you're supposed to use the camera, but for us it pushed the envelope on ways to play with this fast framing rate.
Being an action camera, the sensor can be programmed to handle up to ISO 1600, and even ISO 3200 if desired. But this can also be used as a more contemplative camera for big prints, so you get to choose the default ISO 100 or even ISO 50. The 1/8000 sec top shutter speed should also handle most action environments.

I won't dwell much more on the specs, as this camera has just about everything you'd expect from a state of the art pro digital model, including all sorts of image attributes and options.

In the field the camera worked just fine, doing all it was supposed to without fuss. AF was quick and silent and images delivered were crisp and color rich. I shot raw+JPEG, as is my wont these days, except for when I got into shooting fast bursts, when I used JPEG medium. The experience of working with a super-fast framing rate can be odd, as the camera seems to just keep going for as long as you have space on the card. I did try to time a 5-second burst by counting slowly to five, but I must say that, to me and I guess most photographers, 5 seconds of continuous shooting with a 35mm-form body seems like a very long time. And stopping after shooting 40-some-odd frames, it took the processor a bit under 10 seconds to make ready for the next burst.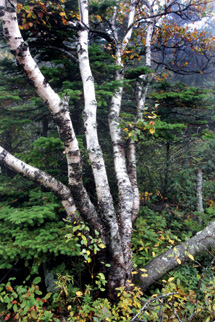 Sharp And Vivid
Sharp and Vivid: While the EOS-1D Mark II N is built for speed, it's not too shabby with subjects that tend to be more static, such as this tree in a deep forest glade. Setting the ISO to 400 allowed for a hand holdable shutter speed.
I did shoot action subjects, and I can guarantee you that using this camera will mean you'll never miss the decisive moment of a play at the plate. I also shot static subjects and tried a free-form approach of moving around the subject while keeping my finger down on the shutter release. It's not that I lacked confidence in getting the shot I wanted from five or six frames; it's just that I wanted to get a sense of what a camera with these features could do to change the way you might photograph a subject. It was quite weird and not really recommended, but it could break some borders you might not have thought about in your work. Of course editing from five or six is quite different than editing down from 45, but I figured that flooring it might yield some new insights. Frankly, I'm still mulling that over.

My action shots were made at the New York City Marathon in 2005, one of my favorite, and free, sporting events. Commoners like me can't get into any stadium with a camera these days, as all the corporations running the pro teams are very jealous of their images, and rights to same. Even a local pro hockey team turned me down, with me telling them I'd even pay for my own ticket. The marathon is more fun than any staged sports event anyway.

I set the Mark II N to Servo AF and the burst rate to high. I picked my spots and let 'er rip whenever I spotted a sequence I thought would be of interest. Having photographed the marathon for many years I can honestly say that the Mark II N helped me get the best images I ever captured of the event. The only challenge was in editing, going through the hundreds of shots and sequence sets to find the one or two shots that "clicked." It is somewhat startling to have such picture-taking power, and
as I worked I got a good feel for how to work through a few seconds of passing motion.
21-Zone Evaluative Metering
This shot made in Quebec City would be an exposure challenge even for dedicated Zone System practitioners. The 21-zone evaluative metering set in Program mode handled it with ease.
Does this mean that any photographer can now call him or herself a sports photographer with the Mark II N in hand? No, as knowing the game and getting a feel for the peak of action is part of the craft. But does this camera help you get the best action shots, and peak action shots, you ever made?

I believe it does, to the extent that any proper tool helps get the job done quicker and better. I also think that nature and wildlife photographers will also benefit from the Mark II N, given that they are photographing in the wild and not just at a captive
animal park.

You should consider the Mark II N if you are yearning to improve your action photography, as that's what it is built for. Should you get it if you only occasionally shoot action and might use it more for the usual digital SLR fare? If you are a Canon user then I think not, as the new EOS 5D, recently reviewed by David Brooks, offers full frame and a higher megapixel count for somewhat less money. It's not that the Mark II N delivers an inferior still frame image; image quality is dazzling as befits a pro digital SLR. But use it for the purpose for which it's intended and you'll be thrilled to have a tool made for the sports and action photographer.
Technical Specifications
Sensor: CMOS
Recording Medium: Dual Slot, CompactFlash, and Secure Digital Card
Lens Conversion: 1.3x
Pixels: Effective, 8.2 megapixels
Formats: JPEG, raw (12 bit)
Interface: FireWire, USB 1.1
Viewfinder Coverage: 100 percent, as relates to effective pixels
Shutter Speeds: 1/8000 sec to 30 sec; sync at 1/250 sec
Drive: High speed, 8.5 frames per second
Dimensions: 6.1x6.1x3.1"
Weight: 43.2 oz

For more information, contact Canon U.S.A., Inc., One Canon Plaza, Lake Success, NY 11042; (800) 652-2666, (516) 328-5000; www.canonusa.com.

LATEST VIDEO

SPONSORED VIDEO
Testing Tamron's SP 150-60mm G2 lens while capturing birds and alligators in Apalachicola, Florida.