Canon's EOS-1D Mark II N; Speedy Framer Sports Dual Slots, New Image Options
The decisive moment could be described as the instant when photographer's instinct meets a picture and the shutter is released at the height of that honed perception. The digital decisive moment is now about 5 seconds long. If you happen to see more sports shots of the ball just coming off the bat, or the pass as it just begins to graze the fingertips of a tight end, you might be seeing the results out of one of the new high-speed framing rate digital SLRs. True, you can get that with a fast framing rate film camera, but then you'd have to change rolls after your 36-exposure burst is through. You could just "grab" a frame from video, but you'd never get anywhere near the image quality. And shooting instincts will always be key to getting the great shot. But thanks to larger buffers (where the images queue up after exposure), "fast" memory cards, and faster in camera processing times, these new digital SLRs only pause momentarily between their rapid bursts, and then allow you to continue to shoot until you fill up that increasingly used 8GB card.
Firing at 8.5 frames per second for up to 48 full-resolution JPEG images in a burst (vs. the same firing rate and a 40 JPEG burst for the EOS-1D Mark II model), the new Canon EOS-1D Mark II N ($3999) is vying for the rapid burst, fast framing rate market. Its nearest rival is the Nikon D2Hs, which blasts off a few more frames (50) at a fraction slower rate (8 per second) and can even get you 40 NEFs (Nikon Raw, vs. 22 CR2 Canon Raws) per burst. But the D2Hs, which sells for about $500 less, is a 4.1-megapixel model, while the Mark II N is an 8.2-megapixel model. While those who shoot for magazines and newspapers might not need those full 8 megapixels, this is clearly another case of the megapixel horserace still thundering around the track. And for those who might use this camera for large prints as well as fast framing rate capture, those 4 megapixels (+12MB file size) might come in handy.

The Canon Mark II N retains the CMOS sensor of the EOS-1D Mark II model, with its 1.3x lens conversion factor. Along with its improved burst rate, the Mark II N digital SLR adds a new 2.5", wide angle view LCD/TFT monitor. Start-up time on the new camera has also dropped to 0.2 seconds. Another new feature on the camera is magnified view during Quick Review. When an image is displayed on the LCD monitor immediately after capture, the user can immediately magnify the view to check focus right away.
Fast Framing Rate
Mile 24: The true grit of runners in the 2005 New York City Marathon is caught in all its intensity with the Canon EOS-1D Mark II N's fast framing rate. With a rate of 8.5 frames per second for a 48 shot JPEG burst, getting the shot is not the problem--editing down through all the images is the challenge.
All Photos © 2005, George Schaub, All Rights Reserved
The Mark II N digital SLR lets you save the same image simultaneously in both the CompactFlash (CF) and Secure Digital (SD) memory card slots. It's also possible to save the raw and JPEG images from the same exposure separately in each memory card. The raw images can be saved in slot one and the JPEGs, in any of 10 quality levels, in slot two, or vice versa. This can really come in handy when you might have to hand a card off to an associate for proofing while shooting and still retaining the raw files for future processing. The Mark II N never met a deadline it didn't like.

As mentioned, the sensor on the Mark II N is a bit larger than many today and yields a 1.3x conversion factor, still not full frame but not as much a factor as a 1.6, for example. This means that a super wide angle lens still sort of behaves like one, so an 18mm becomes a still wide 23mm or so and not a 28mm, which makes more of a difference than the millimeters imply. The body build is solid with dust-sealing construction and at 43.2 oz is not light, but is not as heavy as the EOS-1Ds Mark II recently reviewed in these pages. Battery power is supplied by a Ni-MH NP-E3 battery pack, which charges quickly and at normal room temperature is said to yield up to 1200 shots per charge, impressive stats confirmed in days of field shooting.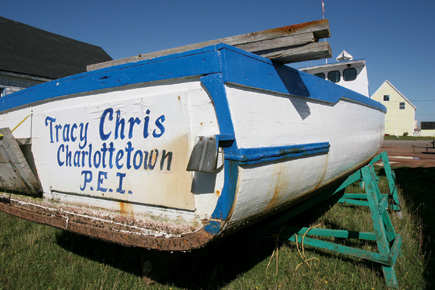 1.3x Ratio: A Wide's (Almost) Still A Wide
While the Canon EOS-1D Mark II N's sensor is not full frame, the 1.3x ratio allows a wide to still behave like a wide. This shot was made on Shutterbug's recent Canada/New England Cruise with the Mark II N and the Canon 16-35mm f/2.8 L USM lens, which yields an equivalent focal length of about 22-47mm.
Handling is familiar throughout, with easy swapping between memory cards, the creation of new file folders while shooting, choosing ISO and file format, drive modes and metering patterns, etc. It's all within easy grasp if you're new to the camera type and seamless if you have worked with a Canon digital SLR before. What has changed is the dropping of "Parameters" settings to a newly crowned "Picture Style" menu. And, Canon has removed lack of sharpening from the default, something new for its pro models, and has you choose that older approach with two settings in the Picture Style menu, "Neutral" and "Faithful."

To be honest, Canon had been subject to some criticism due to the "soft" images some of the pro models delivered, with their thinking being, I imagine, that pros would want to apply a level of sharpening themselves. Now three modes in this camera automatically apply some sharpening, those being "Standard," "Portrait," and "Landscape," the last in the list being where you get vivid color saturation in the blue and green hues. Canon describes "Neutral," by the way, as being for "natural colors and subdued images" and "Faithful" as being the most "colormetrically" accurate with no sharpening applied. Don't confuse all this with color space settings, which in this camera comes down to choosing between sRGB and Adobe RGB. And you can also customize all the Picture Style settings to taste, and even register them for rapid call-up when needed. And yes there's even a color tone setting for warmer or redder skin tones.
Picture Styles, Landscape Preset
Colorful Recordings: The EOS-1D Mark II N allows for a number of color settings, known now in the Canon lexicon as "Picture Style" functions. The new Canon also does away with the default, no sharpening setup on previous Canon pro digital SLRs. This shot was made in Peggy's Cove, Nova Scotia, using the "Landscape" preset.
For those who like their gray scale right out of the camera Canon has included the Monochrome setting with filter effects, which means you can process the image according to how it might look with a black and white contrast filter such as red, green, or yellow, and even get color washes such as sepia, blue, purple, or green, if desired. If you like to shoot in monochrome but are tempted to see what the shot might have looked like in color, shoot at Monochrome in raw, not JPEG, as the raw can be switched back to color using Canon's included Digital Photo Professional software, and the JPEG cannot.



LATEST VIDEO

SPONSORED VIDEO
Testing Tamron's SP 150-60mm G2 lens while capturing birds and alligators in Apalachicola, Florida.