Canon's EF 800mm f/5.6L IS USM; Super Telephoto Power
The arrival of the new Canon EF 800mm f/5.6L IS USM lens was a case of perfect timing as within a few days I'd be on the road for a couple of weeks photographing the abundance of wildlife at the Blackwater Refuge in Cambridge, Maryland. From there I planned to drive to a favorite haunt of mine for some spectacular railroad photography near Sand Patch, Pennsylvania. The last time I used an 800mm lens was Sigma's offering, which also has a constant aperture of f/5.6 and for the money is one sharp optical product. Aside from that, the usual 600mm telephotos from Nikon and Canon filled my kit, plus I carried along my trusty 1.4x tele-converter, just in case.
Canon's new EF 800mm f/5.6L IS USM lens.
With the new lens, Canon sent along their EOS-1D Mark III to help put this super telephoto through my testing program. With a 1.3x factor on the EOS-1D Mark III, I'm now looking at a 1040mm lens, more than I can ever wish for wildlife and other subjects requiring distance and discretion.

On location, after I had the camera and lens mounted on a Wimberley gimbal head, one of the other photographers walked up to me during a lull in the wildlife shooting and we started to chat. He asked me, "Well, what's it good for?" To break the ice, I told him, "It's perfect for relieving you of $12,000!" While $12,000 is the MSRP on this lens, I checked around and did find it online for $10,600.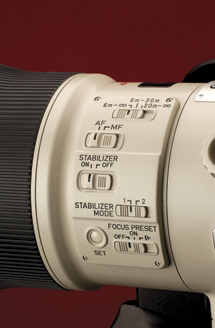 All the controls for focus, focus distance, stabilizer, and focus preset are located on the left side of the lens barrel.
So, what is this amazing lens good for? If you are a free-lance photographer you had better have a definite need or niche for it. In the short month I had the lens for testing, I found it perfect for wildlife work, but when it came to larger items like railroad locomotives you really have to move back. For sports, I think it will be very popular, especially with the IS (Image Stabilization) addition, but if you think the typical 600mm makes you take a step back, the 800mm f/5.6L IS USM will put you in the bleachers.

It certainly is built for field use. One question I always got asked when surrounded by other photographers was about the weight. Surprisingly, the 800mm f/5.6L IS USM actually checks in almost 2 lbs lighter (9.9 lbs) than its counterpart, the 600mm f/4, which weighs 11.8 lbs. Thanks to the use of a magnesium-alloy barrel and weather-resistant gasket seals it's a tool for all outdoor conditions. For those of you planning to buy a new backpack to house this optical wonder, fear not; compared to the 600mm f/4 it has an objective lens diameter of 6.4" (the 600mm is 6.6") and the overall length is 18.1" without the long lens hood (the 600mm is 18").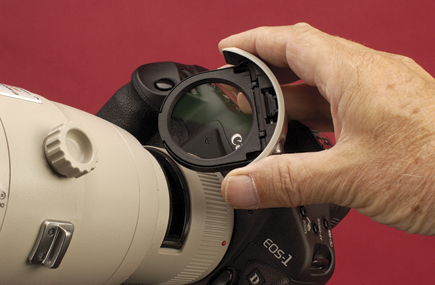 For cost savings, a smaller 52mm drop-in filter slot is located near the rear of the lens.
The lens is loaded with features—both optical and mechanical—to please the most discriminating photographer. Like others in its ilk, it has a rotating tripod collar and a large orientating knob with click stops for both horizontal and vertical shooting. This helps to balance the lens on most heavy-duty tripods.

FEATURED VIDEO