Canon's EF 800mm f/5.6L IS USM; Super Telephoto Power Page 2
Right on top is the focus distance setting, which can shorten the time it takes to target a subject by simply dialing in the appropriate distance. Perfect for small objects, it keeps the lens from hunting back and forth if you are not right on the subject or the contrast is flat. The Focusing mode incorporates Canon's ring-type Ultrasonic Motor for fast action; slide the switch to the right and manual focus is available. Next is the all-important Image Stabilizer (with up to four stops for the correction of camera shake). You can turn it off or select Mode 1 (corrects in all directions) or Mode 2 for corrections when panning. Finally, a focus preset is available so you can instantly focus on another object when the action warrants.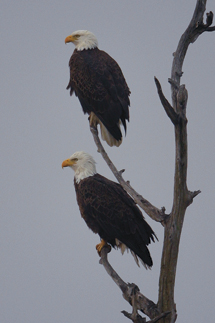 At the Blackwater Refuge, eagles were around, but if you didn't have this long lens you'd have to crop to get this kind of framing.
All Photos © 2008, Stan Trzoniec, All Rights Reserved
Inside, you'll find 18 elements in 14 groups, which includes two fluorite elements, one UD element, and one Super UD glass element for the correction of color fringing and the enhancement of contrast and sharpness. The lens uses a standard 52mm drop-in filter holder, can autofocus with a 1.4x tele-converter using the camera's center focusing area (the 2x can be used with manual focus only), and Canon extension tubes can also be used.

Out in the field, the Canon EOS-1D Mark III and its AI Servo kept everything in focus. If I did my part and locked onto a subject, it stayed locked on! Since the eagles at Blackwater Refuge land on special platforms and dead trees away from the general public, the 800mm f/5.6L IS USM was a pleasure to use. When shooting from the inside confines of my Jeep with the IS on, handheld, I certainly got more than a number of usable images.
Working on a book project on the railroads in the Allegany Mountains, the 800mm f/5.6L IS USM lens shows the crest of the grade which is just forward of the engine. The uphill climb can be seen by the downward slant of the cars behind the engine.
Canon's new EF 800mm f/5.6L IS USM lens with Image Stabilization is a much needed product for the working pro and serious amateur photographer. The lens handles beautifully; all digital captures were crisp with more than adequate contrast. In sum, it opens the doors to images I could only dream about years back.
Technical Specifications
Aperture Range: f/5.6 to f/32
Lens Construction: 18 elements in 14 groups
Minimum Focusing Distance: 19.7 ft
Maximum Length: 18.1" (less lens hood)
Weight: 9.9 lbs
Price: $12,000 (MSRP); $10,600 (street)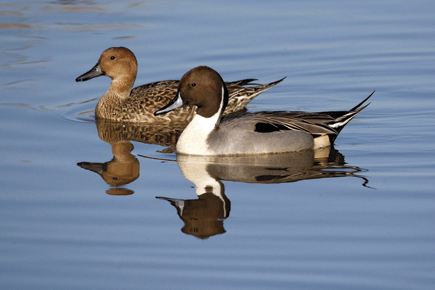 Like a portrait on a postage stamp, this pair of pintails are posing perfectly for the camera. I followed them along the bank until both were in this picture-perfect profile.
For more information, contact Canon U.S.A., Inc. at: www.usa.canon.com.
Stan Trzoniec is a full-time writer and photographer who specializes in the outdoors, photography, birding, railroads, and wildlife. He is a frequent contributor to "Shutterbug" and his newest book "Autumn in the Country" is due out in March of 2009.

FEATURED VIDEO