Calumet Introduces New Pro Series LED Video Lighting For Camcorders And DSLRs
Calumet Photographic is pleased to announce an exciting new Pro Series range of portable, versatile, and dependable LED video lights for today's camcorders and DSLR cameras with video capabilities. Each of these units is equipped with super bright, flicker-free LEDs that produce a very clean and natural light, perfect for high-resolution, professional-quality video work.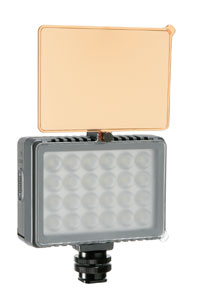 The Calumet Pro Series Digital Single LED Video Light (CF9010) is a small, self-contained, general-purpose, auxiliary light that mounts directly to your camera. It uses a single-light, high-density LED crystal that produces an impressive 190 Lux 5600K light at a 60-degree angle that has an extremely long life of 3000 hours. It features a rechargeable Li-Ion battery that lasts approximately two hours per charge, and a built-in shoe mount. This highly efficient light measures just 1.8(l) x 1.4(w) x 3(h)" (46 x 35 x 75mm) and weighs just 1.8 oz. (50g).
The Pro Series Digital Multi LED Panel Light (CF9014) is an extremely efficient, self-contained unit that features 24 LEDs which provide up to 500 Lux of 5600K light. This general-purpose light source is configured to work with 16:9 picture formats and produces a 60-degree angle of illumination. It comes with two hard filters that swing in and out in front of the lens for quick application. One is a 3200K daylight-to-tungsten warming filter and one is a white diffusion filter. There is also a clip-on, wide-beam diffusion filter that produces a soft-box effect.
Other features of this light include a dimmer that is continuously variable from 100% down to off, a shoe mount and a1/4"-20 female thread. It has an operating voltage range from 5.8 to 16.8V DC. It is powered by four AA batteries (alkaline or rechargeable) that will power the unit up to two hours. Each unit measures only 4.1(l) x 1.6(w) x 4.3(h)" (105 x 40 x 110mm) and weighs just 6.8 oz. (192g).
The Calumet Pro Series LED Panel Light (CF9020) is a single, self-contained light unit that can be expanded into a modular panel system to accommodate a wide variety of challenging lighting applications. Designed to conform to the 16:9 video format, this light produces a 65-degree light that will cover wide-angle lenses down to 18mm without creating any hot spots. Its 96 super-bright LEDs produce an impressive 800 Lux 5600K light that is continuously variable from 100% down to off without any color shift. It features an operating voltage range from 5.8 to 16.8V DC. Each unit measures just 5(l) x 1.8(w) x 3(h)" (127 x 45 x 75mm) and weighs only 6.6 oz. (188g).
Each unit comes with two magnetic filter plates that snap quickly onto the front of the unit. One is a 3200K daylight-to-tungsten warming filter and one is a white diffusion filter. They can be mounted individually, or on top of one another. Also included with each unit is swivel shoe mount that allows you to mount the unit onto any DV or DSLR camera and control the angle of light.
What makes this light so versatile is its expandable link system that allows you to attach multiple units together, creating a larger and/or wider light panel as you need it. They can be mounted in configurations of 2, 3, 4, 6, or 9 units for one huge light source.
Adding to this versatility is the wide variety of power options available, including standard AA batteries, AC adapters, rechargeable Li-Ion battery kits, XLR power adapters, Anton Bauer power adapters, 12V DC auto adapters, Canon/Sony/Panasonic DV battery adapters, and more.
The Pro Series LED Studio Panel Light (CF9030) is a lightweight 12 x 12" (305 x 305mm) unit with 324 LEDs. For flexible light-angle control it features a swivel bracket with a 5/8" female mount that can be attached to most light stands. It also has a continuously variable dimmer control (100% - off) that is detachable from the rear of the unit that can also be tethered by an 8' (2.4M) connecting cable for remote control when the unit is out of reach. For additional light control, the unit comes with a removable diffusion panel that attaches quickly and easily by hook-and-loop.
This unit measures 13.75(w) x 14.75(h) x 3.25(d)" (349 x 375 x 83mm), including its swivel/mounting bracket, and includes an AC/DC power supply with a 13'(4M) power cord. Its input is AC100-240V, 1.0A 50/60Hz and output is DC12V, 4A. It can be powered by a variety of options, including an AC adapter (included), an Anton Bauer battery or a Sony DV battery.
For more information visit Calumet Photographic at http://www.calumetphoto.com.

LATEST VIDEO