Building A Better Mousetrap (Website); From Templates To Online Services
"April Fool. The March fool with another month added to his folly."—Ambrose Bierce
The best thing photographers can do to showcase their work is build a website, especially one that features their own name as a domain. Oh sure, Flickr and its clones are OK to get started, but when you get serious about your photography you need to get serious about marketing, too. There are many inexpensive website templates available and that's a good place to start if you already have the software, such as Adobe's Flash, needed to put those templates to work. Some template companies offer "exclusive" designs so nobody else can use them and while that's a more expensive option it may a better choice because when looking for sites for Web Profiles, I see many made from the same templates that even with different images look alike. Depending on your audience this may not be a problem but if a potential client is web savvy and sees lots of other photographers' sites, there's a risk of turning them off before they look at your work. Clikpic (www.clikpic.com) is a UK-based company that offers a service combining templates and semi-custom designs for a £35 minimum fee ($54 at today's rates) and they offer a seven-day free trial. Clikpic looks like a good place to start for the photographer who's ready to move up from Flickr.
www.michelchaccour.com
Michel Chaccour's site design is elegantly understated but is chock full of amazing images collected into 26 galleries containing photographs made in Paris, Damascus, Havana, San Francisco, and other locales. His Cuban collection showcases black and white and color images that give insight into an island that, while just 90 miles from the U.S.A., is a mystery to most of us. His best photos capture some of that mystery while others show a society that is both open and closed. His New York City images, again featuring color and monochrome images, provide a fresh look at what is probably the most photographed city in the world. As with all Chaccour's galleries you can view individual images or a slide show accompanied by music that's appropriate and never intrudes—something that cannot be said of most website music.

Moving from geographical to technique-based collections, Chaccour's color and black and white "Holga Photos" are not to be missed and feature a style that could be called interpretive reportage because it moves beyond the literal boundaries of photojournalism into a world that includes multiple exposures, flare, and all of the unfocused energy that shooting a Holga releases. "Street Graffiti" contains not just photographs of spray-painted mischief created by taggers but is gen-u-ine (and I'm sorry if this offends you) art often wrapped around an architectural subtext. The site, like Chaccour's work, is sprawling and he uses a pixel (or film) based shotgun to capture a world that itself is too diverse to fit into a few simply defined categories. That's a good definition of Chaccour's photography itself; hard to define, easy to enjoy.
© 2009, Michel Chaccour, All Rights Reserved
www.chuckkimmerle.com
Starting professional life as a newspaper shooter, Chuck Kimmerle works as a university photographer but his true passion lies with the fine art images appearing on his low-key website. His galleries cover genres from landscapes to structures and geographically from the Badlands to Hell's Forest, capturing the quiet and reclusive landscapes of the northern plains with a dynamic that seems antithetical to its subject matter. Kimmerle's superb mastery of the craft of photography combined with an unerring sense of composition elevates these subtle subjects into realms of fine art rarely seen in such quantity and with such quality. The images in "Landscapes 1 and 2" will change the way you look at landscape photography by stripping away the gimmicks and focusing on clarity of vision that is seldom seen in a genre that values color and location to "sell" the image. Instead, Kimmerle takes you quietly by the hand and into his own world of monochrome imagery that encompasses the natural world as well as the placement of manmade objects within that context.

Some of the images found in "Bad Lands" are what you might expect and it is only when Kimmerle allows his singular vision to shine that you get to see his unique view of this unique place. In "Hell's Forest," he is clearly at home, creating images that are of this world and not at the same time. Visit this site to see a subtle collision of art and craft with traditional subject matter that is exclusively the vision of Chuck Kimmerle.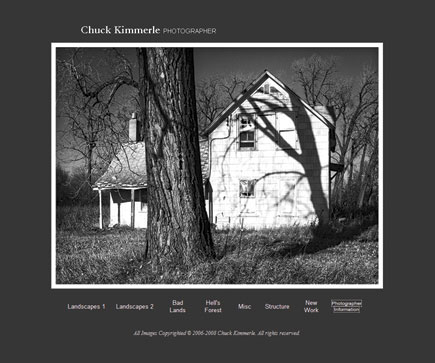 © 2009, Chuck Kimmerle, All Rights Reserved

LATEST VIDEO

SPONSORED VIDEO