Building A Better Mousetrap (Website); From Templates To Online Services Page 2
www.davidstrick.com
David Strick is a photojournalist who shoots people in all walks of life from sports to corporations to Hollywood and does so using an innovative style that draws on the unexpected—not decisive—moment that elevates his work above the ordinary. After you take a look at his personal website, I urge you to visit http://photos.latimes.com/backlot for some of his latest imagery, including dynamic photographs of his recent work such as images made on the set of the hit movie Twilight. Meanwhile, back in the "Hollywood celebrated" gallery of Strick's personal site, you'll see dramatic images of some of his older films such as a portrait of Kurt Russell on the set of the highly forgettable Soldier; you won't forget his black and white wide angle photograph.

In "Hollywood uncelebrated" you peek behind-the-scenes in often humorous ways as in the photo of a makeup artist touching up an actor's hair on the set of Beverly Hills Ninja while a "dead" body lies in the background. His Rodinesque image from Child's Play 3 shows there are great photographs lurking on the set of terrible movies. All that's needed is the talent and skill of someone like Strick to show it to us. In "Born entertainers" he shifts his palette to color, raising the art of environmental portraiture to new heights as can be seen in his remarkable photograph of Jim Rome. He applies those same skills in "Titans of commerce" with images that should inspire photographers to "go for it" when asked to shoot an executive or CEO. Environmental portraits don't get any better than his pink-filled photo of Mattel's Jill Barad. You'll see more in his "Athletically advantaged" collection of sports figures, showing them as living, breathing, and fun people. There's more to see in the "Still More…" section and I urge you to visit this, the "Big Tickets" collection, and his LA Times site to see Strick at his best, and that's saying a lot.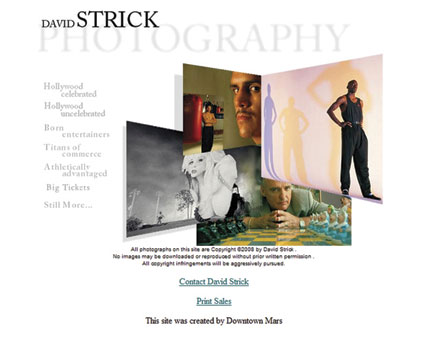 © 2009, David Strick, All Rights Reserved
www.frankmelvinbraden.com
Frank Melvin Braden's first camera was a Minolta SRT-101 that he used to record his tour of duty in Vietnam. Today that's been replaced by the Mamiya 645 and Canon 40D he uses to produce the images highlighted on his low-key website that places the emphasis where it should be—on the photographs. He's arranged them in six collections along with a "Photo of the Week," a concept I really liked. The week I visited the image was a monochrome landscape, providing an excellent lead-in to Braden's "Black and white with color as necessary" (whew!) collection. He takes that title literally with images containing hints of color as in "Museum Artist" while his real strength lies in monochrome efforts such as in "Ancient Grist Mill." The images in "Keep the summer alive" are just the opposite as Braden hits you over the head with color from dynamic images such as "Garden Art" that have the colorful impact of the serigraphs of Joseph Craig English. While occasionally images in the "People: Nothing is ever as interesting" collection evoke memories of Renaissance paintings, as in "Mercato Lady," more often than not it's full of humorous observations on life. "The Nearest Far-away Place" contains a similar dichotomy with elegant landscape photographs such as "Folly Beach on a Foggy Day" juxtaposed with a whimsical image of a kid trying to escape from a carousel. In "Wouldn't It Be Nice" (one of my favorite Beach Boys songs) he focuses on quiet and often elegant landscape and travel images and it's the only gallery that he doesn't display his penchant for whimsy. That's the kind of photographer Braden is; he likes to make pretty pictures but likes to have fun, too.
© 2009, frank braden, All Rights Reserved

LATEST VIDEO

SPONSORED VIDEO
Testing Tamron's SP 150-60mm G2 lens while capturing birds and alligators in Apalachicola, Florida.