Browsers On Parade; Take A Test Drive Page 2
En Garde!
Jerry Lucido is a New York photographer who claims fencing as his biggest influence. He started making photographs in 1970 but only in '96, when he began using a plastic Polaroid One Step camera loaded with SX-70/Time Zero film, did his images become the favorite of exhibit curators. On his website (
www.jerrylucido.com
) you'll find galleries covering genres such as Portrait, Children, Landscape, and Abstract, all of which hit some high notes, but it's in Polaroid that Lucido's art begins to sing arias.
© 2004, Jerry Lucido, All Rights Reserved
Begin your tour of the Polaroid gallery by looking at the "Before and After" photographs. The before wouldn't get a second glance, but the after is eye-catching. Images open in a window and you can click the Next Picture arrow to view images that are adequately sized so you can appreciate Lucido's workmanship, and they have titles! These photographs range from the breathtaking "Goghing 1997" (more on "Old One Ear" next) to the realistic "Fall 2000." The only thing I could fault with any of these images is that there aren't enough of them.
Don't Cut Off Your Ear
The original Yellow House was a commune in Arles, France, created by Van Gogh and Gauguin in 1888. Their concept was to help painters create better art by combining resources for supplies and bringing art to market via Van Gogh's brother in London. Today's digital Yellow House (www.yellowhouseonline.com) is trying to duplicate those ideals by providing photographers with the tools necessary to produce digital prints that capture each artist's unique vision. Yellowhouse will act as a virtual repository of resources for the digital photographer and is dedicated to elevating the quality of digital output. If this seems like similar websites sponsored by printer manufacturers, I guess they sound alike. The big difference here is that hardware is not driving this enterprise; photographers are.
There are a lot of websites sponsored by printer manufacturers to help you create better output. The difference at Yellowhouse is that the photographers are driving this enterprise, not the hardware makers.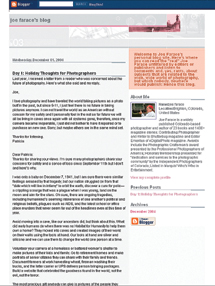 If you are expecting griping and complaining about the world or lists of useless photographic products, you'll have to look elsewhere. There's a kinder, gentler Joe on display at joe farace's blog.
Blog, Blog, Blog
It's a trend. Blogging--jogging is already passé--is the online venting of one's innermost and darkest secrets combined with rants and the kind of vain indulgence that's unbridled in the history of modern communication. So I guess that's why I tried my hand at it. Visit http://farace.blogspot.com. If you are expecting complaining about the world or lists of useless photographic products (which was my original concept), you'll have to look elsewhere. There is a kinder, gentler Joe Farace on display here. If you want to start your own free blog, log onto Blogger (www.blogger.com) and get started.


LATEST VIDEO

SPONSORED VIDEO