BosTail by BosStrap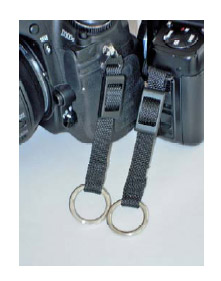 With a BosTail, you can permanently free up your tripod attachment socket and possibly avoid serious damage to your camera. BosTails can be used with any sling style camera strap. BosTails include a slip lock and a nickel plated, metal ring which is permanently attached to the BosTail. BosTails can be adjusted from 2" to 4" to accommodate different camera body heights and carrying configurations.
A BosTail attaches to the left side eyelet or left strap lug depending on the camera body. On cameras that have eyelets with triangular split rings, attach the BosTail to the left side split ring. If your camera comes equipped with a lug for its strap, simply remove the camera strap and install the BosTail on the left side lug. A BosTail never needs to be removed from the camera body. Each camera body should have its own BosTail.
Hanging your camera from the tripod socket is not only inconvenient, but may damage the tripod socket threads and over stress the seals within the camera body. BosTails can help avoid damage by moving the attachment point to a camera strap lug. BosTails, exclusively fabricated with USA parts, are capable ofsupporting over 60 pounds, far exceeding the weight of the heaviest cameras. BosTails are available at $6.95 from BosStrap LLC and from many camera retailers.
Contact www.BosStrap.com or call (508) 251-1345 for more information.

LATEST VIDEO