BosStrap Camera Sling System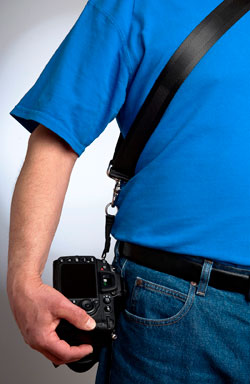 BosStrap's out-of-the-box engineering solved many of the inherent disadvantages of across-the-shoulder camera straps. Visually BosStrap stands out because it does not require a cumbersome and roaming shoulder pad for a gear laden photographer to have all-day comfort.
BosStrap's unique approach relies on a 1-1/2" wide nylon belt to distribute the weight of the camera on your shoulder, and a BosTail that remains attached to the camera. A TriggerLoc on the BosStrap attaches to a metal ring on the BosTail. In use the camera slides smoothly up to your eye; at rest the camera sits at your hip. BosStraps use the left camera strap lug as an attachment point which is safer than attaching to the tripod socket. Since there is no screw to remove from the tripod socket, moving between hand-held shooting and a tripod is a breeze. Professional photographers, who tested the BosStrap system under studio and field conditions, give it exceptionally high reviews. BosStrap is entirely made with USA parts and labor. The BosStrap System includes the BosStrap and one BosTail for $39.95. For backup cameras, a BosStrap Bundle includes one BosStrap and two BosTails for $45.90. BosTails are also available separately for $6.95 each.
Contact BosStrap LLC at www.BosStrap.com or (508) 251-1345 for more information.

LATEST VIDEO