Bob Lilly: Hall of Fame Football Player Bob Lilly Shoots Scenics
All photos by Bob Lilly
Most of us associate the name Bob Lilly with the legendary Dallas Cowboys player--one of football's former stars, immortalized in the Pro Football Hall of Fame. Coach Tom Landry has stated, "I've said this before and I'll say it again. In my lifetime, there hasn't been a player as good as Lilly." As a pro player for 14 years, Lilly has enjoyed many firsts--the team's first draft choice, first Pro Bowl selection, first Ring of Honor member and first Hall of Famer.

Burning Film
As a senior at Texas Christian University in 1961 prior to the beginning of his professional football career, Lilly was named as a member on the Coaches' All American team, sponsored by Kodak. During this time he got his very first 35mm camera. "Kodak gave each of us a very advanced model for the time--a Motormatic. It wound up underneath the camera, was mostly automatic and had a Schneider lens," he recalls. All of the players also received this camera and 200 rolls of film. But the difference between Lilly and his teammates was, as Lilly puts it, "I started burning film then, and I've never stopped."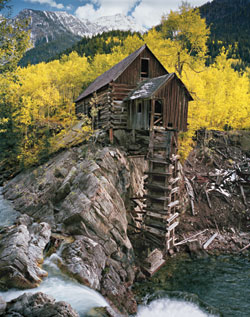 The rustic Crystal Creek mine, Gunnison County, Colorado.
Lilly set out about photographing his teammates, and games that took place at the Hula Bowl in Hawaii and the Shriners' All-Star game in San Francisco. By the time he became the number-one draft choice of the Dallas Cowboys, he was hooked on photography. He shot candid photos of the Cowboys and their coaches, and generally had a camera with him wherever he went. He invested in a Leica M2, with 35mm, 50mm and 90mm lenses. Lilly shot only black-and-white for the first eight years, and transformed the bathroom in his apartment into a darkroom. "I put some plywood over the bathtub to hold my developing trays, washed prints in the sink, and replaced the lightbulb with an amber safelight. This is how I created my first pictures!" Since the early days he's always had a darkroom, he says. With no formal photographic training, Lilly was strongly influenced by photographers like Ansel Adams and Eliot Porter.
An assistant fired a flash unit covered with a red filter on the other side of Utah's Delicate Arch at night, while Lilly made a 5--10-minute exposure to include star trails.
A New Direction
When he retired from his football career, he became involved with several businesses, including a Coors beer distributorship and real estate. But during all this time, he never stopped taking pictures and in 1983, he sold his businesses and moved to Las Cruces, New Mexico, with the idea of opening a gallery. He bought an adobe structure in nearby Mesilla ("It had that Santa Fe look"). He restored the old building and put in two galleries, living quarters, and a color and black-and-white darkroom. In addition to being a showcase for Lilly's photos, "other artists--both photographers and painters--showed their work at my gallery." Guests stayed in an apartment that was also part of this building.

In 1983, Lilly's collection of images of the Dallas Cowboys and their coaches was published in Bob Lilly: Reflections, a book that he co-authored with sports writer Sam Blair. "I took all the pictures except for the ones I'm in," he comments. His photos and words encompass Lilly's memorable 14 years with the Cowboys, an era during which the Cowboys became Super Bowl champions.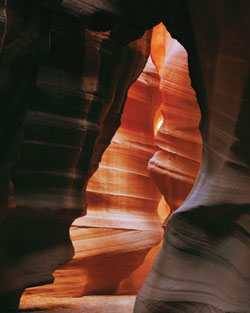 A view of Upper Antelope Canyon, Arizona, on Navajo Indian land.
It was around 1984, Lilly points out, that "I really got involved with landscape photography." Although he had taken mostly black-and-white photos up till then, he got a large color processor for his darkroom in New Mexico. In 1986, he moved on to a more-advanced setup that allowed him to create Cibachrome prints, as well as printing from his color and black-and-white negatives.

He moved back to Texas in 1989, and sold his business in New Mexico. Today he lives outside of Austin, and spends much time with his family and with his photography. He sells many of his images in galleries, participates in shows, and works with several representatives who sell his photos for display in commercial offices. In addition to this, he sometimes donates his work to local charities.
An old plantation is framed by Oak trees in "Oak Alley," outside of Baton Rouge, Louisiana.
A Variety of Tools
Lilly has shot pictures with varying formats and equipment, working with 35mm, digital, medium-format and 4x5 field cameras. These days, he says, he often uses the Canon EOS-1Ds and EOS Digital Rebel SLRs. He uses Hasselblad SWC 903, 501C and 201F for his medium-format work, and has a Wista FA 4x5 for large-format images ("It's compact for a field camera"), and in 35mm, he still uses several Leicas and a Canon EOS-1v when he wants to shoot film. Of course, he has a darkroom, but today it includes a drum scanner for his prints and slides, a pair of Macintosh computers, and several printers.