Best Of Show
Our Reporters Make Their Top Picks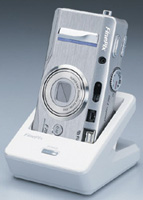 Fujifilm FinePix F700
Although I was not covering digital cameras, I could not resist checking out one model, the new Fujifilm FinePix F700. Encased in a handsome aluminum body, this camera is not only packed with advanced SLR-type capabilities and capture modes, but also boasts some significant "firsts." As the first 6.2-megapixel compact camera, this one raises the bar by a substantial notch, and will usher the way for other ultrahigh-resolution digicams of various brands. More importantly perhaps, the FinePix F700 is the first camera to incorporate the 4th Generation Fujifilm SuperCCD SR sensor array with increased resolution, for images as large as 2832x2128 pixels, without interpolation.

According to the tech notes, this new 1/1.7" sensor offers a wide exposure latitude plus "four times greater dynamic range" than the 3rd Generation sensor, by "simulating the extended tonal range characteristics of color negative film." Consequently, it will hold detail in both highlight and shadow areas even in contrasty lighting as confirmed by sample images shown by Fuji reps. The SR sensor is also said to yield significantly enhanced resolution and sensitivity, as well as enhanced color purity and images with less digital noise. Even the best sensor will not produce superlative image quality without the most effective image processing software. Hence, it's worth noting that the F700 incorporates Fujifilm's Image Intelligence* system, designed to produce "vibrant skin tones, clear whites, and sharp definition." At a list price of $599 (including a docking station) this 6-megapixel camera is definitely a bargain, considering its ultrahigh resolution, and vast range of capabilities and creative controls. Since the FinePix F700 was announced in February, this has been the first model that I recommend to friends who seek my advice before buying a high-resolution digital camera.
--Peter K. Burian
Canon EOS 10D
Since my beat this year was high-end digital I had expected to see a lot of new things, and I did, but most were in the form of nonfunctional or only partly functional prototypes. I find it hard to get excited about a camera that doesn't work or which I am not allowed to handle. My favorite product from the ones that were actually ready to use was the Canon EOS 10D. Actually, I got one of these from Canon shortly after the PMA Show and have now done several shoots with it. It is a remarkably agile camera and the autofocus is such an improvement over its predecessors that I can see it becoming one of my favorite cameras in a hurry. I particularly like the auto rotation feature so I no longer have to individually rotate vertical images from a mixed shoot. This camera is also important because it is pushing the prices on digital SLRs down within the range of more and more photographers. That is good for all of us.
--Bob Shell
Canon EOS 10D
I was torn between the Toy Poodle and Shetland Sheepdog...oops, sorry, wrong "best in show." There was lots of interesting gear at PMA 2003, much more than I expected. I started with the Kodak LS633, if only for the way that OLED technology will reshape our expectations of every kind of display media in the future. I continued with the Kyocera FineCam L4v's oversize 2-5" preview screen wrapped around a sleek body, which was also nice, but I decided my choice for Shutterbug should reflect my real-world choices.

On the second day of the show, I ran into my friendly retailer from Adorama (www.adorama.com) and told him to place my order for a Canon EOS 10D. It's a better EOS D60 and for $500 less I can't go wrong. If I'm lucky, I might even have it before this issue comes out.
--Joe Farace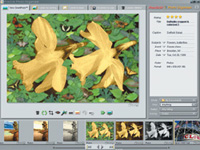 Preclick Lifetime Photo Organizer
New technologies and new products were in abundance at every turn at this year's PMA convention. When it came time to pick my Best of Show, I opted for a product that wasn't quite as splashy as some others. Preclick Lifetime Photo Organizer is a software application that is as fun to use as it is easy to use.

Unlike other photo organizers, Lifetime begins life as a tiny file, so it's not gobbling up countless megabytes of valuable disk space. As soon as it installs, it immediately recognizes where the pictures are stored on your hard drive and starts to gather them up under one roof--virtually (they always stay where you left them, unless deleted within the program). Or you can stop the process and dictate which drive or folder to go to. Once the program gets the go-ahead, it does it all so fast and efficiently.

You just sit back and watch the action unfold. After you've selected the images to view, Lifetime even lets you do some editing, with a very effective redeye-removal tool and an AutoFix tool, which can dramatically improve color, contrast, and exposure, plus rotation and cropping. Or you can convert the image to black and white or sepia. And if you're unhappy with the results, you can undo any edits or one-click restore the original image (otherwise they stay fixed). You can annotate the images and rate them, then do a search or sort by various criteria. When done, you can view a slide show.

Lifetime does even more, letting you pick images to e-mail (shrunk down to size) and the program lets you copy (and optionally shrink) pictures to a separate folder and package that with an installer, to share with friends/family/colleagues. Then there is the kiosk-in-the-home feature, which allows you to select images to be printed by an online service or simply upload your pictures to a photo-sharing web-album.

Lifetime Photo Organizer (for MS Windows only) can be ordered online for $29.95, at www.preclick.com.
--Jack Neubart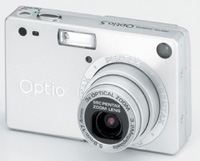 Pentax Optio S
Sometimes smaller is better, or decidedly more convenient, especially if it makes it easier to carry a camera along everywhere. The tiny new Pentax Optio S really does fit this description to a "T." Smaller than most credit cards and just over 3/4" thick, it's about the size of a deck of cards--which were seen everywhere in Las Vegas. A patented sliding lens zoom mechanism allows the 3x optical zoom lens to fully retract into the camera body flush with the front of the stylish aluminum alloy case. Thus it's easy to slide into any pocket or purse to have readily available for those elusive good pictures that typically are seen when no camera is immediately available.

There is an effective 3.2-megapixel capability and the built-in memory is 11MB. A variety of shooting modes are offered including super macro, capable of recording sharp images of subjects a mere 2.4" away. In addition to top-quality digital image recording it has a movie mode with sound playback plus a voice recording mode for attaching 30-second memos to selected images. A rechargeable lithium ion battery
is standard.
--Robert E. Mayer
A Selection From Various Categories
While it may seem unfair I guess I have some sort of leeway here to give you more than one Best of Show nominee.

My "I can't wait to try this one out" award goes to a fun product in the film category--Konica's Film-In Super Wide camera. This single-use model delivers a 17mm lens and a built-in flash--the camera yields a 90Þ angle of view. In case you were wondering, the typical angle of view of a single-use camera is about 30mm. The camera is loaded with 27 exposures of Konica ISO 800 color print film, and might sell for about $9. Who knows, this may replace the Holga and John Stewart's recent Woca discovery.
For sheer usefulness I think the Kodak LS-633 digicam's OLED (O for "organic") display is a long-awaited breakthrough. This display actually allows folks to see what they shot in broad daylight, and from a very wide viewing angle. I saw an image from the side in fairly bright light and it was as clear as if I were looking at it from straight ahead.

Optical stabilizers, Vibration Reducers--whatever you want to call them, the lenses that allow for a pickup of two stops or more in hand holdable shutter speeds are a boon to street and nature photographers. The Nikon addition to their VR (Vibration Reduction) line-up--a 24-120mm model--seems like the ideal "street" lens that should make a hit with candid photographers and photojournalists alike.
Everyone who shoots slides loves Fuji's Velvia film, the color rich chrome that changed the way photographers saw and recorded color. Now that film will be available in an ISO 100 version, doubling the speed of the venerable Velvia 50. Also from Fuji comes a new Astia 100F professional film, the more neutral version yet color rich as well. This film is intended for portrait, fashion, and commercial photographers who need a bit less saturation in their images. For sheer love of film I have to tip my hat to Fujifilm for sticking with it and even improving these glorious emulsions.
Those printing kiosks keep popping up all over the country. These are walk-up workstations that allow you to bring in your CD, digital memory card, or even film and get digital output ranging from prints to other CDs to index prints of all the images you have on your card. There were plenty to choose from at the show (including kiosks from Sony, Polaroid, Kodak, Fuji, etc.). One I especially liked was from Applied Science Fiction, the company that brought us Digital ICE retouching software. This one, dubbed the DigiPIX workstation not only makes copies but also allows you to make the next step with image correction and enhancement. You can remove redeye, control brightness and contrast, and make some impressive color corrections. You can then make prints, dupe your CD, create a CD, and even kick out some enlargements. The digital infrastructure continues to grow.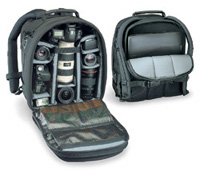 The importance of carryon luggage is becoming greater for photographers--especially digital photographers. These days its not uncommon to carry your processing gear on your back, somewhat like the wet plate photographers of the 1800s but without the mule and tent, it is hoped. That processor also serves as archiver, special effects generator, and business portfolio in one--you guessed it, a computer. This new way of shooting has engendered a host of accessories and innovations that make working with a digital camera a lot easier. One such product I traveled with and liked is Tamrac's 5259 Backpack. The backpack was perfect for carrying a laptop and 35mm and digital SLR equipment. The main compartment is completely foam padded and was large enough to carry a pro-sized digital SLR with a 200mm zoom lens attached, several additional lenses, and even another camera body. The laptop remained protected in a separate, foam-padded compartment in the rear that allows quick access, a handy thing when you're about to get inspected at the airport. Under the front flap is a zippered pocket for personal items and an open pocket for files or tickets. A large zippered accessory pocket held all those wires and cords that are part of the traveling gear today. The backpack fit in the overhead compartment, and sure makes the one carryon bag restriction easier to satisfy.
Although there were a host of amazing gizmos and gadgets at the show my choice for the most fun product was Brandess-Kalt-Aetna Group's My Little Photobobble-Heads. My Little Photobobble-Heads statues have face frames that can be personalized with your favorite little or big kid's photograph. "Just place it in the frame and watch them bobble in a 7" tall, heavy poly-resin constructed bobblehead statue. Choose from a tennis, baseball, basketball (African American or Caucasian), football, hockey, soccer girl, soccer boy, fireman, or policeman," said the press information. Who needs Photoshop when a product like this can bring so much fun to photography?

And of course, in the "open the floodgates" category I have to nominate the Canon D10.
--George Schaub

Manufacturers/Distributors'

FEATURED VIDEO