Benro 'Travel Flat' Tripod Series
Benro announces its new 'Travel Flat' series of professional tripods. The new Travel Flat tripods utilize the finest Aluminum, Carbon Fiber, Magnesium and Stainless Steel components to deliver strong support with the added convenience of ultra-compact design and rapid deployment, making the Travel Flat series ideal for demanding photographers on the go.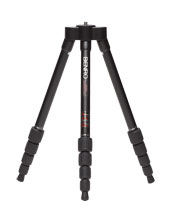 Benro's Travel Flat tripods feature an innovative, patent pending design that changes the traditional tripod model of triangular profiles, adopting instead a flat unified "spider" or connecting hub, which contributes to its compact size and ultra portability when folded. And, the Travel Flat series incorporates a new dust- and water-resistant structural leg-locking system based on proven Benro technology. Additionally, the new Benro Travel Flat series includes an accessory center column, which adds approximately 8 to 12 inches of extra extension and adjustment.
"The new Travel Flat series of professional tripods are lighter, shorter, more stabile, stronger and faster to operate than any other tripods in this class," said Jan Lederman, President of MAC Group. "We're confident the Travel Flat tripod series along with our entire next generation of tripods, monopods and camera support gear represents such significant engineering breakthroughs that they will, once again set new standards of value and performance for any photographer."
Visit www.BenroUSA.com.

LATEST VIDEO

SPONSORED VIDEO