In Battle of Canon vs. Nikon at the Super Bowl, Canon Seems to Be Running Up the Score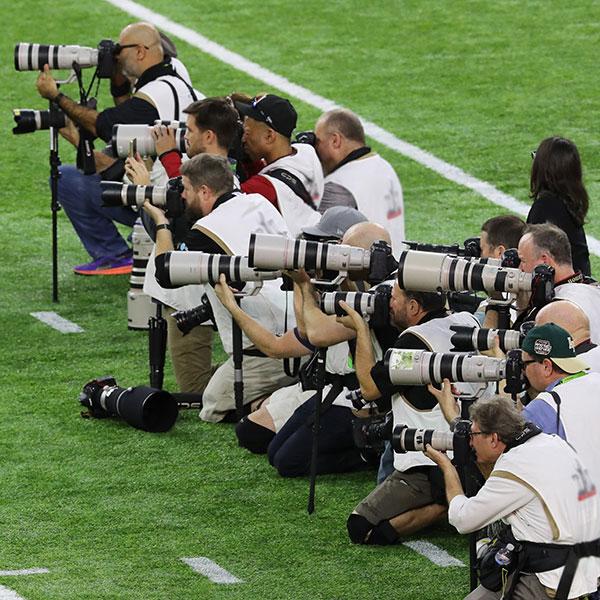 Every year lately, Canon sends out an image from the Super Bowl showing the majority of sports photographers at the big game using the company's familiar "white" professional lenses. And this past Super Bowl, as you can see in the above image from the game, the number of Canon shooters seems to have grown.
According to Canon, an estimated 75% of the photographers in Houston to cover the game this past Sunday, were using the company's lenses. Last year, that number was 70%.
"It's an honor to see yet another major sporting event where the country's most talented and acclaimed sports photographers captured exciting moments with Canon equipment," crowed Yuichi Ishizuka, president and COO, Canon U.S.A. in a press announcement.
While many professional sports photographers we know use the Canon 1D X Mark II DSLR, which we named one of the best cameras of 2016, we also know lots of Nikon D5 users, including many sports photographers, photojournalists, and wildlife shooters.
Some of this Canon domination at the Super Bowl is due to relationships the company has with news wire services in the United States. For example, the Associated Press uses Canon cameras and lenses exclusively.
Some of it is also simply a matter of preference.
Damian Strohmeyer, who shot the Super Bowl for the 30th time on Sunday, uses a bevy of Canon gear when covering the game.
"Depending on where the play is, I need to stay prepared for anything that may happen, with no time to switch lenses," Strohmeyer in Canon's press announcement. "For this reason, I used three EOS-1D X Mark II cameras, equipped with EF 400mm f/2.8L IS II USM, EF 70-200mm f/2.8L IS II USM, and EF 24-70mm f/2.8L II USM lenses. After the game, I switched to an EF 16-35mm f/4L IS USM wide angle lens for post-game reaction shots. Everything performed fabulously, and my images came out looking great!"

LATEST VIDEO