Canon Lenses Appear to Dominate Sidelines During Super Bowl (But Nikon Was Out in Force Too)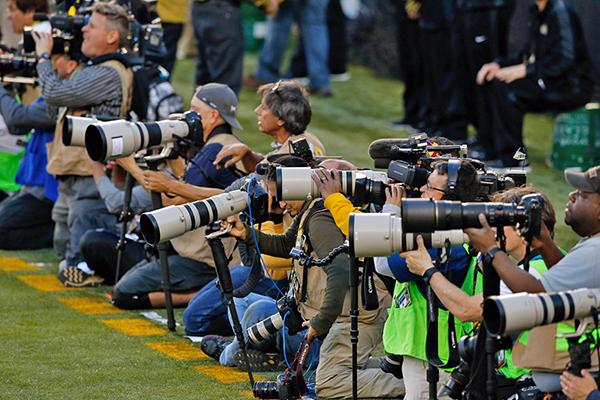 At least according to the above photograph (supplied by Canon USA, of course) and some anecdotes we heard from photographers who shot the big game, Canon's "white" lenses appeared to still dominate the sidelines at this past Sunday's Super Bowl.
"With more than 70 percent of the photographers in the San Francisco stadium using Canon EOS DSLR cameras and EF lenses, Canon's iconic white lenses filled the sidelines from the opening kickoff to the final whistle," Canon USA boasted in a press release today.
Whether that's exactly true or not, we can't say for sure. We can say though that sports photographers and photojournalists have seemed equally hyped about both the new Canon EOS-1D X Mark II pro DSLR and the new Nikon D5 pro DSLR, which have been announced in the past month or so.
And we have heard from reliable sources that both the 1D X II and the D5 were being used by pros during the Super Bowl even though those cameras are not on sale to the public yet. (The 1D X II goes on sale in April 2016 and the D5 ships in March 2016.)
"The EOS-1D X Mark II is a marked improvement in file quality, and the performance was huge at higher ISO," veteran sports photographer Damian Strohmeyer said in Canon's press release today. "This camera is a big step up!"
We wouldn't be surprised if Nikon sports photographers are saying the same thing about the D5. Game on!

FEATURED VIDEO