Bag & Case Update: New Gear Post-photokina
In this update on new bags and cases, with information gathered by reporter Jack Neubart at the CES/PMA show, we're seeing even more innovative styles and practical solutions for carrying our gear. Backpacks, sling bags, and messenger bags garnered most of his attention, along with a sampling of hard cases.–Editor
Booq's line of soft-sided camera bags includes the Python Pack ($259), a lightweight, fully padded backpack with D-SLR cradle, and capacity for up to four midsize lenses and one large zoom, an iPad and a MacBook Pro up to 15". It's constructed of water-repellent ballistic nylon and a rubberized bottom surface, and includes a rain poncho. Also in the lineup are the Python Courier (shoulder bag for small D-SLR outfit: $179) and Python Sling (similar to backpack: $229).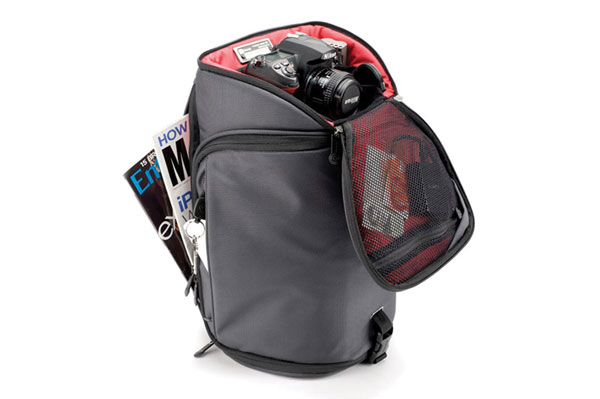 Calumet Photographic launched nine Pro Series bags, three sizes each: shoulder, sling, and backpack made of lightweight, durable weather-resistant materials. Each bag features fully adjustable main compartments and a rain poncho. The two larger backpacks feature a removable waist belt, fully adjustable suspension system, and cable management accessory pouch. Each Pro Series bag will hold a D-SLR, several lenses, and accessories. Most bags hold a tripod or monopod, and, depending on size, all hold either a tablet or laptop, with the large backpack carrying laptops to 17".
Digitec Trading introduced Fotopro to the US market. The Fotopro TT-1 Traveller Kit sling bag (with waist belt)—for a D-SLR/lens/flash—is bundled with Fotopro's X4i reversed-leg, five-section aluminum tripod (load capacity: 11 lbs, max. height: 57.5"). The bag features two zippered pouches, water bottle holder, and cell pouch, plus rain poncho. The tripod includes the FPH-53P aluminum-magnesium-alloy ball head with Arca-style QR plate, and single-action locking.
Golla has debuted three new series, designated Camera Bag S, Camera Bag M, and Camera Bag L, reflecting capacity. Camera Bag L includes the black Riley G1365 Pro Messenger Camera Bag and several sling bags each designed to hold a D-SLR, several lenses, and accessories within a padded interior, and protected by a weather-resistant fabric shell—also holds a tripod.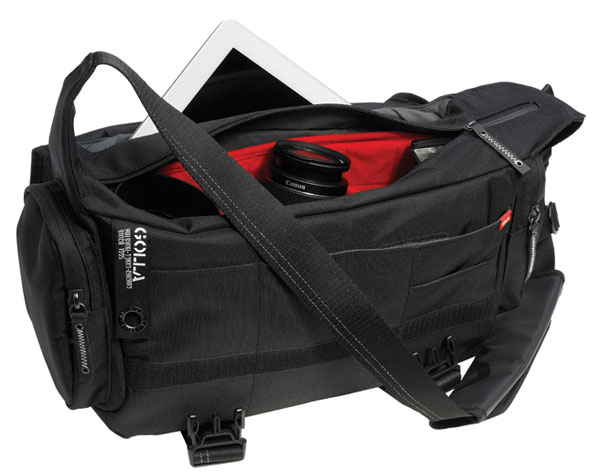 International Supplies has introduced GT Line's Explorer cases. These hard-shell cases are made of a high-quality copolymer polypropylene. They are watertight, dust, chemical, and humidity proof, and are built to withstand extreme temperatures from below 27.4˚F to above 194˚F. Features include a jam-free manual pressure release valve and latches, an O-ring seal, a large front handle and side handles, wheels with bearings, and an optional digital lock. Available in a variety of sizes, with or without internal customizable foam.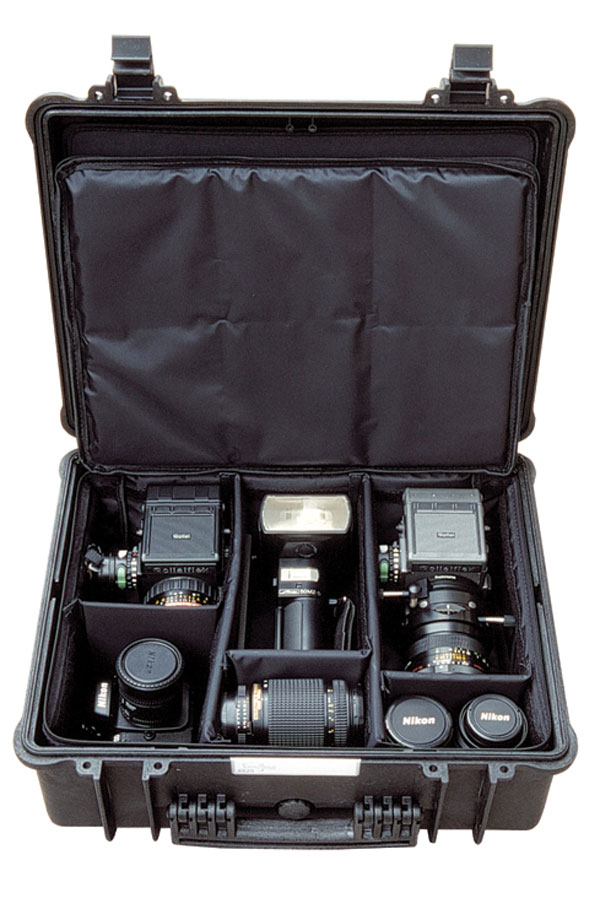 The fashion-forward Jill-e (for women) and Jack (for men) series of camera bags from Jill-e Designs have been expanded with new additions, among them the Jill-e New Day 13" Laptop Backpack and the Jack New Day 15" Laptop Backpack. While padded, with a variety of pockets, these packs don't come preconfigured as camera bags, but optional padded camera inserts are available, making the bags dual-purpose (MSRP for Jill-e pack/insert is $69/$34; Jack pack: $79/$39). Also new is the Jack Metro 15 leather messenger bag, which holds a 15" laptop, with room for optional camera insert ($169; insert: $29).
Manfrotto Distribution added the Stile Plus collection to their lineup of style-conscious bags. The bags feature numerous pockets and dividers to keep gear organized. Larger bags in the collection have a removable extra-protective padded insert, making these bags dual-purpose. Each bag is available in black, blue, and dove colors. The Stile Plus collection encompasses the new Amica shoulder bags, Allegra messenger bags, and Bravo backpacks. Prices range from $25 (small shoulder) to $100 (street) for the Bravo 50 pack.
MindShift Gear (founded by Daniel Beltrá) debuted with the Rotation180 Professional, which integrates a backpack with a belt pack: you simply detach the waist pack and swivel it around the body to gain access to gear you need immediately. The two bags magnetically attach. The belt pack holds a D-SLR with lens attached and possibly other lenses. The upper (main) compartment warehouses additional gear for access during quiet moments on the trails. An internal aluminum frame supports and stabilizes heavy loads.
Norazza launched a variety of Ape Case products. We begin with the ACPRO1720W Converta-Pack Backpack ($329), with multiple means of portage—as backpack, belt pack, or shoulder bag. It features numerous pockets, including water bottle holder—also carries a tripod; rain pouch included. Bright yellow interior makes it easy to see gear. Cubeze Flexible Storage Cubes (from $18 to $60, in a range of sizes) are configurable, padded module inserts (with drawstring closure) that convert any conventional bag into a camera bag. In rugged copolymer polypropylene, watertight and dustproof cases, we have the new ACWP6027 Compact Case ($169) and ACWP6065 Extra Large Case ($349), each with auto pressure valve and continuous hinge.
Protec's Camera Backpack P600 ($190) features five interchangeable modular pockets with drawstring closure, and includes a rain poncho against heavy downpours. It holds two D-SLRs, two additional lenses, a flash, plus a 17" laptop in dedicated sleeve. The Carry‐On iPAC Camera Case IP110WL ($299) features a configurable interior roomy enough for a complete D-SLR outfit, plus a front pocket for a 15.4" laptop. The tough exterior is made of a lightweight, shock-absorbing wood frame covered in water-resistant ballistic nylon. TSA combination lock included. Transport the IP110WL on wheels or with included shoulder strap.
Seahorse bolstered their line of hard-shell cases with a bolder, more rugged design in the SE630, in black, with diced foam (MSRP $91.52). This molded case features ribs and corrugations for added strength. And unlike earlier models from this company, the lid now overlaps and interlocks with the base, ensuring a distortion-free, tighter bond, and enhanced sturdiness. Also includes stronger, longer latches for easier access to locking mechanism.
Tamrac unveiled two new product lines. The Zuma 32 is a sleek shoulder bag aimed at the compact D-SLR or mirrorless camera with lens attached, a flash, and an iPad, plus accessories. And you might get jazzed over the Jazz series backpacks and slings. The larger Jazz backpacks feature a bright orange interior and will hold a modest-sized D-SLR outfit, plus an iPad.
Think Tank Photo released the SubUrban Disguise series shoulder bags ($49 to $84) with a non-traditional design so it doesn't scream "camera gear." Targeted at smaller camera outfits to help you travel light, these bags feature an easy-access, flip-top lid that opens away from your body, with organizer pockets and water bottle holder. The largest bag (model 30) holds a D-SLR with one or two small telephotos, flashes, and an iPad. Rain poncho included.
Tiffen debuted the Next Generation Domke, which adds a new twist to this time-honored photojournalist bag in the Journalist, Metropolitan, Visionary, and Adventurer series. The Next Generation collection offers two bag expansion and customization systems, in contrast to the fixed-module camera inserts found in earlier bags. Features include expandable side and front pockets, padded zippered tablet pocket, rain pouch, luggage strap, top zipper access, and Velcro "Quiet" system.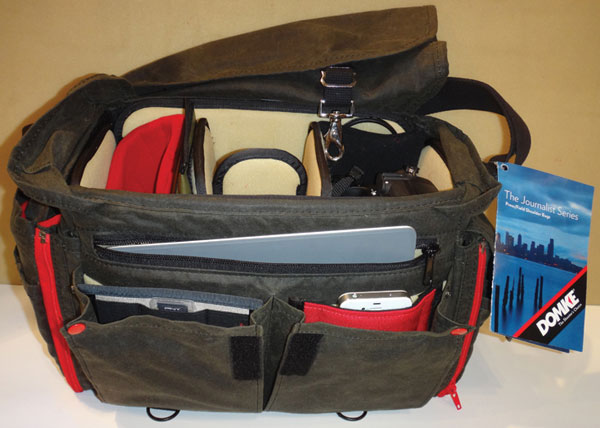 Timbuk2's Espionage Camera Backpack ($199) offers separate compartments for camera and personal gear, with enhanced weather protection, including rain poncho. Fully padded and customizable, the camera section fits one camera body with a medium lens and three additional lenses, a flash, and accessories, plus outside pockets for various items, including a water bottle. Fully padded laptop compartment fits up to a 17" MacBook Pro. Holds a tripod.
Vanguard debuted several bags in varying sizes. Following in the footsteps of the Kinray, the Kinray Lite series encompasses backpack, sling, and belt packs. The backpack and sling feature a removable, padded camera module, converting the bag into an everyday pack. Access is via the side or top. Pack comes with ergonomic harness with chest/waist straps and rain poncho, and holds a monopod or walking stick. Outside pockets include a mesh water bottle holder. Also new are the Vojo canvas-style shoulder bags—practical, yet fashionable (select models hold tablet or small laptop), and the 2GO series (select models hold a laptop), consisting of backpack, sling, and messenger bags.
Product shots appear courtesy of the respective manufacturers/distributors.
Contacts
Booq: www.booqbags.com
Calumet Photographic: www.calumetphoto.com
Digitec Trading (FotoPro): www.digitectrading.com
Golla: www.golla.com
International Supplies (GT Line): www.internationalsupplies.com
Jill-e Designs: www.jill-e.com
Manfrotto Distribution: www.manfrotto.us
MindShift Gear: www.mindshiftgear.com
Norazza (Ape Case): www.norazza.com; www.apecase.com
Protec: www.protecstyle.com
Seahorse: www.seahorse.net
Tamrac: www.tamrac.com
Think Tank Photo: www.thinktankphoto.com
Tiffen (Domke): www.tiffen.com; www.domkephoto.com
Timbuk2: www.timbuk2.com
Vanguard: www.vanguardworld.com