Aurora's Mini/Max; Affordable On-Camera Flash Light Modifiers Page 2
In The Field
Mary and I tested the different Mini/Max devices under a variety of real-world conditions using Canon and Olympus system flashes and were impressed by their functionality and value. When folded flat the devices take up very little space in your camera bag, making them ideal when we were photographing models on location in Westminster, Colorado. In actual use, the exposure is either perfect the first time or you may need to make a test shot and one adjustment to the flash or camera to get picture-perfect results, as I found when balancing ambient light indoors. The photograph of Mary that accompanies this story was made after one test shot; shifting the camera's mode from Av (and a shutter speed from 1⁄100 to 1⁄30 sec) to Tv brings more room light into play and accentuates the backlighting.

One of the most clever design aspects of both small light banks is that they have flaps in their top and bottom that can be opened for multidirectional lighting effects when working indoors. You can use these flaps to add bounce lighting off a wall or ceiling, depending on the orientation of the camera and flash, or you can use the light bank as bounce and open the flap to aim semi-direct light at your subject. With these designs, Aurora has put a clever spin on that classic light bank design—albeit in miniature form.
(Left): I photographed MTM model Tatiana on location using the larger (FBC) Mini/Max bounce card to provide wide coverage for the wide-angle shot. Camera was an Olympus E-30 with a Zuiko Digital 14-45mm lens (at 20mm) with an exposure of 1⁄60 sec at f/3.5 and ISO 200. An Olympus FL-50R flash was used with the FBC card. (Right): Mary photographed MTM model Tatiana on location using the smaller (QBC) Mini/Max bounce card. Camera was an Olympus E-30 with a Zuiko Digital 14-45mm lens (at 50mm) with an exposure of 1⁄100 sec at f/4.5 and ISO 200. An Olympus FL-50R flash was used with the QBC card.
Photos © 2009, Mary Farace, All Rights Reserved
In shooting with two different cameras, two different flashes, and two different Mini/Max devices, we found that the smaller model (QLB) performed perfectly on both systems. The larger model, because it's so much bigger, can get a little floppy and, depending on the flash and how it's mounted, occasionally produced inconsistent exposures when shooting with an Olympus E-30 (and sometimes an E-3) and FL-50R flash. With my Canon EOS 50D and 550EX both light banks produced excellent results. If you run into exposure inconsistencies with your flash, I suggest you switch mounting systems from the strap to the sticky patches or vice versa.

The bounce cards worked flawlessly, producing wonderfully soft results with either Olympus or Canon flashes. While the larger (FBC) card is designed for groups, we used it for portraits because it reminded us of the results produced by an old Vivitar 283 accessory that attached a Kodak Gray Card (the flip side is white) to the flash as a bounce accessory and produced deliciously soft lighting effects with on-camera flash. If you fondly remember that device and want to get the same kind of lovin' feelin' with your camera system flash, then get the FBC card. Tip: If you use the camera and flash vertically, be sure to move the subject away from the wall. Otherwise the big kicker will produce big shadows. If you can't move the subject, switch to the smaller QBC card.
As you can see with this photograph of Kelsy, the larger FBC bounce card works wonderfully when used in a horizontal position. Photo made with an Olympus E-3 and a Zuiko Digital 40-150mm lens with an exposure of 1⁄40 sec at f/4.5 and ISO 400.
© 2009, Mary Farace, All Rights Reserved
Wedding photographers will consider the FBC a must for fast, great-looking portraits made while the father of the bride is tapping on his watch, while on-the-go photographers may like the smaller QBC model which won't take up much room in a vest or jacket pocket and can add a bit of soft light to
photojournalistic-style shoots. In closer shots, skin tones appeared especially luminescent.

One of the side benefits of using the Mini/Max light banks is that it's an easy and inexpensive introduction to the world of studio lighting. If you like using these little light banks, you might be tempted to try something larger and even build your own studio. That subject is covered in my "Studio in a Small Space" article, which is also in this issue of Shutterbug.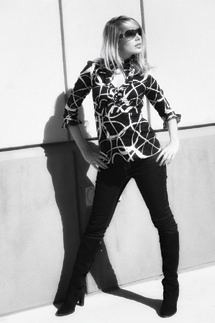 Outdoors the smaller Mini/Max QBC bounce card mounted on an Olympus FL-50R shot in FP mode served to add just a little extra fill light on Kelsy's face. I know many photographers keep small bounce cards on their flashes at all times. If that's you, you'll love the QBC.
© 2009, Mary Farace, All Rights Reserved
The Mini/Max light banks and bounce cards are so useful and inexpensive that if you photograph people, you'll want to have one or more of them in your camera bag so when you need to make a quick shot and want to avoid that dreaded "flash on-camera" look, you'll be able to create a portrait, not just a picture of that person.

For more information, contact Booth Photographic at: www.boothphoto.com.

LATEST VIDEO