Around The World In 80 Pixels; A Truly Unforgettable Voyage Page 2
Take A Walk On The Wild Side
Boza Ivanovic's heart-wrenching images populate a website (
www.bozaphoto.com
) full of powerful images, some of which might move you to tears. His People gallery is full of monochrome (and one color) images that show the effect of poverty on the human spirit and while they are captionless, each one tells a story. Depending on your level of compassion, you can fill in the caption. This site is not a depressing dirge; the Animals section is full of life and color and when a human does appear it is in silhouette. Is there a message here that says: "Who owns this planet?" I dunno.
Except for the one Tae Kwon Do image, the photographs in Sports are full of life and action. I have never seen a really good Tae Kwon Do photo. (OK martial arts shooters; tell me where to find some on the web.) The cycling, surfing, and snowboarding images burst with joie de vivre much as the People section lacks it. Over in Urban you'll find a collection of dramatic urban architectural images, proving what a versatile dude Ivanovic is, while the Nature section is filled with merely nice photographs, proving that's not his genre. Go for the People but stay for Sports and Animals.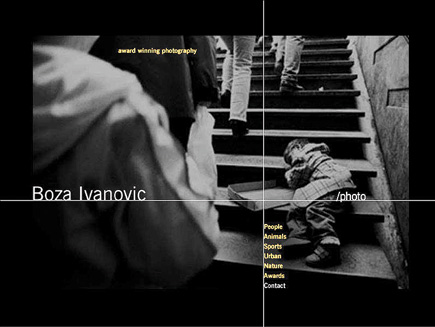 The Business Of Photography
Before you get too far into Patrick Williams' website (www.patwilphoto.com) read the story in Biography of how he fell in love with photography, was burnt out, and rediscovered it, to his joy. It's a familiar one on the business side of photography, but this time Williams has clearly learned how to have fun. He's generous, too. Biography also features portraits and information about his staff, including Casey A. Lee who designed this classy-looking site.
You can learn a lot about how a photographer works by looking at their proof sheets, so go to Proofing first and see their digital equivalent. (If you're not offering online digital proofs to your clients, maybe you should.) This section includes everything from seriously cute children's portraits to commercial photography that exhibits the breadth and depth of Williams and his team's talents. The Wedding section includes testimonials, pricing, albums, and paintings. Not painting as in "oil on canvas" but more like pixels on paper or gicleé, for want of a better word. His Wedding gallery is full of fun, fresh images and it's clear Williams' clients are relaxed and like having him around. The Portraiture section is full of spontaneous, fun (there's that word again) images that run the gamut from glam to country all executed with style. The Art section contains arty work, but it's clear that people are really Williams' forte, as can be seen by the images in his Events gallery.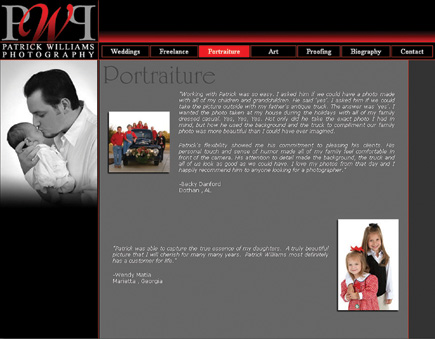 LATEST VIDEO

SPONSORED VIDEO
Testing Tamron's SP 150-60mm G2 lens while capturing birds and alligators in Apalachicola, Florida.