Apple's Aperture; Digital Camera Image Management, Processing, Editing, And Output—All In One Page 2
With most other raw software converters and programs, once an image is adjusted you had to then export it and open that file in an image editor to do anything with it. But Aperture continues to provide the tools a photographer needs to further organize, present, and publish photographs in formats applicable to a variety of tasks without this extra step. For example, if a photographer wants to output a digital slide show either from some of the images in a Project or images from several different Projects, a Smart Album can be created and the images can be gathered as a collection in this new Smart Album space. Smart Albums, unlike the Project albums, allow images to be controlled and gathered via the Query HUD. Any applied criteria can be used to gather images, including star ratings, keywords, etc.
Eyedropper And Loupe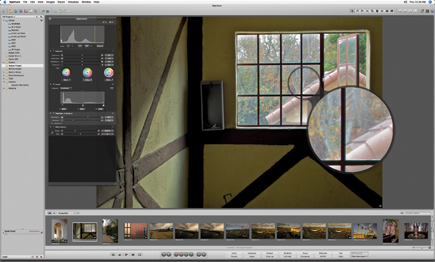 The "eyedropper" function can be used to select exactly the black, gray, and whitepoint manually. This is aided by the Loupe, which is connected to the mouse cursor, which allows you to make a precise, single pixel selection if desired. This is a very slick, fast, and easy way to make image adjustments.
Another organizational space is Light Table, a freeform space for arranging slides on a virtual light table that also allows you to re-size and overlay images. Images can be added to a newly created Light Table from any project or album browser by just dragging the image into the Light Table's work space on screen. That selection can be individually re-sized and further adjusted so the values match other images in the Light Table collection. It's very much like a page in a desktop publishing program, but even easier to use.

The output options provided by Aperture support all kinds of media, from the web and e-mail to high-quality bound books printed through services from Apple, available via their online Aperture service. The single image print is effectively done with a print dialog that supports a preview for sizing and, if desired, putting a border on the image on the print. It is fully color managed to print directly to a print space profile, with Aperture controlling color. And of course individual images can be exported as files saved to your desktop or a folder, or opened in a designated application like Photoshop. Additionally, copies of the downloaded raw format camera files can be output intact in their native raw format.

Both web journals (photoblogs) and web galleries may be created using Aperture-controlled formatting for the number of columns/thumbnail size and the number of rows and, with Journals, support for text in text blocks. And, of course images in a browser can be selected to be included in a contact proof sheet that may be reproduced with a desktop printer, output as an Acrobat .PDF, sent as e-mail or reproduced in HTML as a web page. Finally, Aperture supports multi-paged books using a Create Book Album from a selection of images. The book can be reproduced in different sizes and styles, which you can first proof with a desktop printer and then order through Apple online, including binding in hard or soft cover. This strikes me as a real bonus for a wedding photographer, as Aperture supports the entire process from start to a finished album.

While Aperture is designed around the photographer's needs when working with a digital camera, it is not limited to working with current images only from a digital camera. It will support opening and processing raw scan files in the same manner, with all the tools available as well. It will also open and incorporate all standard image format files from CD-Rs and other media from a library of photographs, so you may mix and match images from all sources both old and new to output from Aperture in all the formats it supports.
Light Table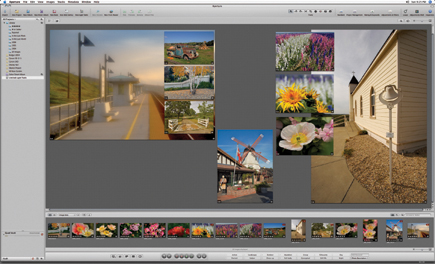 Once you have a Project or collection of images all adjusted and ready for use, Aperture continues to provide a wealth of output options. The one work space I found most engaging was the Light Table, which is a freeform multi-image composition space. Images dragged into the work space can be used to produce prints, Acrobat .PDF files, or an HTML web page. This collection illustrates the area of the central coast of California where I live and was the setting for the movie comedy Sideways.
Evaluation And Recommendation
It was an ambitious undertaking for Apple to produce an entirely new application that would address all of the primary software needs of photographers in one integrated work space. That Aperture is as comprehensive as it is, and functions as fast and efficiently to produce high-quality results with relative ease is pretty miraculous. Their accomplishment is even more impressive given that this is their first go-round; other software vendors have been doing image-editing applications for years and have achieved their effectiveness only over years of numerous version upgrades.

Indeed, some of the Aperture capabilities are already available in LaserSoft's SilverFast DCPro Studio, but that program is a long way from having the slick and elegant interface Aperture provides. Aperture does have its faults. There are needed but missing tools. The one most serious flaw for me is that Aperture relies too heavily on keyboard short cuts; in fact, pages of them. Keyboard short cuts are an efficiency advantage for someone using just one or at most two major applications, but not if you regularly use a dozen unrelated applications like a database, spreadsheet, Internet browser, e-mail, word processor, layout and design application for DTP, plus a sophisticated creative paint application. It's simply far too much to memorize. Apple would be wise to offer many more right mouse button context sensitive menu selections in addition to their keyboard short cuts. Another suggestion is that the Adjustment HUD should also offer an HSL selective color adjustment tool, as well as a filter to eliminate color fringe artifacts from very short, wide angle lenses.

Although $499 is a substantial software investment, the breadth and capabilities of Aperture makes it worthwhile. There has been some talk that you need a super powerful Mac to run it, but from my experience I think the horsepower of a G5 Quad is only required by very prolific pro shooters doing 1000 exposures a day or more. It worked fine, efficiently and faster than any other digital camera raw file application I've used on a year-old minimally configured G5, and the published minimum requirements include both Mac PowerBooks and the latest model iMacs (the new Intel Dual Core will be supported by the time you read this). You can be sure I will continue to use Aperture on a regular basis, and I can't really imagine a photographer not finding it a great advantage in speed, efficiency, quality, and capability.
Aperture Version 1.1
As we went to press Apple announced Version 1.1 of Aperture, a major upgrade based on user feedback. The upgrade is the first Universal version of Aperture and is available free to all registered Aperture owners. According to Apple, Aperture 1.1 provides new, improved raw decode algorithms that deliver next-generation raw image handling. Thanks to the improved default rendering of raw images from supported cameras, Aperture 1.1 is said to yield significantly better image quality in noise reduction, sharpening, and highlight recovery.

In order to maintain the image integrity of the existing photos in your Aperture library, Aperture 1.1 gives you the ability to retain the original 1.0 raw decode. Or, if you prefer, you can selectively migrate images to the new 1.1 raw decode.

Also new is Raw Fine Tuning, an entirely new set of Raw Fine Tuning controls available in the Adjustments HUD allowing you to tweak decode settings. These include Boost, which lets you intensify or reduce image contrast; Sharpening, which lets you either dial in the amount of sharpening you'd prefer to see applied to images in the raw decode process or turn off sharpening altogether; and Chroma Blur, which lets you soften chroma noise by blurring color artifacts caused by camera sensor noise. Aperture 1.1 lets you save your customized decode adjustments as a camera default, so they can be easily applied to newly imported images.

Designed specifically to deal with noisy images resulting from high ISOs or long exposures, Aperture 1.1's new Auto Noise Compensation option automatically applies the optimal settings for noise reduction to your image. A real time-saver, Auto Noise Compensation takes into account the unique noise characteristics of each camera and dials in the optimal settings to produce a high-quality result.

Aperture 1.1 includes a built-in color meter you can use to sample the pixel values anywhere in an image and display them in RGB, LAB, or CMYK. Particularly useful when fine-tuning image exposure, color balance, and brightness parameters, you can use the color meter anywhere in Aperture--while editing, adjusting, arranging images on a Light Table, or laying out a book. In Aperture 1.1, you can display color values at any time in the Adjustments HUD or opt to display them right in the Loupe.

In Aperture 1.1 the Export Versions command now includes a "Fit Within (Inches)" option and allows you to specify a resolution in dots per inch (dpi) for exported images, making it easier to output images at exactly the size you want. In addition, you can also specify the default dpi for images you'd like to open in an external editor. If, for example, you regularly open images for layering effects in Adobe Photoshop, you can now specify that Photoshop open them at 300dpi (or another dpi of your choosing). Aperture 1.1 now allows you to manage layered Photoshop files without having to needlessly create additional flattened versions.

For more information and detailed computer requirements (pay particular attention to which video cards are supported), visit the Apple website at: http://apple.com/aperture. You may also contact Apple Computer, Inc. at 1 Infinite Loop, Cupertino, CA 95014; (408) 996-1010.

LATEST VIDEO

SPONSORED VIDEO
Testing Tamron's SP 150-60mm G2 lens while capturing birds and alligators in Apalachicola, Florida.