Apple's Aperture 2.1; A Better Workflow? Page 2
Browsing And Editing Speed
Of course, the real improvements in Aperture 2.1 are all under the hood. I decided to load the program on the fastest Mac currently available: a 17" MacBook Pro that uses the Intel Penryn Core 2 Duo processor running at 2.6GHz. This machine uses a jaw-dropping 6MB of on-board cache to help speed up memory-hungry tasks, such as browsing 5MB photos or metagging thousands of photos.
On the MacBook Pro, there's more fluidity than even the original Aperture 2.0 release--the program absolutely sings. With exactly 2847 photos in my archive, I was able to quickly scan through images, organize them into projects, view images in a full-screen view, and occasionally stop to quickly view one or two images and make edits. New gesture controls for zooming in on an image and quickly flipping through an archive--features that only work on the MacBook Pro I tested--help with browsing as well. Editing adjustments were instantaneous, even on very large resolution images, mostly thanks to the MacBook Pro's memory cache. Importantly, Aperture taps into this power for color corrections as well, so I never had to wait to see my edits take effect. The ultimate payoff? My workflow was faster and more elegant--I produced better results thanks to the speed.
Aperture 2.1 allows you to see images in a comparison view so that you can see how your color corrections change the tonal quality of the image.

After importing images, you can view smaller thumbnails without a large preview, which helps you quickly add metadata (helpful in finding images later) and organize the raw images.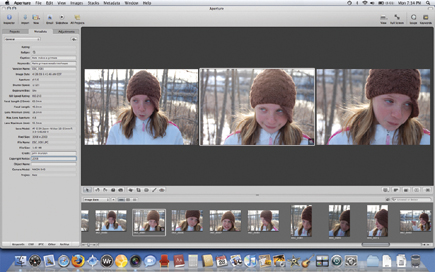 With three images on screen at the same time, you can select the one you want and add more details to the metatag information, such as photo credit and copyright.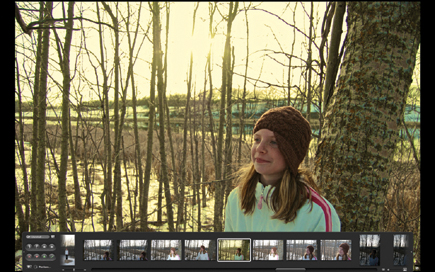 You can browse images in a full-screen view, which has no impact on the browse speed thanks to how Aperture stores image data, and use processor caching to keep workflows fluid.

Here, I added a sepia tone to an image that just didn't look right without the new tones. Note the loupe which helps you examine specific areas of the photo for defects or color problems.
Once you choose the photos you want and make color corrections, you can easily e-mail, archive, burn photos to disc, or publish your photos to the web from within Aperture 2.1.
Overall, Aperture 2.1 is a major boon for photographers who need to work quickly but produce professional results. It's not just a photo browser, it's a productivity enhancer without any superfluous features in software packages you probably already own anyway.
Aperture 2.1 Vs. Adobe's Lightroom 1.4
In comparison to Lightroom 1.4 on the same MacBook Pro, Aperture was noticeably more nimble. Lightroom would occasionally pause or stutter during photo browsing, especially when flipping through very high-resolution 5MB images. While scrolling in Lightroom, a series of blank white images would invariably appear (placeholders for the real image), while Aperture seemed to keep up easier.

In terms of editing prowess, Aperture 2.1 is geared for the professional who likely already uses Photoshop. There are a few minor tweaks in the latest release for how the user interface works for adjustments, such as a new Vibrancy tool for adjusting saturation for the selected portion of an image, and a new retouching brush helps you remove blemishes in photos. In terms of detailed corrections, Adobe's Lightroom still has the edge. Some Lightroom advantages include tonal controls for fill lights and clarity, better histograms, and effects such as selenium and cyanotype that dramatically alter tonal quality.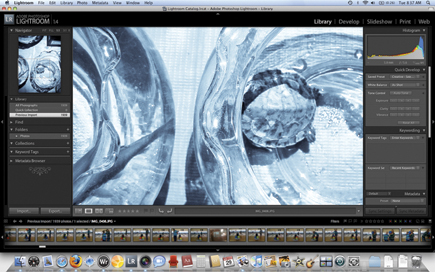 Adobe's Lightroom 1.4 lagged behind Aperture in raw image browsing speed, although the actual photo-editing options are richer and may help you produce better color-corrected images.
Aperture 2.1 has an MSRP of $199. See the Apple store for upgrade and recent Aperture 1.5 purchaser prices.

For more information, contact Apple Inc., 1 Infinite Loop, Cupertino, CA 95014; (408) 996-1010; www.apple.com.

LATEST VIDEO