Apple's Aperture 2.1; A Better Workflow?
In a perfect world, photos would magically transport themselves from your camera to a safe location, fully metatagged and color corrected. Alas, the professional's workflow is not that simple. In a digital age, a streamlined workflow hinges on two factors: photo viewing speed and editing agility.
Apple's Aperture 2.1 addresses both factors with a revved-up database engine that makes it easier to find that one photo of the woman in the red scarf you took last Monday. In addition, new Adjustment features encourage more experimentation and produce better results. To find out exactly how these new enhancements change the workflow, I put Aperture 2.1 through a series of tests (see "Aperture 2.1 Vs. Adobe's Lightroom 1.4" sidebar below). I also uncovered new features, including powerful plug-in support and a few new interface tweaks.

Before I get to the enhancements, it's important to review Aperture's strengths, and weaknesses. For the professional, Aperture is an all-in-one program. It's the digital equivalent of a light table where you can review your recent shoots and examine color attributes and metadata. It's like having camera and darkroom in one as you can adjust color, exposure, add sepia tones, lower the black point of a photo, and make other "adjustments" to contrast, definition, saturation, and vibrancy. As a professional photographic tool, Aperture assumes your photos do not need extensive retouching and editing--which is to say: this is not Adobe's Photoshop. It's an important distinction. Photoshop is essentially a graphic program--it's for postproduction, not selection.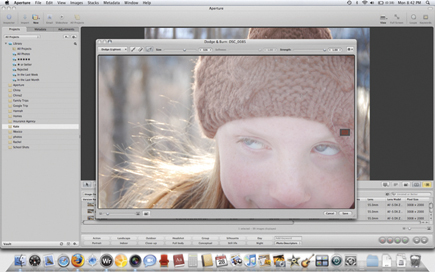 New plug-in support in Aperture 2.1 means you can use third-party tools, such as this Dodge & Burn plug-in (included with Aperture) and DFT Light, which helps you control and edit image lighting.
All Photos © 2008, John Brandon, All Rights Reserved
Here's an example: Say a client wants to show a banana stalk in a grocery store ad. The photographer would use Aperture primarily to select the ideal photo, so the speed of browsing is critical. The longer it takes to flip through 100 shots of bananas, the longer the workflow. She may choose to correct the color, perhaps sharpen an image or two, but the ultimate goal is delivering the photo to the client. Photoshop, conversely, is primarily an editing tool, which means photo browsing, color correction, and delivery are secondary to retouching a photo: e.g., removing blemishes on one bad banana.

Once you understand these differences, it's easier to see why Aperture works the way it does. Editing, though certainly available, is secondary to browsing and delivery to clients. You can quickly e-mail full-res raw images to a client, upload them to a .Mac Web Gallery, or just save them to a disc. There's also a full-screen view that removes all the clutter and helps you focus on examining photos, using a digital loupe if you wish.
Before And After Images
Color correcting images is the core of what makes Aperture such a critical tool. Here, I added a brownish pale to my daughter's face and the background to make the colors more uniform.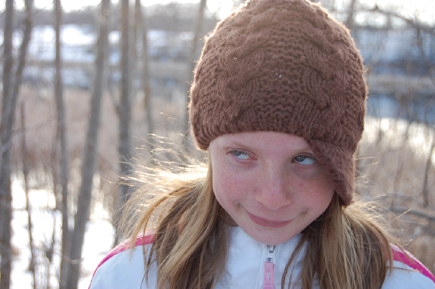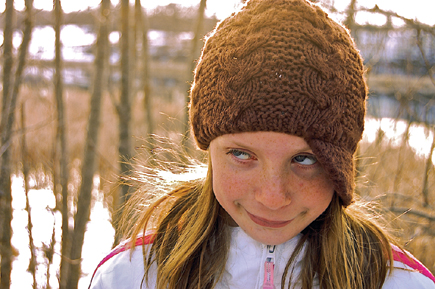 Steps To Correct Image
1. Use the Retouch tool to remove smudges, blemishes, or stray hair.

2. Use the exposure options to add more color depth, brightness, and clarity.
3. Compare the images to see how the changes impact the photo.
New plug-in support--while so freshly minted that there are only a handful of add-ons available--means third-party developers can now enhance the product. I used one called DFT Light, which can add lighting behind a portrait shot, increase lens flare, or just make the image look softer. There are also a few minor tweaks to mention: a new All Projects view shows photo albums--you can flip through photos in an album thumbnail just by moving the mouse back and forth. As far as I can tell, metagging works the same in Aperture 2.1 as previous releases, which is to say: it works quite well.


LATEST VIDEO