Amazing Fiery Explosion Photos Created from Fried Chicken Go Viral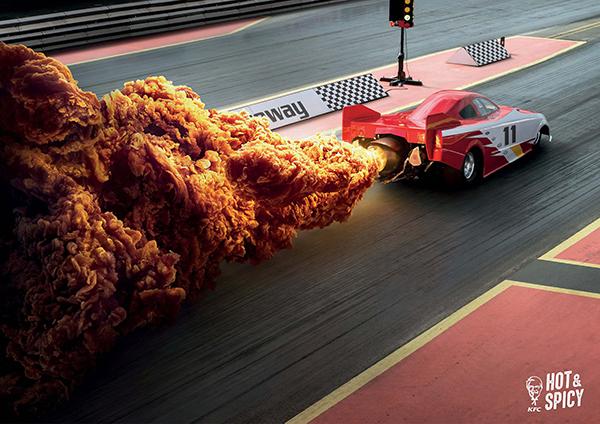 Here are some astounding images that will make you do a serious double-take. No, those aren't fiery explosions you see coming out of the drag racer (above) or from the Space Shuttle and behind the Power Rangers (below). It's actually fried chicken.
Created by Ogilvy & Mather Hong Kong as part of a clever ad campaign for KFC Hong Kong, the composited images are being used to help promote KFC's hot & spicy chicken.
They've definitely done their job. The images have gone viral, turning up on photo blogs and advertising sites all over the Internet.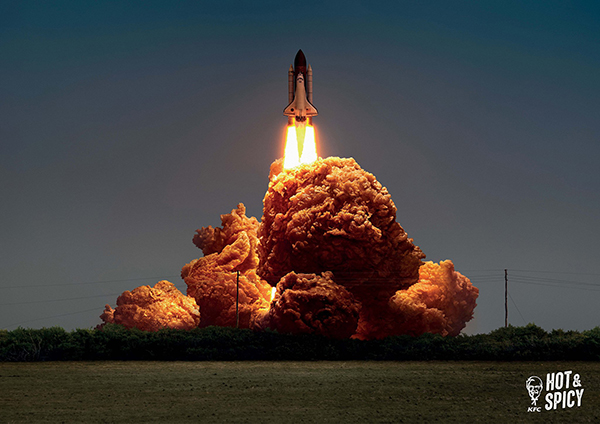 Well played, KFC, well played. Now pass the fried chicken (for our next photo shoot, of course)!
Here are the credits for this clever ad campaign:
Agency: Ogilvy & Mather Hong Kong
Client: KFC Hong Kong
Chief Creative Officer: Reed Collins
Creative Director / Business Partner: John Koay
Creative Director: Matt Nisbet
Associate Creative Director: Kai Fung Chan
Art Director: John Koay
Account Manager: Stella Fung
Project Manager: Jennifer To
Photographer: Illusion, Bangkok
Illustrator: Illusion, Bangkok
Retoucher: Illusion, Bangkok

LATEST VIDEO