Altruism And Photography: Documenting The Work Of The World Cataract Foundation
After a grueling three-day walk, an elderly farmer, hobbling with the aid of two gnarly walking sticks, finally arrived at the hospital in Ometepec. The long distance and oppressive Mexican heat were not his only obstacles—the insidious cataracts that were slowly robbing him of his vision made his trek a precarious journey. A young mother, who had been sightless for several years, gave birth to a child. She had nursed her, raised her, and loved her, without ever seeing her face.
The farmer and the young mother were among more than 800 people who converged on Ometepec in the southernmost part of Mexico, where, for a week, a medical team from the World Cataract Foundation would perform sight-giving surgery.
Having recently undergone cataract surgery, I had heard from an ophthalmic surgeon friend in Tennessee about the great services of the World Cataract Foundation, begun 35 years ago by the world-famous ophthalmologist Dr. Jerre M. Freeman, of Memphis, Tennessee. Their goal is the elimination of cataract blindness in developing parts of the world by annually sending mission teams to Third World countries, where they perform surgeries, train local physicians, and supply medical equipment.
I was pleased and excited when they accepted my offer to serve as a volunteer photographer to document one of their mission trips. I love to travel, I love photographic challenges, and I feel that it's important for artists, whenever possible, to use their gifts in service to others in need.
So, on November 10, 2012, I met up with several world-class ophthalmic surgeons, along with their nurses and assistants, at the airport in Acapulco. We spent the night in a hotel before proceeding in a bus over a rough, dusty road to Ometepec, one of the poorest towns in Mexico. The Hospital de la Amistad (Friendship) in Ometepec was built by an American, a Presbyterian missionary, many years ago. When our bus pulled up to the hospital, I gazed out the window and was amazed to see the sidewalks filled with a multitude of men and women who had been eagerly anticipating the arrival of the medical team. I could hardly wait to get off the bus to start taking photographs.
After we checked in at Hotel Yeni, across from the hospital, the physicians and helpers went straight to work in two of the hospital's large operating rooms. This was an opportunity for me to use the time-lapse feature on my new Nikon D600 to make a one-minute video of two hours' worth of unpacking many crates of equipment and surgical instruments, assembling the large microscopes, and preparing the room for surgery.
The hospital lobby was full. Patients were being screened by two Mexican ophthalmologists, part of the World Cataract Foundation Mexico, who checked eyes, took medical histories, and determined who would be eligible for surgery. I was given free reign to take any and all photos that I felt would be useful, including pictures of the screening process and the doctors' use of the slit lamp, where the interior of the eyes were closely examined. I had brought several 32GB SDHC cards and was shooting Raw format. Each evening I would organize and make adjustments using Adobe's Photoshop Lightroom 4.
Early the next morning, several of the hospital's long hallways were packed with people deemed eligible for surgery, waiting to be called into the pre-op area for preparation to be taken into one of the operating rooms. The use of the wide-angle lens on my backup camera, a Nikon D7000, allowed me to make several creative shots.
Before being escorted into the operating room, each patient was again checked by a doctor, who put drops in the affected eye and, with a felt-tip pen, marked an X over the eye needing surgery. To determine which type of artificial lens would be implanted, a technician then measured the length of the eye with a device that uses ultrasound. With my Nikon micro lens, I was able to take graphic shots of several patients' large cataracts. Drops in the eyes, the X marks over the eyes, and other last-minute preparations before surgery provided dramatic pictures. Everywhere I turned, there was a compelling photograph waiting to be taken.
The surgical team from the U.S.A. and Mexico began operating. Depending on the severity of the cataract, each operation took from 12 to 25 minutes. The surgeons used powerful binocular microscopes and delicate instruments to perform the meticulous, exacting procedures. I was allowed to photograph any and all cataract operations up close. My only restrictions were that I couldn't touch anything blue, which indicated a sterile area, and I had to wear a surgical cap and mask. By shooting so many of the surgeries, I had plenty of time to tweak my exposures, try different f/stops, experiment with HDR, and use different lenses.
Four surgeons operated using the phacoemulsification probe, an instrument with a needle tip, vibrating at an ultrasonic frequency, inserted into the eye to both emulsify the cataract and suction out the dissolved particles. An artificial intraocular lens, folded inside a holder, was then injected into the eye and unfolded. On a tripod, my camera was placed within a foot of the eye, allowing great images of the phaco probe, of the holder inserting the lens into the eye, and of other stages of each surgery.
For some patients, on whom the phaco technique wouldn't be effective, a modified technique of an older surgery was used to remove the difficult, dense cataracts frequently found in undeveloped areas of the world. It required a larger incision, so the whole cataract could be dislodged and extracted intact. The surgeon patiently held the cataract, which looked like a coffee bean, in place beside the eye while I snapped several exposures.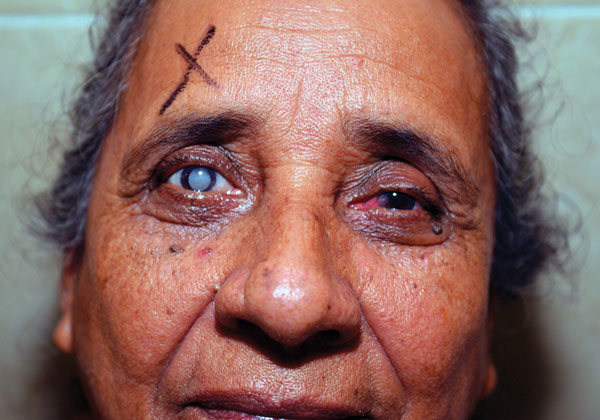 When surgery was complete and the eye was bandaged, I photographed each patient as he or she was assisted from the operating table and gently guided out to waiting family. The patient was instructed to return the following morning for removal of the patch.
Since most of the patients were from out of town and had no place to stay and no money for a hotel room, they slept on the floor of the hospital's hallways and on the patio. With my tripod, I captured groups and individuals sleeping on the hard floor.
When morning broke, they all lined up outside, where their patches were removed by the doctors. This was the first time that many of them had been able to see in years. In addition to still shots, I made several videos of patients who had been blind, to record their reactions when they were at last able to see again.
A woman grabbed my hand, looked into my face, and, joyfully beaming, proclaimed, "Mi ojo está vivo!" The translator translated: "My eye is alive!" It was one of many incredibly moving and thrilling moments, never to be forgotten. Among great joy and tears, the surgeons and helpers were hugged and their hands were kissed. These were some of the most powerful, effective, and touching photographs taken on the trip.
During the week, over 200 people received cataract surgery, including a 111-year-old woman and a 14-year-old boy, whose cataract was caused by an injury to his eye. Over 1000 others were given prescription eyeglasses.
The aging farmer who had walked for three days and the mother who had never seen her child were overcome with emotion. After years of little or no vision, their world was bright, clear, and "alive" again. The mother, with tears running down her cheeks, couldn't stop looking at her young daughter's face.
Having had cataract surgery, I could appreciate those 12 to 25 minutes on the operating table, miraculously transforming each patient's life—all made possible by the World Cataract Foundation's caring, dedicated, and compassionate surgeons, nurses, assistants, and translators.
Fortunately, I took many photographs that the World Cataract Foundation will be able to use in publications, in brochures, and on their website. Also, the pictures will serve as a reminder to me that there are great, wonderful people in this world who will sacrifice their time, talents, and money to help those who are less fortunate. I truly felt blessed to have been a small part of their mission, and I encourage other photographers to seek out opportunities for service to others.
Author Bio
A native of Paris, Tennessee, Joe Routon is a professional portrait painter who lives in Haddonfield, New Jersey, a suburb of Philadelphia. While studying art in New York City, he worked as a newspaper photographer and sports editor. His photographs have appeared on the cover of Budget Travel magazine; in the United Nations' publication The InterDependent; in advertising for Smithsonian Journeys; and in the Travel Section of The Philadelphia Inquirer. He can be contacted at joe.routon@mac.com.
Donations
If you would like to donate to the work of the World Cataract Foundation you can send a check to Lori Hudson, Executive Director, at 6463 Poplar, Suite 101, in Memphis, TN 38119. Their website is www.worldcataract.org.

FEATURED VIDEO