Adobe Delivers Exciting Enhancements in Photoshop Elements 2023 and Premier Elements 2023
Moving pictures, companion apps, support for Apple's M1 chipset and smaller footprints are some of the highlights of the 2023 release of beginner-friendly Adobe Photoshop Elements and Premier Elements. Elements gets better every year, and with a healthy boost of new music and background content plus AI (in the form of Adobe Sensei), this year's versions are over the top.
Adobe has reconfirmed their unshakable position as the world's best image editing software house with the release of Photoshop Elements and its video-editing counterpart Premier Elements. The Elements franchise is an important suite of software because it brings nearly the full powers of Photoshop and Premier to the workspace of everyone, regardless of skill or experience level, at a fraction of the price.
What's New
The 2023 enhancements do not disappoint, and neither does the price. Photoshop Elements and Premier Elements are priced at $99.99 separately ($79.99 upgrade price) or $149.99 for both ($119.99 upgrade). Plus you can download a fully functional Free Trial Version.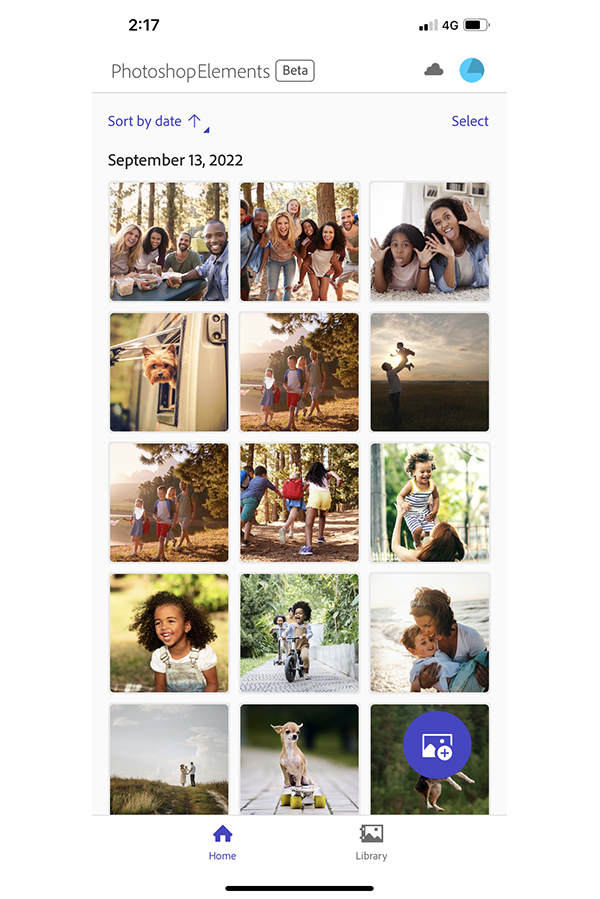 New Web Companion App (Beta)
Still in beta testing but holding many great promises, the newly announced Web Companion app allows you to access and view your edited Elements photos and videos, create collages and slideshows, and share them with friends or on social media. It comes with 2GB of free cloud storage and is available to licensed Elements users.
Under the Hood
Some improvements will be felt and appreciated but not graphically seen. For example, installation time for Premier Elements is 35% faster and the code is smaller—about 45% of the footprint of the previous version—so it uses less hard drive space. For Photoshop Elements, 30% faster installation, up to 50% faster launch times and 30% smaller footprint.
Apple M1 Chip Support
Important to all recent Apple computer purchasers, Photoshop and Premier Elements are now optimized for Apple's latest silicon. And let me tell you, it flies in this ecosystem.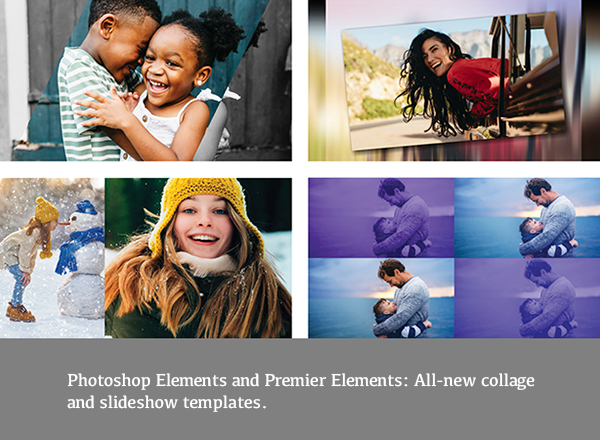 More Content
For both Photoshop Elements and Premier Elements, more content in the way of new music tracks and animated slideshow templates adds fresh new enjoyment to existing features. Photoshop Elements gets more photo collage templates as well.
Photoshop Elements also has additional specialized background content, including new backgrounds in the Replace Background Guided Edit, new skies in the Perfect Landscape Guided Edit and new patterns in the Pattern Brush Guided Edit.
Other New Features
For years now, the three-level platform of both Adobe Elements editors have enabled raw beginners to get amazing results but still allowed advanced experts to roll up their sleeves and tweak the details. The Guided Edits feature is a robust virtual Editing Workshop that teaches technique by leading novices through step-by-step image enhancements. This year there are more Guided Edits, and significantly more artificial intelligence (or Adobe Sensei, in their language). Applying this software enables people with no prior photo or video editing experience to create results—in minutes—that have more impact than they ever imagined.
Adobe Premier Elements now allows you to create videos with special effects that are loosely based on famous works of art or popular art styles, a function that has been available in Photoshop Elements and limited to still images. Users of the full Creative Cloud version of Photoshop can do about the same thing with still images via the Neural Filters.
In the 2023 update, Photoshop Elements introduces Moving Elements, an all-new function that allows you to add motion to details in your pic. For instance, make water flow or clouds stream with just a few clicks. Change images from ordinary to eyecatchers.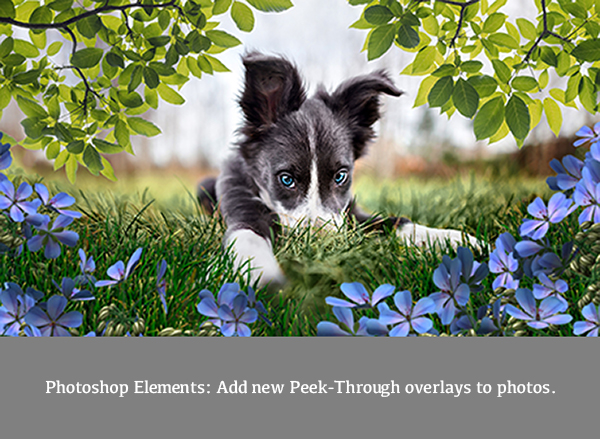 Peek-Through Overlays are new for Photoshop Elements, too. Select from a library of image components like flowers, branches and leaves and place them your image for unique creations.
Beta Features
Adobe announced auspicious new features that are still being beta tested and are in English language only. There may be other limitations at rollout, but the new companion apps are in beta, so that's to be expected. The new features are all about adding mobility and enhancing sharing. And they come with 2GB of cloud storage.
Web Companion App
From any browser, access and view your edited Elements photos and videos, create collages and slideshows, and share with friends.
Android Companion Upload App
Now Android users can upload mobile photos and videos to Elements on their desktop and web. Later, edit and modify as they like, including advanced editing on the desktop. Then they can access, view and share back on their mobile.
Ongoing Companion App Updates
Adobe assuredly stated that the new web and mobile beta apps are just the beginning—which means we have much to look forward to. The apps will be updated throughout the year, and the new features will be available to licensed Elements users. And as stated up top, the license comes with 2GB of cloud storage.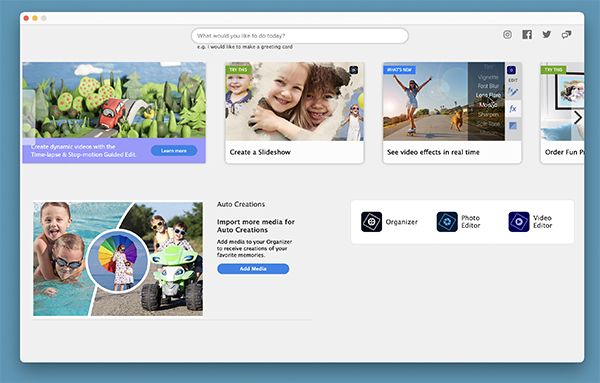 Using Adobe Elements
Open the Elements home screen and you're greeted by a user-friendly Graphical User Interface (GUI) that asks you "What would you like to do today?" and offers several suggestions, including an Auto Creations option that accesses your previously uploaded media and creates a few examples for you by itself. Below that are three icons that open the Organizer, Photo Editor (Photoshop Elements) or Video Editor (Premier Elements). If you eventually find this tiresome, you can cut to the chase and directly open PSE or PE.
Click the Elements Organizer Workspace and you're invited to add media and explore the content you've already created. Every step is very simple and easy to follow. Advanced users may opt to bypass the Organizer altogether and directly open their work projects by launching the editing software and going the File/Open… route, or from outside of the Elements shell by right-clicking the media file and using the "Open with" line on the dropdown menu.
If you're a beginner or early user, Photoshop Elements and Premier Elements are both very straightforward and intuitive. As stated earlier, the Adobe Elements duo are tri-level platforms that offer Quick, Guided or Advanced operation. The labels are self-explanatory, and users of all skill levels probably find themselves using all three, depending on the project at hand.
To take advantage of the dozens of guided projects Adobe has built in, open an image in the workspace and click the Guided tab. Advanced users find themselves starting in the Guided space and then refining their creations by switching to the Expert mode. You can shift modes at any time before saving the file.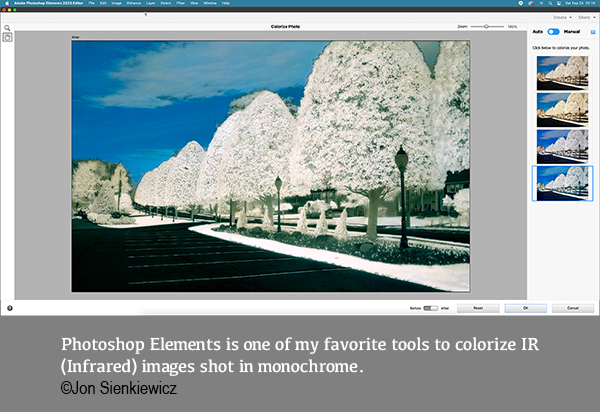 Adobe Elements is great for beginners and intermediate users, but it's also fun and useful for advanced photographers and video makers. I use it to explore colorizing monochrome infrared (IR) images, and especially for inspiration. (Of course I know how to do it in CC Photoshop, but I like to see what PSE suggests.) Elements is a very useful tool for the many creators who are emerging from Beginner to Advanced or from Advanced to Expert.
Double Negative
The only downside to using Elements as opposed to the Creative Cloud versions of Photoshop or Premier, excluding the absence of the more complex features and operations, is what psychologists call "negative transfer." Merriam-Webster defines it as "The impeding of learning or performance in a situation by learned responses carried over from another situation." In other words, if maneuvering the Photoshop or Premier interface has become second nature to you, you must temporarily unlearn some of the ways you've learned to do things. You can perform most of the same tasks, but the GUI is different, and the commands are not necessarily where you expect to find them. Not a big deal for most folks, but frustrating for some. It always takes me a few minutes to switch gears, but I manage to do so, and I don't feel harmed by the transformation. In fact, throttling down to Elements makes me think a bit more about what I'm doing and encourages me to try new things.
Pick Your Platform
Should users of Elements 2022 upgrade to Elements 2023? Download the free trial versions and find out for yourself.
For my money, the new companion apps and promise of more apps to come make it worthwhile to upgrade. And don't underestimate the value of the free cloud storage. But even if the apps aren't enough to sway you, the smaller program size, additional content and new features should make it an easy decision.
Some might even ask, "Do I need the full version of Photoshop?" and for many ardent photographers—and disputably nearly all casual snap shooters—the answer is "No—Photoshop Elements and Premier Elements are enough." With a bundle price (Photoshop Elements + Premier Elements) of $149 for new purchasers, the decision may be easy.
—Jon Sienkiewicz

FEATURED VIDEO