DxO Updates Nik 5, Adds ClearView, Bundles with DxO PhotoLab 5 ESSENTIAL Edition, All for $149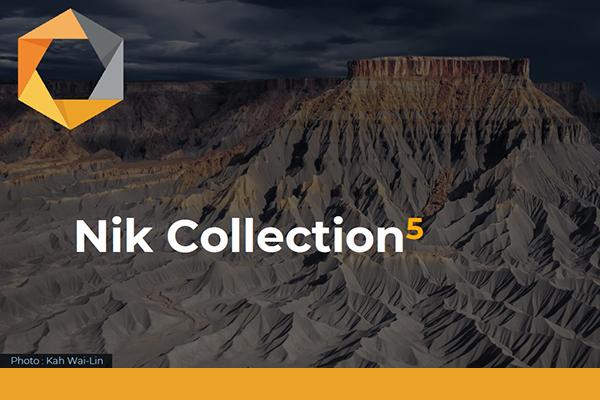 The Nik Collection of eight uber-creative plugins has been updated to version 5 with significant enhancements to Nik Color Efex and Nik Analog Efex, plus the addition of DxO ClearView, in a sweeping upgrade that now includes DxO PhotoLab 5 ESSENTIAL Edition and is available from DxO Labs starting today for the inflation-fighting price of $149.
Like many of you Nik Collection plugin fans, we watched while DxO continually improved and refined their software library, all the while waiting for some meaningful action in the Nik arena. Well gang, it's time to open the cognac.
If you are a current Nik user you can login at your DxO account and upgrade to Nik Collection 5 for just $79. If you're not using a current version, it costs you $149, still a bargain for a lifetime, non-subscription license. And if you are not a Nik user, download the totally free, fully functional, 30-day trial version – you will not regret it.
Incidentally, DxO PhotoLab 5 ESSENTIAL Edition has been selling for $139. The all-new Nik Collection 5 including 8 plugins AND PhotoLab 5 ESSENTIAL costs $149.
If you're not familiar with what's included in the DxO Nik Collection in general, we unpack that for you near the bottom of this piece.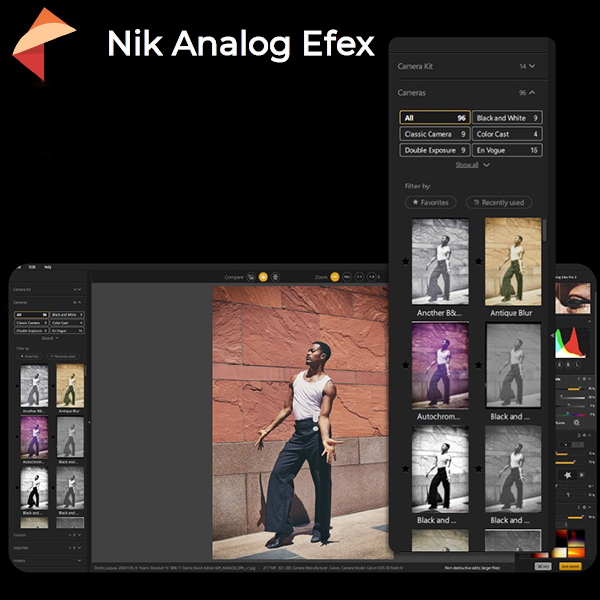 Enhancements
Nik Color Efex and Nik Analog Efex now have new GUIs. DxO newly created them from scratch to parallel the user interfaces of Nik Silver Efex and Nik Viveza which were recently updated. Additionally, operations have been optimized using DxO's engine. Presets are more accessible now and provide better options for saving and editing favorite settings. Additionally, DxO's foundational U Point technology is now more intuitive, more precise and offers a more compact (and less intrusive) interface.
Nik Color Efex received two more major upgrades. DxO added ClearView technology which removes atmospheric haze and enhances local contrast and was borrowed from DxO PhotoLab 5. It will be interesting, to be sure, to hear comments from traditional Color Efex users. Last but not least, DxO added another 29 authentic color film grains. If you've ever read about DxO's meticulous methodology, you know that they use unique laboratory analysis of classic film stocks (the real film, not a fading memory) and are maniacally vigilant about authenticity and accuracy.
Beyond the revamped user interface, Nik Analog Efex now enjoys intuitive custom preset management and creation of new presets. Analog Efex has long been the sleeping tiger, in our estimation; the potential for outstanding creative production has always been there, but in a stifled and cumbersome fashion. With these enhancements, now Nik Analog Efex comes to the studio ready to work.
DxO PhotoLab 5 ESSENTIAL Edition
The lite version of DxO's PhotoLab software, the ESSENTIAL Edition, has become part of the Nik Collection and is included for all to experience. DxO PhotoLab 5 ESSENTIAL is a powerful photo editing software that deploys DxO's highly acclaimed Optics Modules and U Point technology for precise local adjustments.
DxO PhotoLab 5 ELITE vs ESSENTIAL Editions
The fully robust incarnation of DxO PhotoLab 5 is the ELITE Edition. There are three major reasons why we think you may want to step up the ELITE version. The first two are DxO PRIME and DxO DeepPRIME (which we covered in our 2020 review of DxO PhotoLab 4). The third reason is support for Fujifilm X-Trans Raw files.
DxO PhotoLab 5 ELITE offers several other features that the ESSENTIAL Edition does not, including DxO ClearView Plus, an effective anti-moiré tool, DCP Color profile support and IPTC editing, among other capabilities. IPTC abbreviates International Press Telecommunications Council and identifies the standardized metadata format used and understood by professionals around the world.
Nik Perspective Efex
Nik Perspective Efex received a running change; DxO added more than 20 new cameras and 60 lenses to its database of supported equipment. The plugin can now automatically correct the geometric distortions of more than 70,000 camera and lens combinations. Not to be taken lightly, the correction of optical distortions and repair of perspective disasters has always been one of the most important pillars that DxO's software efforts have been built upon.
Hands-on Review Coming Soon
We'll offer you a detailed review of the newly improved DxO Nik Collection 5 in the very near future.
New to the Nik Collection?
The DxO Nik Collection includes eight distinct plugins for DxO PhotoLab, Adobe Photoshop, Lightroom and compatible software. Nik can also be used as a standalone application. Included in the suite: Color Efex, Silver Efex, Analog Efex, Viveza, Dfine, Perspective Efex, HDR Efex and Nik Sharpener. Each plugin has its own specific purpose. Color Efex is the most popular.
Many photographers will tell you that they use one or more of the Nik Collection plugins on a regular basis.
Price and Availability
DxO Nik Collection 5 is available now for Windows (10 and higher) and macOS (10.15.7 Catalina and higher), and can be downloaded from the DxO website for $149. See website for system requirements and recommendations. Users who already own Nik Collection 4 can upgrade their software for $79 after signing into their customer accounts.
A fully functional, one-month trial version of Nik Collection 5 is available on the DxO website.
Can the new Nik Collection 5 make you a better photographer? Probably not. But it can definitely make your pictures look better.
—Jon Sienkiewicz
(As an Amazon Associate, Shutterbug earns from qualifying purchases linked in this story.)