Adobe's Creative Suite 2 Page 2
In the same vein, probably the most tedious and time-consuming task for those who use scanned film images (excepting those scanned with Digital ICE) are the Kodachrome and black and white files with dust, dirt, and scratches that must be cleaned. Photoshop CS2 now has the Spot Healing Brush, introduced with Photoshop Elements 3.0, in a more refined and effective form. The Spot Healing Brush works effectively and efficiently, making cleanup almost a pleasure. But there is one exception, and that is with high-resolution scans of grainy, high-speed 35mm film. The Spot Healing Brush is apparently confused by the grain pattern and although it removes the flaw, it replaces it with a pattern that does not blend in with the grain.
Although the new Color Handling choice in the Color Management section at the bottom of Photoshop CS2's Print With Preview dialog window does not really change functionality, it suggests to users there are two ways to print. One is to let the printer determine colors, and what we have referred to in the past as "printing profile to profile" is now identified as the "Let Photoshop Determine Colors" choice. And now with that choice there is a Reminder message to "remember to disable color management in the printer driver dialog box." The user should also remember to select the Printer Profile associated with the printer and media being used to print.
Everyone using a handheld camera has made images with skewed perspective, either just a little or maybe a lot. Photoshop has long had a Transform fix for this problem, but now an Optical Lens Correction filter makes it easier to correct distortion, including barrel distortion and chromatic aberration. I have a very large collection of images made over a lifetime of photography, but could not find any images other than those made with fisheye lenses with barrel distortion, so I was stuck with testing this new filter just correcting perspective distortions. With its built-in grid and slider controls Optical Lens Correction is much easier and faster than using the old Transform tool. But it does make me wonder, along with so many other software utilities from other companies, what kind of cameras and lenses do these software programmers think we photographers use--cheap disposables with plastic, single-element lenses?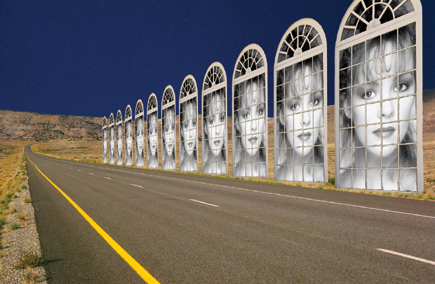 The name Vanishing Point was immediately associated in my mind with a collection of photographs I'd made on the many shooting trips by car in the deserts of the Southwest. I'd sometimes stop along these long straight roads to stretch my legs and I'd often also take a picture of the highway disappearing into a vanishing point in the distance. Also, driving these roads I'd often daydream about all kinds of imaginary photographs I might make. So, I used one of these highway vanishing point photos to composite a representation of that experience of both the real scene and the imagined images daydreamed along the way.
With Photoshop CS2 Adobe has provided a solution to a problem that has always plagued photographers--whether film or digital, the recording media always has much less exposure latitude than the human eye. Extreme contrast, indicated by a very long range from highlight to shadow, has never been easy to photograph. With black and white film you might get close using a very tricky, special low-contrast developer, or in color you could use Ektachrome Duplicating film with its extremely slow speed and requirement for a lot of color correction filtration. But now, at least with entirely still subjects, all you have to do with either a film or digital camera is make a broad series of bracketed exposures and use Photoshop's new 32-bit HDR utility to deal with those high dynamic range subjects.

I tested this capability by using a Canon EOS 20D with a Canon 10-22mm zoom lens to photograph the interior of the Santa Barbara County courthouse, which is very dark inside, and also capture what is outside in full sunlight, a dynamic range that required exposure bracketing between several seconds and 1/250 sec. All I can say is Wow! Even after having to manipulate the resulting image's internal contrast with some difficulty using Curves to obtain image values that would print effectively, providing tone and detail in both the brightest and the darkest areas of the scene, I still say Wow!

What 32-bit HDR does is to take five different exposure files of the same scene (obviously exposed with the camera on a very sturdy tripod) and blend them together to create a 32-bit image that covers the entire range captured by the bracketing. In addition, I noted that with the long exposures covering the low end of the range, the noise that often plagues long exposures with a digital camera disappears as a result of the blending. I was able to obtain good quality images with the first few attempts, and that amazed me. True, the images required considerable post-process editing, but I am sure that with more practice my bracketing choices can be refined so that they require less adjustment of the internal contrast with Curves.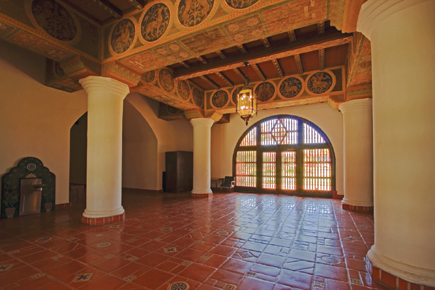 One new feature in Adobe's Photoshop CS2 that was particularly intriguing and fun to test was the 32-bit HDR capability. Years before I'd used different film methods of dealing with subjects with extended dynamic range, or, as we said in analog days, extreme subject contrast beyond the normal exposure latitude of film. With black and white the most successful approach was the use of extended range developers, usually some variation of a mixture of phenidone and sodium sulfite and little else. The one answer to extreme contrast subject shooting in color was to use the tungsten-type Ektachrome Duplicating film, which was inherently low contrast and also very, very slow. Now using a series of bracketed exposures with a digital camera and 32-bit HDR is much easier and a solution to the problem that has much more potential and latitude.
There are many more new features and capabilities included in the new Adobe Creative Suite 2 and Photoshop 9.0. I will not use space here to detail Image Warp and Smart Objects and the WYSIWYG font menus, to name just a few. These are all covered in the documentation that accompanies the software. My excuse is that although they are of value, it is largely from a production graphic use of the application. Few are features I think most Shutterbug readers are likely to need. So I will end this features description with Vanishing Point, a very powerful and sophisticated perspective creation tool in Photoshop CS2, and in part because it is an obviously bad pun.

Working with perspective in any two-dimensional graphic representation of reality is a complex challenge I first became aware of in a high school drafting class. Vanishing Point on Photoshop CS2 provides a way to define and plot the perspective structure involved in a digital photographic image opened in Photoshop. Once the perspective planes are defined, producing an overlay structure, Vanishing Point supports doing a number of standard image content correction and manipulation functions, like moving objects (cut and paste) and Rubber Stamp cloning so the result remains consistent with the established perspective grid. The use of Vanishing Point is within a separate plug-in filter window that contains its own toolset. It also responds to keyboard command functions like Paste. In other words, once an image opened in Photoshop is transferred to Vanishing Point's own special on-screen environment you have, in addition to its own limited tool palette, the ability to input copied images and parts of images from the standard Photoshop environment (although once Vanishing Point is activated and on screen you cannot access the main application underneath, so a copy must be made to the clipboard before Vanishing Point is opened).

What practical use does Vanishing Point have? One thing that comes to mind is an assignment a friend had with a company that makes fancy front doors for houses. The company wanted pictures of their doors installed in select real houses. Before Photoshop this required getting the cooperation of the home owners, installing the new doors, and then photographing the doors in place as part of the houses. Now, with Photoshop and Vanishing Point, the door can be photographed ideally in the studio and the houses photographed separately without having to trouble the owners with anything more than obtaining a release to use the pictures of their homes. As a purely practical solution to photographic illustration problems, Vanishing Point could be considered a solution in search of rather rare problems to solve. But from a more imaginative, creative point of view, Vanishing Point has an even larger potential for any Photoshop user who wants to combine and composite photographed objects for creative, expressive, or illustrative purposes.
Evaluation And Recommendation
Overall, the main focus of my evaluation use has been Photoshop CS2, of course, but I personally use both InDesign and Acrobat, and have for many years. So, for any present Photoshop user I believe the new features and possibly more significantly ever better performance in both efficiency and image quality are compelling reasons to upgrade. And, for all photographers who also put text, photos, and design elements together to create documents for any purpose, especially for distribution as Acrobat files, and for photographers maintaining a serious website for businesses, a complete version of Creative Suite 2 makes ever more sense today.

The release of Adobe's Photoshop Elements 3.0 and its comprehensive functional support for purely photographic purposes may put into question whether Photoshop CS2 is essential to photographers. However, my personal experience has been that Photoshop CS2 and Elements 3.0 are really complementary. I use both alternately for different purposes and advantages. For instance, after doing fully adjusted film scans, I find Elements 3.0 is great for tweaking and fine-tuning images for printing. But then I do all of my image editing and correction of black and white film raw scans in CS2, as well as all of my finished quality printing if I want more than quick-and-dirty throwaway prints. There are some capabilities and features that are exclusive to both applications, so I am most happy to have the opportunity to use both.

If an either/or choice is a necessity, it would have to be made in terms of what functions are essential, and that varies from one individual photographer to another. For new digital photographers it is definitely easier to get started with Elements 3.0 and see whether you need to graduate to CS2. The list price of Photoshop CS2 is $599; licensed users of a previous version of Photoshop can upgrade to CS2 for $149. The list price for the Premium Edition of the entire Creative Suite of applications is $1199, and Photoshop users may upgrade to the CS2 Premium Edition for $749.

For more information, contact Adobe Systems Inc., 345 Park Ave., San Jose, CA 95110; (800) 833-6687, (408) 536-6000; www.adobe.com.

LATEST VIDEO

SPONSORED VIDEO