7 Cameras with Character: Our Favorite Endearingly Eccentric Models Outside the Mainstream Box
When applied to humans, the word "character" has two distinct meanings, an oddball or eccentric as in "Fred is a real character" or a morally upstanding person, as in "Charlie is a man of unimpeachable character." When it comes to machines created by humans, the word "character" conveys a slightly different constellation of meanings, hovering somewhere between "having lovable defects" like an old Model T Ford, and expressing a distinctive personality, like a classic Ferrari.
Whatever their virtues or foibles, cameras that have character have taken a few aggressive steps beyond the commoditized world of the predictable and bland, and present something that is clearly more individualized and narrowly focused. Indeed, that's why many cameras of this ilk attract a relatively small but devoted following and are referred to as "cult cameras."
As the saying goes, when it comes to a camera's "character" I can't really define it, but I sure know it when I see it. And so here, without further ado, is my "Magnificent Seven" list of current cameras that exude that elusive quality known as "character."
I've deliberately confined my choices to digital cameras in current production (or that can be purchased brand new at this time), and cameras that are suitable for general photography rather than specialized uses like shooting underwater or capturing 360-degree panoramas. While I've done my level best to select cameras that really fill the bill, I'm sure you can come up with others cameras to add to this list or maybe dispute with some of my choices.
Actually that's exactly what I had in mind. And if there's enough interest maybe we can do a follow-up piece on your favorite Cameras with Character.
1. Sony Cyber-shot DSC-RX100 IV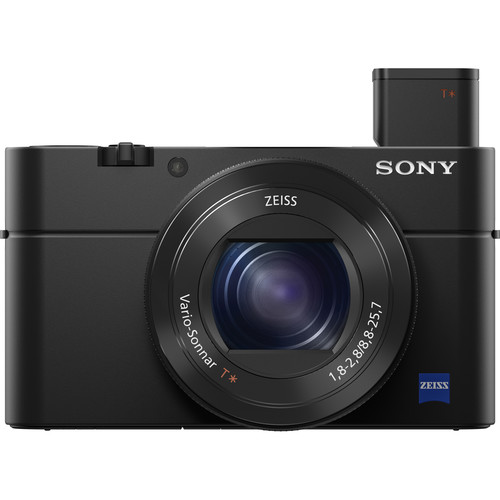 Character points: Slim, elegant form factor, large 1-inch hi-res sensor, and ingenious hi-res pop-up EVF.
This svelte, stylish, new higher-tech follow-up to the RX-100 III has a ingenious new higher-res pop-up 2539k-dot OLED True-Finder EVF to complement its 3.0-inch 1229k-dot Multi-angle Xtra Fine LCD, Sony's most advanced BIONZ-X Image Processor, a 1-inch 20.1MP Exmor R BSI CMOS Sensor, plus a wide-aperture Zeiss Vario-Sonnar f/1.8-2.8 24-70mm equivalent zoom lens for enhanced depth-of-field control.
Other features: Full HD Video in XAVC S format, plus the ability to shoot 4K clips video clips in UHD format, internal S-Log2 Gamma, and slo-mo video at 960 fps, a clean HDMI out port, and built-in Wi-Fi connectivity with NFC. The RX100 IV can shoot full-res bursts at up to 16 fps, and provides ISO settings up to 12800. It's clearly aimed at serious enthusiasts that will appreciate its direct manual control ring, built-in ND filter, 12-exposure multi-frame Noise Reduction, and Dynamic Range Optimizer (DRO).
Street price: $948
2. Ricoh GR II
Character points: Slim, compact mag alloy body, APS-C-format CMOS sensor, 28mm-equivalent f/2.8 prime lens
This ingeniously slim, high-performance magnesium alloy bodied compact now offers built-in Wi-Fi and NFC connectivity, and wireless flash. Its 16.2MP APS-C-format sensor and GR Engine V image processor combine to deliver high resolution along with impressively fast response times, and the low-pass filter has been eliminated to enhance resolution and detail. Its fast 28mm-equivalent f/2.8 lens facilitates low-light shooting, the creative use of shallow depth of field, and complements its wide ISO 100-25600 sensitivity range. A hi-res 3.0-inch 1,230k-dot LCD provides crisp, detailed viewing and playback, and the camera supports RAW and JPEG formats. There's even a choice of two optional optical finders that slide into the hot shoe.
Other features: Full HD 1080p video capture, Macro mode, 9 image effects including Retro and Cross-Processing, a full range of auto modes including Face Detection, a maximum full-res burst rate of 4 fps, and a dual-axis electronic level.
Street price: $599
3. Leica Q (Type 116)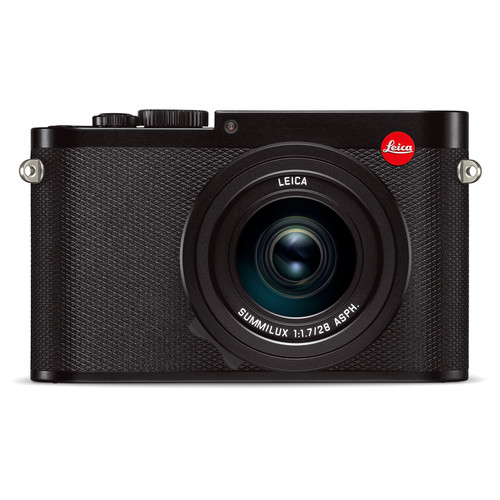 Character points: Full-frame, hi-res sensor, pro-caliber image processor, and superb 28mm f/1.7 Summilux ASPH lens deliver Leica M performance in an elegant, compact package.
This beautiful new full-frame digital compact from Leica features a fast, high-performance 28mm f/1.7 Summilux lens and a 24.2MP CMOS image sensor coupled to a low-noise Leica Maestro II image processor to deliver impressive image quality, beautiful bokeh, and blazing speed. It also incorporates an ultra-hi-res 3.68MP LCOS electronic viewfinder and a full-size 3.0-inch 1,040k-dot Touchscreen LCD monitor, and an advanced contrast-detection AF system. The sleek aluminum-and-magnesium-bodied Q can capture Full HD 1080p video at up to 60fps as well providing 10fps bursts at full res, and it provides sensitivity settings up to an impressive ISO 50,000.
Other features: Built-in Wi-Fi and NFC connectivity, support for DNG, RAW, and JPEG file formats, flash sync at up to 1/500 sec, burst settings of 3, 5, and 10 fps, and a standard hot shoe for mounting external flash units.
Street price: $4,250
4. Fujifilm X100T
Character points: Retro rangefinder looks, unique hi-tech specs, an Electronic Hybrid OVF/EVF viewfinder, a manual electronic rangefinder, and a 35mm-equivalent f/2 lens.
With a retro look reminiscent of a classic rangefinder camera, a unique 16.3MP APS-C-format X-Trans CMOS II Sensor designed with a randomized pixel pattern to reduce moiré patterns and aliasing without requiring a low-pass filter, and a fast, sharp 35mm-equivalent f/2 lens, the X100S combines high style with high tech. It also offers an innovative Optical and Electronic Hybrid Viewfinder that lets users choose between OVF and EVF viewing and provides manual "electronic rangefinder" focusing capability. Intelligent Hybrid AF employs both contrast- and phase-detection methods for improved speed and performance.
Other features: RAW capture with in-camera conversion and file processing, Full HD 1080p video at 60 fps, Film Simulation and Advanced Filters, and a robust die-cast magnesium body.
Street price: $1,299, in black or silver
5. Canon Powershot G1 X Mark II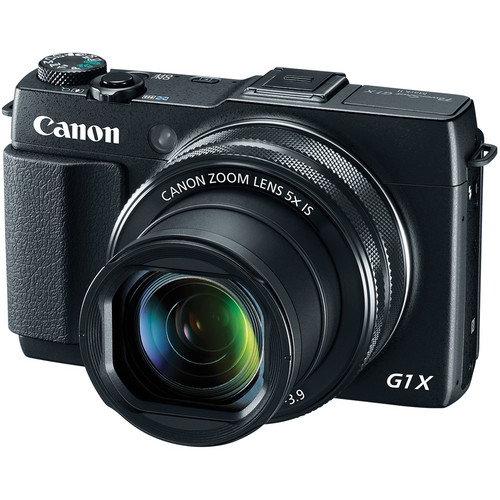 Character points: A big 1.5-inch 20.2 MP sensor, a wide-aperture 4.2X zoom lens with IS, great images at high ISOs and a high-end feature set, all in a cool, robust body.
The latest large-format offering in Canon's long running, enthusiast/pro-aimed G-series, this handsome, robust, rugged-looking machine has a 12.8MP 1.5-inch (measured diagonally) CMOS sensor that's nearly equal to APS-C format and delivers outstanding performance at high ISOs. In addition to a hi-res 1,040k-dot 3.0-inch Tilting Touchscreen LCD, it also provides RAW and JPEG capture, a hybrid image stabilizer, and a faster, wider-range 4.2X 24-120 mm-equivalent f/2.0-3.9 zoom lens incorporating ultra-high refractive index glass.
Other features: HDR Scene Mode, Full HD 1080p video at 30 fps, built-in Wi-Fi connectivity with NFC, High Speed AF, a maximum full-res burst rate of 5.2 fps, an electronic level, a wide range of additional manual and automatic shooting modes, and a slew of built-in creative effects.
Street price: $749
6. Panasonic Lumix DMC-CM1P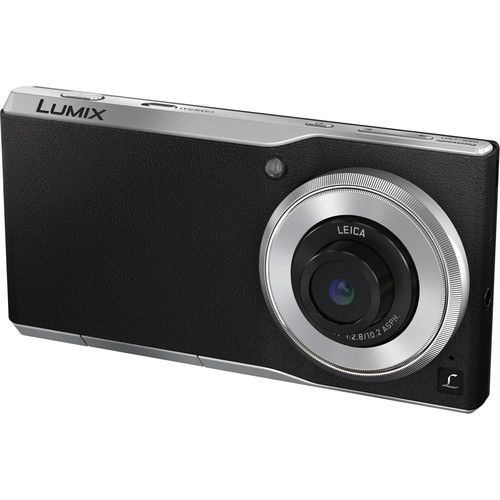 Character points: Slim and stylish, it combines the virtues of a high-end P&S camera with a 1-inch 20.1MP sensor, and a top-tier smartphone, integrating both functions seamlessly.
This remarkably adept pocket-sized slim-line device combines a high-performance digital camera with a 1-inch 20.1MP CMOS sensor, and a state-of-the-art smartphone. The phone, which uses the Android 4.4 KitKat operating system, is carrier unlocked and will work with most GSM carriers and a service plan and SIM card that must be purchased separately. The camera features a Venus Engine image processor, a high quality Leica DC Elmarit 28mm-equivalent f/2.8 lens, provides RAW image capture, UHD 4K video recording at up to 15 fps, and Full HD 1080p video at 30 fps.
Other features: a handy control ring on the lens lets you access manual controls, setting modes, and focus; a large well-placed shutter button; 23-point AF system; Focus Peaking and MF Assist; GSM/4G LTE wireless connectivity, Qualcomm Quick Charge 2.0 for fast charging; a huge 4.7-inch TFT LCD touch screen; and a built-in selfie-friendly front-facing 1.1MP camera:
Street price: $999.99 in black or silver
7. Nikon Df
Character points: Gorgeous retro-style body combines a hi-res FX sensor, modern high-end features, and traditional controls. It's the only DSLR that's a timeless classic.
This one-of-a-kind full-frame Nikon DSLR evokes the cool retro style of the analog SLR era, and delivers on its promise with a simple, intuitive mechanical design that allows photographers to take the traditional approach, using dedicated shutter speed, exposure compensation, ISO, and release mode dials rather than scrolling through menus. This beautifully made, magnesium bodied, still-image-only camera delivers outstanding imaging performance with a 16.2MP FX-format sensor coupled to an advanced EXPEED 3 image processor that delivers excellent high-ISO performance and a full-res burst rate of up to 5.5 fps. The Df has a large 3.2-inch 921 k-dot LCD, and a Multi-CAM 4800 AF system with 39 points that adds 9 cross-type points when shooting in challenging light. And it provides enhanced exposure accuracy using an Intelligent Scene Recognition System with 3D Color Matrix Metering II that uses a 2,015-pixel RGB sensor to evaluate each scene.
Other features: Picture Control modes, Active D-Lighting to handle high-contrast scenes, built-in HDR. The Df comes with an AF-S Nikkor f/1.8G Special Edition lens.
Street price: $2,996.95

FEATURED VIDEO