6 Lightroom Tricks for Jaw-Dropping Landscape Photos (VIDEO)
What if we told you there are six easy Lightroom tricks that can turn good images into great ones? If that sounds too good to be true, watch the nine-minute tutorial below from our friends at The Phlog Photography YouTube channel.
Instructor Christian Mohrle is a successful German landscape pro and a favorite among Shutterbug readers for straightforward tutorials that deliver big results. In today's episode he reveals six favorite Lightroom color-grading tricks for landscape photos with maximum impact.
Mohrle's suggestions are easy to accomplish, and extremely useful for all sorts of outdoor photography, from wildlife and nature scenes to cityscapes and more. These tips aren't about outlandish special effects, but rather helpful methods for achieving natural looking photos with great color.
If you've followed Mohrle's lessons in the past, you know that the first thing he does after opening a Raw file is to make sure the color profile selected is the best choice for the image at hand. As he says, "setting up the profile is my starting point for all the color grading that follows." He describes the various options available and explains how easy they are to change.
White balance is another of Mohrle's "essential" Lightroom tools. As you'll see, he typically ignores the conventional "neutral" approach for something a bit more interesting and creative. Using sunset photographs as one example, he says, "I like pushing color temperature to give the shot more overall warmth." He also demonstrates how modifying the tint will help intensify the colors he's after in a realistic way.
Mohrle provides a few more great tips and tricks involving Masking, the Tone Curve, and HSL adjustments, and you'll see how a bit of Spit Toning can make a big difference in your results.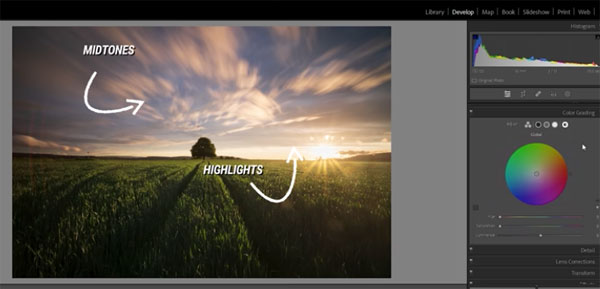 There's much more to learn on Mohrle's YouTube channel, so be sure to take a look and subscribe.
We also suggest you check out the tutorial we posted earlier on a related topic, explaining how to avoid five mistakes that ruin landscape photos.