5 Maps for Tracking and Photographing Fall Foliage Worldwide in 2020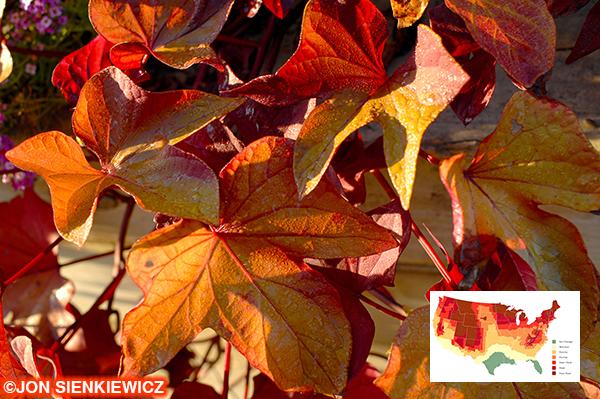 Starting with our favorite interactive map for predicting fall color changes, we've compiled a list of five maps that will help lead to you just exactly the right spot to photograph autumn leaves. And if you're a Fall Leaf Grinch, we have some new ideas that might give you back a little spark.
Friends who have moved to warmer climates don't miss the snow but they sure miss the fall season when the leaves change colors. Can you blame them? Photographing the red and orange leaves in fall is more than just a tradition; it's the last chance to capture some outdoor beauty before gray snow blankets everything.
In a world now punctuated with paper masks and six-foot social spacing markers, a walk in the brisk fall air through a colorful world of red, yellow, orange and faded green flora can give you a fresh new outlook on things. Get off the couch. Listen to the leaves crunch.
But if you're one of the jaded few who've become bored with snapping at brown vegetation, skip down to the bottom of this story and read the section labeled Tips for Inspiration.
Fall Foliage Prediction Interactive Map
For years we've reported how the wonderful folks at SmokeyMountain.com publish their interactive Fall Foliage Prediction Map of the entire United States. With it you can predict the status for any weekend between now and Thanksgiving. Obviously, no map like this can be 100% accurate, but it's still an indispensible tool for travel planning. Above is their prediction for October 12, 2020. That's a holiday weekend in many areas.
New England Foliage
Everyone knows that when it comes to fall foliage, New England is hard to beat. This interactive map from Yankee Publishing suggests the best times to see peak colors. Putting a finer point on it, above is their prognostication of the way things will look also on October 12.
Stormfax Guide to Fall Foliage
Not a map, Stormfax is a collection of links, including hot-line phone numbers, to check on the status of foliage change in 32 states throughout the US. Also included, contact info for the USDA Forest Service National Fall Color Hotline (800-354-4595) which is a pretty cool website unto itself.
Indiana
Selected from the aforesaid multi-useful Stormfax site, the Visit Indiana website provides information about what's happening in America's heartland. The image above, from their website, depicts Brown County State Park, one of the most picturesque spots on Earth during the fall season. For the sake of full disclosure, I graduated from a college in Indiana and still occasionally pine for moonlight on the Wabash.
Kyoto
Kyoto, Japan is beautiful in spring, summer, fall and winter. Spared from Allied bombing during WW2, Kyoto has a special magic that captivates all who visit. If you ever go to Japan, skip Tokyo and visit Kyoto instead. The website Matcha of the Japan Travel Web Magazine lists the best places to see and photograph autumn leaves there. My favorite, Philosopher's Walk, is pictured above.
Europe Anyone?
In case you're wondering why we didn't include European destinations in this compendium, the answer is simple. According to authoritative website Live Science, "While the fall foliage in North America and East Asia takes on a fiery red hue, perplexingly, autumn leaves in Europe are mostly yellow in color." Sorry European friends—it sounds like you have to visit us to enjoy the reds and oranges. (If this information is incorrect, please let us know!)
Tips for Inspiration
Tired of traipsing through the forest to snap comatose plant life? I get it. You need to put a new spin on it. For advice on capturing fall colors using a digital camera and colored glass filters, say this out loud five times very fast and click this link: Our 5 Favorite Photo Filters For Photographing Fall Foliage.
If you've got the scratch and want to take in instant vacation, rent a convertible (Mustangs and open top Jeeps work best) and take a drive through New England (or the foliage hot spot in your neighborhood).
If you own a camera that has been modified to capture infrared (IR), or one that can capture IR natively (like the gone but not forgotten Minolta Dimage 7) with an IR filter, this is your last chance of the year to get dramatic results above 720 nanometers, something like the monochrome image above. Check out one of our IR guides here.
Amazon offers a four-piece set of IR filters (IR720, IR760, IR850, IR950) in 58mm for $38. Other sizes are available.
—Jon Sienkiewicz
(As an Amazon Associate, Shutterbug earns from qualifying purchases linked in this story.)

FEATURED VIDEO