35mm SLR Cameras And Lenses
As in most photokina years, the vast majority of SLR cameras to be shown in Cologne were announced previously. Hence there were few surprises and most models were already previewed in earlier issues of Shutterbug; they are also covered in our SLR Year-End Wrap-Up article elsewhere in this issue. Only Pentax exhibited a camera that was entirely unexpected. However, we did get to handle all of the new models at photokina and this experience was certainly useful for getting a more personal perspective on the cameras. Because our SLR Year-End Wrap-Up article already provides considerable technical information on all but the Pentax model, this report will offer a brief evaluation instead.
Naturally, many new lenses were also shown in Cologne, and most of these have not been previously discussed in Shutterbug. Hence, I will provide specifics in this report.
Canon. A few weeks before photokina, I had the opportunity to shoot with Canon's new mid-priced cameras, the EOS Elan 7 and the Elan 7E; the latter is identical but adds a highly reliable Eye Con-trolled Focus system. These models offer significant upgrades over the previous EOS Elan II cameras including more versatile metering flash and autofocus. The body is compact and lightweight with some new controls including taller knobs; all seemed easy to access, well marked, and logically located. Few cameras are as intuitive in their overall operation. I found the new focus point selector keys on the back of the camera ideal for quick selection of any single AF sensor. In use, the Elan 7 is incredibly quiet, sure to be appreciated while photographing weddings or skittish wildlife.
Since I have large hands, I really appreciated the optional AA Battery Pack BP-300; as a bonus, this accessory uses AA batteries instead of the more expensive lithium cells. Designed for speed and easy handling, the new camera is user-friendly and should appeal to photographers with a wide range of skill level. It's particularly suitable for those first moving up from an entry-level SLR, although the EOS Elan 7--and the system of EOS lenses and accessories--will probably satisfy the majority of advanced hobbyists as well.
Canon brought several new lenses to show us, including two models of their EF 28-200mm f/3.5-5.6 zoom. One incorporates the nearly silent micro-USM focus motor that allows for manual focus override at any time; the other uses a conventional DC motor. They appear identical otherwise as are their specs, including "replica" aspherical elements, internal focusing, and an amazingly short minimum focus distance of 17.8" at 200mm. The entire optical system is made using only lead-free glass.
The two shorter EF 28-90mm f/4-5.6 zooms--also with aspherical elements--are also available with a USM or DC focus actuator and a minimum focus distance of 15". These will probably become the "standard" zooms in the Canon system. For a bit of extra focal length, consider the new EF 28-105mm f/3.5-4.5 II USM zoom with internal focusing. Identical in construction to its highly rated predecessor, this model features a new exterior finish and zoom ring design that matches the latest EF lens line-up.
Finally, Canon provided additional information on their new multi-layer Diffractive Optical (DO) element and exhibited a prototype lens with such optics: the EF 400mm f/4 DO IS USM. The DO technology corrects chromatic aberration more effectively than fluorite elements and also corrects spherical and other aberrations; this produces high resolution and contrast at any focal length. (Diffractive optical elements have a diffraction grating that alters the path light travels through diffraction.) The practical benefits are significant: DO technology allows for lenses of smaller size and lighter weight. For example, this prototype model is 26 percent shorter and 36 percent lighter than the conventional EF 300mm f/4L USM. Test samples will not be available until late spring, but we are looking forward to checking out the advantages of this new technology that will appear in other Canon lenses in the future.
Contax. The first conventional autofocus system from Contax, the new N1 and AF lenses boast a number of impressive benefits mentioned in our SLR Year-End Wrap-Up article. (The earlier AX camera employed a unique back focusing system for autofocus with most manual focus Contax lenses.) An AF/MF dual focus mechanism allows for manual focus override of the AF system without the need to flip a switch. The five-point diagonal autofocus system offers a unique fine focus bracketing that shifts the focus point automatically over the subsequent frames so the point of focus differs slightly in each image. The five focus detection points seemed to be ideally placed for image composition as per the Rule of Thirds for off-center subjects.
This is a large, hefty, and handsome camera that appears to be built like a tank. Die-cast aluminum alloy has been used for exceptional strength for the section housing the optical components. The N1 is also very well sealed against dust and moisture for reliability in extreme conditions. Autofocus performance seemed to be excellent and manual focus was aided by an extremely bright/contrasty viewfinder image. The unique "joystick" on the camera back made selecting focus points highly convenient. All controls are large and well marked for maximum ease of use. A functioning LCD viewfinder FE-1 was not yet available but this accessory seems to be intelligently designed; it can be set for color or black and white images and will show the effects of exposure compensation by brightening or dimming the picture in the 1.5" LCD screen.
Four AF lenses were introduced for the N1, with the usual high quality in definition, clarity, and color rendition that are the hallmark of Carl Zeiss T* optics. Most incorporate Ultrasonic Focus Motors (USM) for very fast and nearly silent AF operation. All are compatible with the camera's AF/MF dual focusing system. The Planar T* 50mm f/1.4 USM includes elements that are highly effective in eliminating aberrations for exceptional image quality. For extreme close-up work, the Makro-Planar T* 100mm f/2.8 (with conventional focus motor) allows continuous focus from infinity to a mere 1.2' for a 1:1 ratio. Excellent image quality is maintained at all distances with a floating element design and a focus range switch for near or distant subject matter.
The Vario-Sonnar T* 24-85mm USM zoom features two aspherical elements plus two of anomalous dispersion glass for exceptional performance at all focal lengths. Apparently, distortion--especially at the wide angle focal lengths--has been suppressed with great success. The telephoto zoom Vario-Sonnar T* 70-300mm f/4 USM includes an element of anomalous dispersion glass to control chromatic aberration while the zoom mechanism automatically compensates for focus shift and viewfinder blurring while zooming. At the long end, a 1:4 reproduction ratio is possible in the tele-macro mode (close focusing to 3.28'); at other focal lengths, minimum focus distance is a respectable 4.9'.
Other AF lenses will be announced in the future, starting with a Planar 85mm f/1.4 and a Vario-Sonnar 17-35mm f/2.8 zoom in spring 2001. However, the 645 format Carl Zeiss T* lenses can also be used on the N1 with an accessory NAM-1 mount adapter. Except for fine focus bracketing, all camera functions--including AF and multi-segment metering--are maintained with such lenses. Many other accessories are also offered, making the N1 a full system. These accessories include extension tubes with full data transfer capability, a D-10 back for exposure data imprinting between frames, and a P-9 battery holder that accepts AA-size batteries, replacing the camera's 2CR5 cell.
Minolta. Thanks to the cooperation of Minolta, Bob Shell and I had a new Maxxum 7 prototype to use during our trip to Germany. This new model is incredibly user-friendly thanks to the large dot matrix LCD panel on the back, which provides feedback on numerous issues. Although operation calls for a study of the Instruction Manual, this new "navigation system" will be appreciated by any serious photographer.
I found the nine-point autofocus system highly successful, the switch from AF to manual focus seamless, and really appreciated the large knobs and dials as well as the new AF controls. The camera is well designed and reasonably compact considering the numerous capabilities, some even more advanced than those of the pro-level Maxxum 9. A significant advantage comes with the new Vertical Control Grip VC-7 accessory, an ergonomically designed battery pack that is unusually comfortable and convenient. Its full set of secondary controls makes vertical shooting a pleasure. The Maxxum 7 features some truly unique capabilities and as Minolta's most technically sophisticated model ever, it will surely win accolades worldwide.
Minolta also introduced four new lenses, all designated with a D. These include the Advanced Distance Integration (ADI) distance encoder chip for superior results in flash photography in difficult situations. By adding distance information to the equation, they produce more accurate flash exposures even with subjects of very high reflectance. Manual focus operation is excellent, too, since the mechanisms are very well damped, with enough friction for a familiar feel. All four lenses feature a nearly circular aperture at all f/stops for pleasing defocused highlights in the background of any image.
The new AF 24-105mm f/3.5-4.5(D) zoom is unbelievably compact and lightweight (2.8x2.7", 62mm filter size, 14 oz) because three aspherical surfaces (in two elements) reduce the number of elements required to counter aberrations for excellent performance. It became my primary lens for 90 percent of the images I took in Germany. The new AF 100-300mm f/4.5-5.6(D) APO tele-zoom is also small and lightweight (2.9x3.9", 55mm filter size) and includes two low dispersion elements to correct chromatic aberration. A focus hold button on the barrel enables continuous autofocus to be stopped instantly when desired.
The new AF Macro 100mm f/2.8(D) also includes this focus hold button plus a focus range limiter for either near or distant subject matter. Ideal for extreme nature close-up photography, this lens is also great for portraits; it's well corrected for curvature of field, curvilinear distortion, and various aberrations. An extremely "fast" portrait lens, the pro-model AF 85mm f/1.4 G(D) inherits the high quality optics of the previous G model but adds a focus hold button and the distance encoder chip. Maximum sharpness at all apertures and focused distances is assured by a floating element focusing design while the wide maximum aperture will defocus a cluttered background in environmental portraiture.
Nikon AF 24-85mm f/2.8-4D.
Nikon. During a demo of the Nikon N65, I began thinking of this new camera as an "affordable N80." That's because some features are reminiscent of that high-end model, especially the autofocus system with the five sensor Multi CAM 900 module and rear touch pad controls. The N65 includes all capabilities demanded by most hobbyists and I was especially impressed with the much larger controls and the simplicity of operation. Most capabilities could be accessed even without reading the Instruction Manual. In the low light of the trade show hall, the ultra-bright viewfinder image was a pleasant surprise. Autofocus response was also fast and the built-in Speedlight popped up automatically, a nicety that helps assure quick shooting. This is also a great looking camera with black and silver cosmetics and a solid feel confirming high build quality.
Nikon AF-S 300mm f/4 IF-ED.
Nikon brought several new lenses to photokina. My personal favorite was the new AF-S 300mm f/4 IF-ED with the built-in Silent Wave focusing motor that ensures fast and super quiet AF operation. The advanced M/A mode allows for instant switching from AF to manual focus at any time so focus can be quickly touched up even in AF mode. Optimized for use with the AF-I tele-converter TC-14E, the combination will produce an effective 420mm f/5.6 lens that maintains autofocus operation. A built-in lens hood, two large ED elements, removable tripod collar, and dust/water resistance make this a highly desirable lens.
In addition to black, a light gray version will also be available. Other lenses to be made in this new color include several f/2.8 models: the 300mm, 400mm, 28-70mm, and the 80-200mm tele-zoom. The new AF 80-400mm zoom with Vibration Reduction system (announced earlier) was shown as well; it should be on the market by the time you read this.
We also checked out an entirely new G-type Nikkor zoom, the AF 70-300mm f/4-5.6G. Incredibly lightweight and lacking an aperture ring, it's intended for first-time SLR buyers with any of the Nikon cameras that allow f/stop selection with a dial on the body. This model will be highly competitive in price with independent brand zooms, and may be the first of the new G-series. A G-type Nikkor lens provides Distance Information data transmission to the camera for precise exposure control, just like the D-type lenses.
We also inspected two mid-priced zooms. First was the AF Nikkor 18-35mm f/3.5-4.5 IF-ED; it's very compact and boasts the shortest close-focusing distance in its class: a mere 12". The optical formula includes both ED and aspherical elements for superior performance. The AF 24-85mm f/2.8-4D IF looks similar and incorporates two aspherical elements plus incredibly short minimum focus distance: 7.7" for a full 1:2 maximum reproduction ratio at the 85mm end.
Kalimar. Cameras and lenses under the Kalimar logo have been available for many years but sporadically at times. Recently acquired by The Tiffen Company, the distributor is now more aggressively marketing the various products including the manual focus cameras: the KX-5000 (manual) and KX-7000 SLR (automatic) with MD (Minolta) mount. These are back-to-basics models that will be appreciated by students and those on a tight budget. They offer Center-Weighted metering, 1/1000 sec top shutter speed, and a few extras like self-timer, flash hot shoe; these cameras will be sold in a kit with a 50mm lens or a 35-70mm zoom.
The Kalimar rep showed us seven zooms, available in most manual focus mounts. None are brand new but they range from a 19-35mm to a 75-300mm model and seem quite large but well built. If you are looking for moderately priced zooms, keep the Kalimar name in mind.
Kodak Gear. Based on a strategic alliance between Kodak and The Tiffen Company, this is a new brand that you'll be seeing in stores. At a press reception, Tiffen launched a line of over 100 photographic accessories, including Wratten filters, tripods, camera bags plus a couple of zoom lenses and flash units. Unfortunately, there was little information provided on each of the numerous products shown, so additional specifics will need to await a later issue of Shutterbug.
Pentax. In spite of predictions that Pentax would announce an Anniversary Edition of its venerable manual focus LX model, no such camera appeared. On making inquiries, I discovered that this model would be available in the Japanese market only. However, the company had other important news. Hidden under glass at their booth, we saw an entirely new pro-level autofocus SLR camera. Although this model did not even have a designation yet, it attracted a great deal of attention. Few specifics were available yet, since this camera will not be officially announced until the PMA show in February. However, the brief handout sheet provided a few hints. This model includes photographic data imprinting; some magnesium alloy external parts; 1/6000 sec top shutter speed; retractable flash; and a sophisticated six-segment multi-pattern metering system. A new "Battery Grip" accessory was also shown; powered by four AA-size batteries, it includes a secondary shutter release button for convenient vertical position shooting.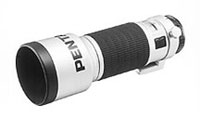 Pentax FA Macro 200mm f/4 ED IF.
Pentax also provided a sneak preview of two lenses for their 35mm AF cameras: a 24-90mm zoom and a 31mm f/1.8 wide angle model; the latter is probably a Limited Edition model. However, no specifications were available for either product. We did get to check out a new macro lens however, the FA Macro 200mm f/4 ED[IF] in a silver colored barrel with a minimum focus distance of 1.69' for maximum magnification of life size (1:1). The working distance between the front element and the subject is 11" so there's less need to crowd the subject; the extra space also allows for convenient use of a reflector or off-camera flash unit. With two ED glass elements and inner focusing for improved edge brightness, this lens should be an excellent performer in nature photography. Features include a push/pull AF/MF switch, focus range limiter, tripod socket, and a lens hood with a slot for adjusting a polarizing filter.
Phoenix. The largest new lens that I found at photokina was the white Samyang/Phoenix 650-1300mm f/8, with conventional optics (eight elements in five groups); this is not a mirror (reflex) lens. Only limited information was available but this is a manual focus lens suitable for most any camera with a T-mount adapter. The minimum focus distance is 16' and filter size is 95mm. As you would imagine, this is not a small/lightweight lens (4x182", 70 oz) but its extreme reach should certainly appeal to some photographers.
Sigma. This manufacturer did not announce two SLR cameras as some had expected, but arrived with five brand-new lenses including three super fast wide angle models. All will be available in all popular AF mounts. Because current digital SLR cameras require shorter focal lengths for a true wide angle effect, Sigma is concentrating on making more lenses of this type, with two aspherical elements to minimize distortion, spherical aberration, and astigmatism. All employ nine diaphragm blades for beautiful rendition of out of focus areas. A special optical construction assures image brightness across the frame without light falloff in the corners even at wide apertures. The dual focus mechanism ensures that the focus ring does not rotate during AF operation and focus is internal. Extensive use of aluminum alloy provides great durability while lead and arsenic free glass will satisfy environmental concerns.
Designated as DG (for digital) they are fully compatible with film-based cameras as well. The most notable of this type is the new AF 20mm f/1.8 EX DG Aspherical RF, an ultra-wide lens with an incredibly wide maximum aperture; its minimum focus distance of a mere 7.9" allows for a 1:4 reproduction ratio. This is a large, hefty (18.3 oz) lens that requires 82mm filters. Very similar, the AF 24mm f/1.8 EX DG Aspherical Macro focuses as close as 7.1" for a maximum reproduction ratio of 1:2.7; it weighs 17.1 oz and calls for a 77mm filter. The third model is the 28mm f/1.8 EX DG Aspherical Macro with close focusing to 7.9" for a maximum reproduction ratio of 1:2.9; this one weighs 16.9 oz and also requires 77mm filters.
Sigma APO 100-300mm f/4 EX IF/HSM.
I have often wondered why no one makes a fast 100-300mm f/4 zoom these days, but now Sigma does. Their new APO EX IF/HSM model is quite large and heavy of course (3.6x8.8", 52.2 oz) because of the very wide maximum aperture but appears to be a professional zoom that will appeal to many serious photographers. The specs are impressive indeed: Apochromatic design thanks to the use of four Special Low Dispersion elements to fully correct chromatic aberration; Hyper Sonic Motor for autofocus in Sigma, Canon, and Nikon mounts; full-time manual focus even in AF mode without the need to flip a switch; internal focusing; and large tripod mounting collar. This large lens is fully compatible with the Sigma 1.4EX and 2x APO tele-converters and is also made with lead and arsenic free "ecological" glass.
Sigma also showed us their upgraded 28-70mm model, the f/2.8 EX Aspherical DF zoom. This one offers the mechanical advantages of the longer zoom but uses two aspherical elements for excellent performance. The minimum focus distance of 15.7" allows for a maximum magnification ratio of 1:4.2; filter size is 77mm; and this zoom tips the scales at 22.7 oz. Naturally, Sigma also offers a full line of compact, ultralight zooms but the entire EX series is intended to appeal to serious photographers seeking very fast, extremely rugged, pro-caliber lenses with superior mechanical and imaging qualities.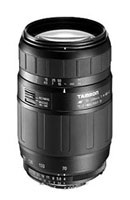 Tamron AF 70-300mm f/4-5.6 LD.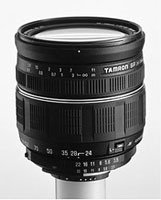 Tamron SP AF 24-135mm f/3.5-5.6.
Tamron. During the large press conference celebrating their 50th anniversary, Tamron showed two new lenses with a lot of interesting features; both are available in all popular AF mounts. The star of the show was the Commemorative Model SP AF24-135mm f/3.5-5.6AD Aspherical [IF] Macro. Unlike the more typical 28-105mm zooms, this lens offers a very wide angle of view plus longer telephoto capability for greater versatility. The minimum focus distance has been shortened to a mere 15.7"--throughout the entire zoom range--an achievement that enhances the practical value of this lens. At 135mm, the maximum reproduction ratio is a full 1:3.3, earning the "macro zoom" designation.
The mechanical aspects are familiar: a zoom lock switch to prevent "zoom creep" while carrying the lens plus internal focusing and Tamron's high precision Quad-Cam Zoom mechanism. This is not a super compact lens but it is moderately small and not overly heavy (3.2x3.1", 72mm filter, 18.7 oz). The SP designation indicates Super Performance and that should be easily achieved with the premium grade optics: four hybrid aspherical elements plus an AD (Anomalous Dispersion) glass element. The combination assures compensation of aberrations at all focal lengths assuring sharp and crisp images without linear distortion.
At the other end of the spectrum is the highly affordable new Tamron AF 70-300mm f/4-5.6 LD Macro in silver or black finish. It's designed for portability with ultralight weight (15.3 oz). The 37.4" minimum focus distance yields a maximum reproduction ratio of 1:2 (1/2 life size) at the long end. The Macro mode is available at all focal lengths from 180-300mm; at other settings, the minimum focus distance is still a respectable 59". In spite of the low price (not stated) this zoom includes a low dispersion element to reduce chromatic aberration for superior images at longer focal lengths. Overall performance is enhanced with an entirely new mechanical construction.
Tokina. Although the 28-200mm zoom lenses are very common these days, Tokina's new AF 24-200mm f/3.5-5.6 AT-X zoom certainly piqued our interest because of the extra focal length. This may be the only lens some photo enthusiasts will ever need because it includes 90 percent of the most popular focal lengths in a single barrel. In October, only a single functioning prototype was available but it may be on the market by the time you read this.
Featuring an aspherical and a Super Low Dispersion (SLD) element to minimize both spherical and chromatic aberrations, it will be available in popular AF mounts. A spec sheet had not yet been printed but we were told that it takes 72mm filters and weighs about 24 oz. That's not ultralight due to extensive use of metal for durability but the lens is not too large and is well built. Its minimum focusing distance of 2.6' is excellent for a zoom of this type. I tried the lens on a Nikon F100 and the combination provided quick and reliable AF performance in the low light of the hall; operation was fairly quiet as well. At this time, no other manufacturer offers a lens including this set of focal lengths, so THK Photo Products should have a hot seller on its hands.
Voigtländer. In addition to the new lenses for their Bessa rangefinder, the European distributor showed us two manual focus lenses in mounts for most SLR cameras. Note that these moderately expensive products may or may not make their way to the US; that will depend on consumer and dealer interest. However, they certainly drew appreciative glances and comments from the Shutterbug team. Featuring styling and a rectangular bayonet lens hood reminiscent of Zeiss Contarex lenses, the 125mm f/2.5SL Macro Apolanthar and 75mm f/2.5 portrait lens should appeal to retro fans. No specs were available for the 75mm lens, but the 125mm Macro is of a modern design with 11 elements in nine groups, nine aperture blades, and a 58mm filter size. The minimum focus distance of 1.24' produces full life-size (1:1) magnification. In a future issue we'll provide further specifics if these fascinating lenses will actually be imported to the US by THK Photo Products.
Manufacturers/Distributors

Canon U.S.A. Inc.
One Canon Plaza
Lake Success, NY 11042
(516) 328-5000
www.usa.canon.com

Contax Division of Kyocera Optics Inc.
2301-200 Cottontail Ln.
Somerset, NJ 08873
(800) 526-0266
www.contaxcameras.com

Minolta Corporation
101 Williams Dr.
Ramsey, NJ 07446
(201) 825-4000
fax: (201) 423-0590
www.minoltausa.com

Nikon Inc.
1300 Walt Whitman Rd.
Melville, NY 11747
(516) 547-4200
fax: (516) 547-8518
www.nikonusa.com

Pentax Corporation
35 Inverness Dr. E
Englewood, CO 80112
(303) 799-8000
fax: (303) 790-1131
www.pentax.com

Phoenix Corporation of America
112 Mott St.
Oceanside, NY 11572
(516) 764-5890
fax: (516) 764-5970
www.phoenixcorp.com

Sigma Corporation
15 Fleetwood Ct.
Ronkonkoma, NY 11779
(516) 585-1144
fax: (516) 585-1895
www.sigmaphoto.com

Tamron Industries Inc.
125 Schmitt Blvd.
Farmingdale, NY 11735
(631) 694-8700
fax: (631) 694-1414
www.tamron.com

The Tiffen Company (Kalimar)
722 Goddard Ave.
Chesterfield, MO 63005
(800) 525-4627
fax: (636) 532-8995
www.tiffen.com

The Tiffen Company (Kodak Gear)
90 Oser Ave.
Hauppauge, NY 11788
(516) 273-2500
fax: (516) 273-2557
www.tiffen.com

THK Photo Products Inc. (Tokina, Voigtlnder)
2360 Mira Mar Ave.
Long Beach, CA 90815
(562) 494-9575
fax: (562) 494-3375
www.thkphoto.com

FEATURED VIDEO