The 1690 Pelican Protector Transport Case
Pelican Products, Inc. has unveiled the 1690 Transport Case. Boasting more than 12,000 cubic inches of possible storage space, the 1690 is ideal for safely transporting heavy equipment. Transit-friendly features include two double-hand side-grips for easy team lifting, two heavy-duty sets of polyurethane wheels with stainless-steel ball bearings and nylon hubs for long wheel-life and an extension handle (with effortless release latch) for easy transport.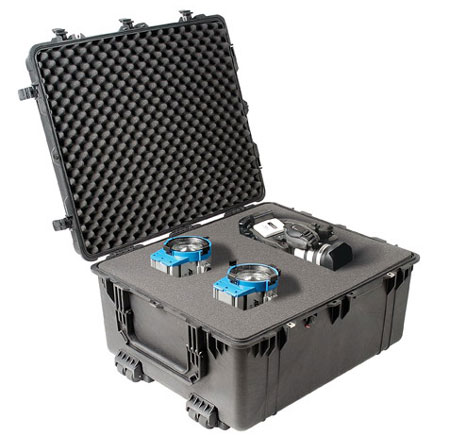 The 1690 offers stainless steel reinforced padlock protectors for added defense against cutting and theft. Pelican's proprietary Pick `N' Pluck Foam comes standard for instant interior customization and shock protection. Additional available protection options include lid organizers, utility padded divider sets and TSA Accepted PeliLocks. Combined with a tough-as-nails design, they make the case a perfect solution for those transporting sensitive equipment and for companies handling warranty return of large electronics.
Like all Pelican Protector Cases, the 1690's open cell-core construction helps protect sensitive equipment. Pelican Cases can also be spotted by the distinctive, trademarked "Dual Band" design. Additional standard features include a lid equipped with a polymer o-ring for a dust and waterproof seal, and an automatic Gore-TEX pressure equalization valve that stops moisture from entering the case and prevents vacuum-lock so the case opens easily at any altitude. With an MSRP of $499.95, the 1690 Transport Case is backed by Pelican's Legendary Lifetime Guarantee of Excellence: "You break it, we replace it...forever."

FEATURED VIDEO