10 Years Of Digital Innovations; A Second Spring When Every Leaf Is A Flower
"Most modern calendars mar the sweet simplicity of our lives by reminding us that each day that passes is the anniversary of some perfectly uninteresting event."--Oscar Wilde

I once had the pleasure of staying in the Cadogan Hotel in London where in 1895 Victorian society was rocked by the arrest of playwright Oscar Wilde. The incident occurred in Room 118, just down the hall from my room, and was immortalized in verse by the poet John Betjeman (www.johnbetjeman.com). The photographic world has changed a lot since Peter Henry Emerson's work in 1895 and digital imaging today is even different than it was back in August 1998 when I started writing this column. How? Let me count the ways...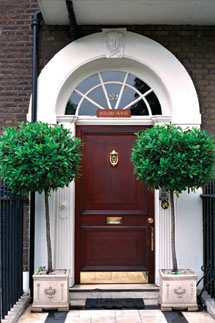 Photoshopping
As I was finishing my original 1998 column Adobe's Photoshop 5.0 was being introduced with cool features such as a History palette, History Brush, and Layer Effects. The day after Adobe launched Photoshop Elements 6 for the Mac OS this year, they launched the beta version Photoshop Express (www.photoshop.com/express/landing.html), a free online version of the program. You can read my take on the efficacy of an online implementation of Photoshop in the April 2008 Web Profiles column. Photoshop Express is an online, browser-based image-editing and management tool that also lets users store up to 2GB of images online. Photoshop Express offers a variety of sharing options, including showing photos and slide shows in an online Gallery that's hosted by Adobe, à la what a Mac.com account does for iPhoto users or what sites like SmugMug.com can do for the rest of us. You can conveniently embed or link photos to social networking sites that are all the rage with the kids these days or personal blogs. Photoshop Express includes links allowing you to import photos from Facebook, Photobucket, and Picasa. Is it Photoshop? Nope, but it's a good introduction for the digital imaging newbie.
Plugging Along In Soft Focus
onOne Software's (www.ononesoftware.com) FocalPoint is a selective focus and vignetting plug-in for Photoshop and Photoshop Elements designed to add a soft, defocused look to your photographs. This plug-in lets depth of field control, plane of focus control, and selective focus be applied to an image after it's photographed, allowing for more control and precision. The plug-in's FocusBug has a distinctive hardware feel much like adjusting a tilt-shift lens to choose a "sweet spot" of focus either using a round aperture or a planar aperture shape. You then control how much and what kind of blur you want; you can increase or decrease the amount of feathering or blur across a plane. Blur choices include a standard defocused look as well as a motion blur. FocalPoint can also be used for vignetting without blurring the image and you can save favorite effects as presets; by using Photoshop Actions you can also batch process an entire folder of images. At $159.95, FocalPoint is not inexpensive, but I'm guessing portrait and wedding photographers will pay for the investment after one wedding or photo session.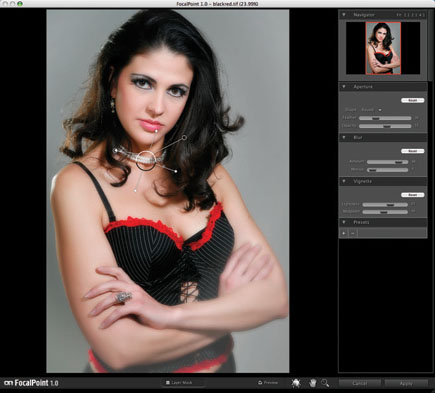 Transferring Data From Old To New?
One thing that hasn't changed during the past 10 years is the hassle of moving data files from an old computer to a new one. Here's a gizmo that will make that job easier: Data Drive Thru's (www.thetornado.com) The Tornado eliminates the tedium associated with transferring information from your old Windows computer to your new one. Once connected to each computer, a flashing LED light on top of the device lets you know you're connected. The Tornado's software automatically displays the contents of each system, enabling the user to drag-and-drop files and file folders from one machine to the other. The Tornado is pocket-sized and has retractable cables for portability. Operating at USB 2.0 speeds, The Tornado moves files 600 percent faster than flash memory-based storage media. It's compatible with Windows 98 Se, Me, 2000, XP, and Vista and costs less
than $60.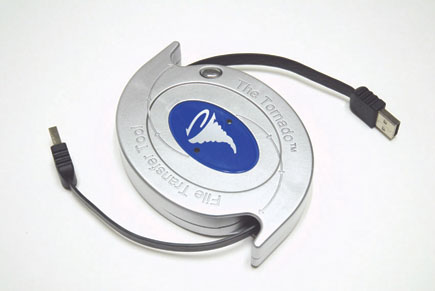 Photoshopping Going Ape
When I wrote that first column I'd been shooting infrared film for sometime but the concept of digital IR wasn't yet on my radar. Now I own two cameras converted for infrared capture by Life Pixel (www.lifepixel.com). One has their Standard conversion equivalent to Kodak's Wratten 89B and the other has the Enhanced Color IR conversion that allows more color to pass through to the sensor. I've been looking for the right bag to create a grab-and-go IR kit and found it in Norazza's (www.norazza.com) Ape Case PRO2000. It's designed to hold SLRs, video cameras, and a wide variety of camera accessories. It features a padded 17" laptop-carrying pouch with room for power cords, USB flash drives, and other accessories. The PRO2000 has 16 compartments that can be reconfigured to hold my two SLR bodies, lenses (including up to a 300mm mounted on a body), and flashes. Featuring the signature "banana yellow" interior, the weather-resistant design includes covered zippers and an attached pullover rain shield. Made of heavy-duty nylon, the PRO2000 has a padded and contoured shoulder harness system and includes a lifetime warranty.

LATEST VIDEO

SPONSORED VIDEO
Testing Tamron's SP 150-60mm G2 lens while capturing birds and alligators in Apalachicola, Florida.