10 Great Photo Poses for Plus Size Women (VIDEO)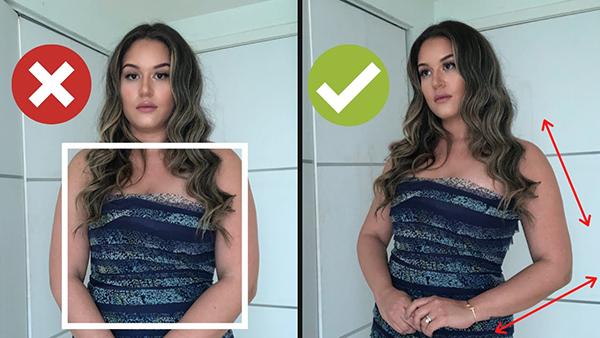 Last month we featured a tutorial on how to pose plus size women for boudoir photos and it has become one of our most popular stories of the year. So here's another great video with posing tips for plus size models.
This time it's coming to us from fashion photographer Bonnie RzM who shares ten great photo poses for plus size women, no experience needed!
"You've got the curves, but your photos don't feel quite right," Bonnies says. "I've got you! I'm going to share with you how to showcase your silhouette to look powerful, elegant but most of all, confident in every click."
#1 Belly Shield
"Listen carefully because this is going to change your life," Bonnie explains. "It is very common that sometimes we wear a dress, and we look at ourselves in the mirror and we're like: 'Ooh, this looks good.' But then you take a photo, and it doesn't necessarily translate. Maybe you're showing a little bit of a belly. This is going to help you. In a very elegant way, you're going to touch your nails softly. What this is going to do is create a shield in that specific area."
#2 Long Legs, Don't Care
"If you got it, you need to show it. I use this pose a lot in my photos and it's very simple and it has an amazing effect. The first thing you're going to do is you're going to elongate one of your legs. The effect is going to make you look more elegant, and it's going to draw attention to thos beautiful legs."
#3 Bootylicious
"If you have an outfit that doesn't really show your curves, it's really harming the composition in your photo, so what you're going to do is the following. You're going to take that shirt, wrap it in a way that you really emphasize your waistline. So this automatically is going to start giving you some curves."
#4 Hey! How You Doing?
"Lay your body to a wall. A very common mistake that we make when we're posing next to a wall is we lean completely on the wall and then we just look like a tortilla. Place on of your arms close to the wall and then you're going to separate your body from the wall and try to make an S shape with your body."
#5 Bad Girl
"You're going to squat and then you're going to put one of your legs a little bit more forward because if you don't do that, then you look like you're going to the bathroom. This is going to elongate your body so you look less swollen."
Check out the video below to see Bonnie demonstrate and discuss all ten posing tips.