Is "7" The Megapixel Lucky Number? ; We Put Seven Of Those 7-Megapixel Digicams To The Test
During 2004, most of the major camera manufacturers announced 8-megapixel digicams, leading us to believe that the next trend would bring 10-megapixel models in 2005. Instead, it brought a slew of new 7-megapixel cameras with built-in lenses. At press time, over a dozen such models were available. Meanwhile, it seemed that 8-megapixel development had ground to a halt, at least among the major companies.
Friends and family formed the evaluation panel that provided comments about each of the seven cameras. In these snapshots, three of the youngest evaluators consider the merits of 7-megapixel digicams.
All Photos © 2005, Peter K. Burian, All Rights Reserved
My inquiries as to the reasoning behind this produced no definitive answers. However, I can think of several likely reasons that kept the 8-megapixel digicams from becoming best sellers. Aside from the substantial size, weight, and price, many potential buyers do not care for electronic viewfinders. Those are standard in most of the cameras, necessary because of their long, built-in lenses. Serious shooters often prefer digital SLRs instead. Another reason for the "8's" decline could be the negative reviews that emphasized their narrow dynamic range and prominent digital noise at high ISOs. (These are caused by cramming too many miniscule photodiodes on a tiny CCD chip.)

In any event, the 7-megapixel models are quite different. They employ the same size CCD sensor with a million fewer photodiodes for slightly better image quality at ISO 400. Their bodies are smaller and lighter; some are tiny featherweights by comparison. They incorporate optical viewfinders, although some are miniscule, a price we pay for ultra-compact size. Prices are also lower, with some available at under $450. Although their shorter optical zooms are not as versatile, the full-featured
7-megapixel models are competitive in other specifications.

In order to get a feel for the 7-megapixel category, we decided to test seven models, ranging from ultra compact to the prosumer level. These cameras are quite different in many respects, including their target market and feature set. Some are intended as digicams for families while others are loaded with advanced capabilities for photo enthusiasts. In order to avoid an "apples to oranges" comparison, I tried not to pit one type directly against another.
This scene was ideal for testing each camera's ISO performance in low light in terms of digital noise pattern and the noise suppression technology. While the differences may be difficult to evaluate in small reproductions, they were certainly obvious on a computer monitor. (ISO 400; slight lightening of the small portions of each image file in Photoshop for greater noise pattern visibility in these reproductions.)
Test Procedure
Although the seven cameras were not available at the same time, I was able to find certain subjects that I could shoot in virtually identical conditions, returning to the locations when another camera arrived. I also recruited a panel of "evaluators": six potential digicam buyers ranging in age from 19 to 40+. This group offered comments on styling, responsiveness, and convenience of operation.

Because all of the contenders employ a 7-megapixel (1/1.8") CCD sensor, resolution is virtually identical. The primary differences are created by lens quality and each company's processing and other systems. Our Evaluation chart provides a convenient overview of the merits of each of the cameras. For the sake of consistency, all of the comments are based on full-resolution images made at the best JPEG quality level using default settings for exposure, color, white balance, contrast, sharpness, etc. Even better results are often possible when using the in camera overrides or the anti-redeye flash mode.
G6 Features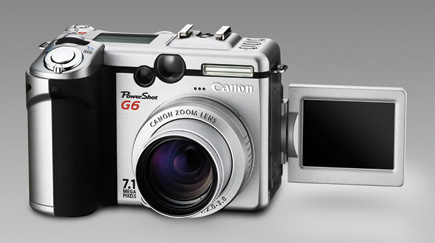 Lens: Wide aperture 35-140mm (equivalent) f/2-3.0 aspherical zoom
Viewing: 2" rotating LCD monitor
Recording Modes: Raw and JPEG
ISO: 50-400
Extras: Hot shoe for external flash; accepts filters and conversion lenses with adapter
Size/Weight: 4.1x2.9x2.9"; 13.4 oz
Street Price: $539
Canon PowerShot G6
One of three 7-megapixel models in the PowerShot line, the G6 is the largest and most sophisticated of the trio. This is a prosumer camera with a tilt/swivel monitor, very fast (wide aperture) zoom, and many of the capabilities we expect in a digital SLR. These include a Raw Capture mode, convenient manual focus, numerous modes and overrides plus compatibility with accessories: EX-series flash units as well as filters and lens converters (using an adapter kit). Granted, it's a bit pricey
when compared to some of the others in this review.

Evaluation: Our panel of potential buyers was not happy with the size or weight, but all appreciated the flip-out/rotating LCD monitor. "It's also easy to use until you wonder what all the extra features are for," one commented. The female panelists were not impressed with the styling but the guys felt it was a great-looking camera. And yes, the many capabilities do require a study of the Owners Manual, but the G6 will not intimidate experienced digital shooters. In my estimation, it's more convenient to use overall than many other prosumer models, thanks to a nearly perfect analog control layout and menu.

In outdoor shooting, this camera is fast and delivers consistently excellent images with punchy color, good shadow detail, accurate exposure, and white balance. It's just about perfect in flash photography as well. The default level for sharpness is way too low and most owners will want to select a higher setting, in camera. Photos made at ISO 400 are highly acceptable because of a fine, tight noise pattern; the noise reduction processing is not aggressive so the images look natural.

Most photographers who already own a digital SLR camera would probably prefer one of the more compact models as a "take anywhere, shoot anytime" digicam. Personally, I would learn to live with the greater size/weight, because overall, the Canon PowerShot G6 was my favorite for serious photography. And if forced to give up my digital SLR system, this is the 7-megapixel camera that I'd want as an alternative.
EX-Z750 Features
Lens: Casio 38-114mm f/2.8-5.1 zoom
Viewing: 2.5" LCD monitor
Recording Mode: JPEG
ISO: 50-400
Extras: Charging/image transfer cradle included
Size/Weight: 3.5x2.3x0.9"; 4.5 oz
Street Price: $429
Casio EXILIM ZOOM EX-Z750
Casio is becoming a strong contender in the high-resolution market with two 7-megapixel digicams, including this tiny model with an oversized 2.5" LCD monitor. Thanks to advanced miniaturization technology, the EX-Z750 is super slim (0.88" thick) but full featured. Valuable amenities include a live histogram, manual focus, a full range of operating modes from Automatic to Manual, and all of the essential overrides. It's very responsive, too, taking a shot almost instantly even in low light, great for candid picture taking.

Evaluation: This small silver camera was the hands-down winner among the panel for its form factor, oversized LCD monitor, and unusually quick response. Even the traditionalist in the group loved the styling. The panel was less impressed with the tiny external controls and icons but praised the logical, easy to read menu, especially when selecting one of the numerous subject-specific Scene modes. Operation in Manual and Semiautomatic modes was far from intuitive but I agreed that the camera was quite easy and convenient to use overall.

Although not perfect, the Casio EXILIM ZOOM EX-Z750 is certainly desirable in most respects, as indicated in our chart. Especially outdoors, it produces very pleasing photos; the low sharpness is fine for portraits but can be boosted in camera when desired. The warm color balance in flash photography can be corrected in Photoshop or other software. This camera is well equipped for both snapshooting and some serious photography, although a wider range of f/stops and faster image recording would make it even more suitable. If I needed a very small digicam, this one would be my first choice of the models tested.
Coolpix 7900 Features
Lens: Nikkor 38-114mm (equivalent) f/2.8-4.9 ED zoom
Viewing: 2" LCD
Recording Mode: JPEG
ISO: ISO 50-400
Extras: Face-Priority Autofocus; In-Camera Red-Eye Fix and D-Lighting software
Size/Weight: 2.4x3.5x1.4"; 5.3 oz
Street Price: $449

LATEST VIDEO

SPONSORED VIDEO
Testing Tamron's SP 150-60mm G2 lens while capturing birds and alligators in Apalachicola, Florida.