Is "7" The Megapixel Lucky Number? ; We Put Seven Of Those 7-Megapixel Digicams To The Test Page 3
In spite of the hybrid autofocus sensor (with both passive and active technology) the Optio 750Z was not too quick to focus in low light, especially at telephoto settings. The zoom extends to a full 188mm (equivalent); that's useful, but autofocus occasionally balks at the 135mm and longer settings even outdoors. This full-featured digicam generated some nice images indoors, particularly in flash photography but it was not a leader in low-light quality. In outdoor photography, my images were generally pleasing and very sharp. After a slight adjustment of the White Balance and Color Saturation controls, my photos were close to perfect.
V700 Features
Lens: Schneider Kreuznach 38-114mm (equivalent) f/2.8-5.1 zoom
Viewing: 2" LCD monitor
Recording Modes: JPEG and TIFF
ISO: 50-400
Extras: Live histogram; many white balance options, including Custom; RGB tone level adjustment and two black and white modes
Size/Weight: 2.3x4.2x1.2"; 5.3 oz
Street Price: $369
Samsung Digimax V700
In the past, Samsung was primarily known as a price leader with a wide range of lower-end cameras. Today, the company also competes in the high-resolution arena, with an 8-megapixel camera, a 7-megapixel cell phone camera, and two 7-megapixel Digimax models. I tested the most recent, the V700 with a Schneider Kreuznach branded zoom, available in a red, blue, or silver aluminum casing. Targeting photo enthusiasts with Manual and Semiautomatic modes, manual focus, a live histogram plus many overrides, this compact model will also appeal to families. They'll appreciate the 11 automatic Scene modes for getting nice pics of their favorite subject types.

Evaluation: The Digimax V700 is very compact, with a rounded body reminiscent of a bar of Zest soap. It's not the easiest to grip because of its shape and slippery smooth aluminum finish but no one actually dropped the camera. Although I would not have classified the silver model as super stylish, our younger female panel members said it was "cool" or "cute." They were less impressed with the balky On button (calling for several pokes) or with the slow focus response in low light. Otherwise, the group felt it was adequately quick until I pointed out the long processing time (in 7-megapixel Super Fine capture) that causes a 4+ second delay before a second shot can be taken.
Taken over several trips to a large shopping mall--as the cameras became available for testing--this series should provide a visual indication of the exposure, contrast, white balance, dynamic range, and color rendition produced (without overrides) by each digicam. Much of the area was illuminated by natural light (on cloudy days) streaming in through a glass roof while the portion under the bridge received mixed lighting. (ISO 400; f/5.6; evaluative metering; Auto white balance; no overrides used; images slightly cropped but not adjusted in Photoshop.)
We all agreed that the camera is not truly intuitive in initial operation. Some analog controls are not marked boldly as to their purpose and the +/- button has five distinct functions. Still the operating modes are easy to select and the menus are certainly understandable, logical, and easy to navigate. Figuring out how to change f/stops, shutter speeds, white balance, and ISO was virtually impossible without the instruction manual. In my view, the Digimax V700 would be best for those who want point-and-shoot simplicity, using the many Scene modes and the convenient menu. More serious shooters will be very well served, too, but they'll need to devote some effort to a study of the Owners Manual plus experimentation.

In spite of that carping, I'll admit that this Samsung digicam can generate great-looking images with high visual appeal, with or without flash. Set the Vivid Sharpness option for low ISO shooting and most of the photos should be fine for direct printing from the memory card, without enhancement in a computer.
DSC-W7 Features
Lens: Carl Zeiss 38-114mm (equivalent) f/2.8-5.6 zoom
Viewing: 2.5" LCD monitor
Recording Mode: JPEG
ISO: 100-400
Extras: Accepts filters and conversion lenses with adapter
Size/Weight: 3.5x2.3x1.4"; 7 oz
Street Price: $429
Sony Cyber-shot DSC-W7
The third 7-megapixel camera from Sony, this is a mid-size model with Carl Zeiss Vario-Tessar zoom in a thick aluminum body with a huge non-glare 2.5" LCD monitor. It's certainly full featured, offering advanced capabilities such as a live histogram, Manual and Program modes, manual focus, and all essential overrides. Surprisingly, Semiautomatic modes are not available. For simplified operation, the camera also includes seven subject-specific Scene modes. It also accepts filters and conversion lenses (with an adapter) but has no hot shoe for accessory flash.

Evaluation: The panel was not pleased with the thickness of the aluminum body and considered the styling to be just average. Personally, I think the Cyber-shot DSC-W7 looks great. Mode selection was considered to be unusually convenient but many features require hunting through the electronic menu. The panel agreed that overall operation would be simpler if Sony had provided more analog controls and larger icons on the huge LCD screen.

Aside from the average speed of low-light focusing and image processing, my only complaint was about the excessive noise reduction (applied automatically) at high ISOs. In other respects, image quality was first class, thanks to the high-grade lens and Sony's Real Imaging Processor. This camera produced beautiful photos indoors with flash and in outdoor photography, especially with sharpness set to High. Many photographers will consider the overall look of the low ISO images as superlative, making this camera suitable for some serious shooting.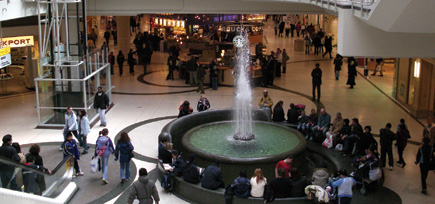 The 7-megapixel cameras' dynamic range (ability to hold both highlight and shadow detail) was not extremely wide, but it's fine for most subject matter. The Pentax model produced the highest contrast (at high ISO) but even these images rarely required any highlight/shadow recovery in Photoshop CS2. (Image cropped but not adjusted; ISO 400; Pentax Optio 750Z.)
Final Assessment
Like any type of digicam, each of the seven has both pros and cons, listed in our Evaluation chart. One of the primary issues remains the speed of response. The manufacturers have addressed shutter lag, minimizing the delay after pressing the shutter release button. That's great but autofocus is not always instantaneous, especially in low light at long focal lengths. And these small cameras are not nearly as fast to process and record high-resolution images as the larger digital SLRs.

They're not as impressive in terms of dynamic range and high ISO performance either because of the much smaller sensors and photodiodes. Still, the highlight/shadow detail was generally very good, except in extremely contrasty light. And these 7-megapixel models generate slightly less digital noise than the 8-megapixel cameras that I tested a year ago. My ISO 400 images made for fine 8.5x11" prints without the need for noise reduction software. For the best ISO 400 results, avoid high in camera sharpening and use Unsharp Mask wisely in post-processing. (With Adobe programs, select a Threshold setting of around 4 to avoid accentuating the noise pattern.)

In terms of resolution, the difference in 7 vs. 8 megapixels is not a big deal. Start with a technically excellent low ISO image and you can make comparable 11x14" prints, with great definition of fine detail. The slightly lower resolution may be noticeable under close scrutiny in 12x16" outputs but the results should still range from good to very good, depending on the camera.

Digital SLRs are even better and faster but not everyone needs or wants one of those cameras. If you generally use ISO 50 or 100 for serious photography and rarely shoot action subjects, you should be fully satisfied with one of the 7-megapixel digicams in this review. But also check the manufacturers' websites to see what other high-resolution models are available in your favorite brands. You may be able to find one that better suits your needs in terms of size or specifications. Finally, check out the cameras on your short list at a well-stocked retail store to determine which one you personally find most convenient to operate. That's an important consideration, particularly for a digicam that will be used by the entire family.
A long-time "Shutterbug" contributor, stock photographer Peter K. Burian (www.peterkburian.com) is the author of "Mastering Digital Photography and Imaging," a 270-page book that offers a great deal of practical advice on all aspects of the topic. He is also a digital photography course instructor at: www.betterphoto.com.
Manufacturers/Distributors
Canon U.S.A., Inc.
One Canon Plz.
Lake Success, NY 11042
(800) 423-2366
(516) 328-5000
www.usa.canon.com
www.powershot.com
Casio, Inc.
570 Mount Pleasant Ave.
Dover, NJ 07801
(800) 962-2746
(973) 361-5400
www.casio.com
Nikon Inc.
1300 Walt Whitman Rd.
Melville, NY 11747
(800) 526-4566
(631) 547-4200
www.nikonusa.com
Olympus America Inc.
2 Corporate Center Dr.
Melville, NY 11747
(888) 553-4448 (digital)
(631) 844-5000
www.olympusamerica.com
Pentax Imaging Company
600 12th St., Ste. 300
Golden, CO 80401
(800) 877-0155
www.pentaximaging.com
Samsung Opto-Electronics
40 Seaview Dr.
Secaucus, NJ, 07094
(201) 902-0347
www.samsungcamerausa.com
Sony Electronics Inc.
166530 Via Esprillo
San Diego, CA 92127
(858) 942-2400
www.sony.com

LATEST VIDEO

SPONSORED VIDEO