Is "7" The Megapixel Lucky Number? ; We Put Seven Of Those 7-Megapixel Digicams To The Test Page 2
Nikon Coolpix 7900
Nikon makes several large 8-megapixel Coolpix cameras as well as two compact 7-megapixel models, including the 7900. Tiny and lightweight in spite of the all-metal construction this one would be most suitable for novices or as a family camera. Designed for simplicity of operation, with a multitude of Scene modes, it's also quite well equipped with overrides to control most aspects of an image.

Note, too, that this camera includes the latest technology, including two features that are rarely necessary because of the camera's fine performance. In-Camera Red-Eye Fix--available when redeye reduction flash mode is used--can be used to correct an image after taking a shot.

D-Lighting can be selected for shadow detail recovery. Finally, a new Blur Warning icon appears after a shot is taken if it's blurred by camera shake. The user must then decide whether the image should be recorded or not; the camera refuses to take another shot until it gets a Yes or No instruction. I found this feature to be frustrating when I simply wanted to get on to taking another photo quickly.
The Nikon Coolpix 7900 includes an In-Camera Red-Eye Fix feature, available only when the anti-redeye flash mode is used. The Olympus C-7070 offers a similar function. Frankly, neither camera produced redeye in 90 percent of my photos, but this feature is useful occasionally, as for these two images made in a very dark room at a long focal length. (Nikon Coolpix 7900; images cropped.)
Photos © 2005, Peter K. Burian, All Rights Reserved
More importantly, the Coolpix 7900 was the first camera to boast Face-Priority Autofocus. The system employs biometric recognition technology to focus on a face (the one closest to the camera) automatically and to maintain focus if subject location changes. This feature was quite effective when a face was large in the frame or near the center of the image area, as it is in many snapshots. It was not effective in wide angle compositions, especially when the face was far off-center, beyond the area covered by the five-focus detection points. Still, the current system hints at even more sophisticated technology to be available in the future.

Evaluation: Our panel provided the following comments about the Coolpix 7900: "Not great looking [according to females especially] but would be OK in all-black"; "it should let you view an image for longer after you shoot it"; "easy to use in Scene modes once you can find them"; "the buttons are confusing but the menu is fine."

This is one of those cameras that should be easy to use without reference to the instructions or a lot of experimentation. Some aspects are very convenient but first, you need to appreciate the operating sequences. That's not simple because the buttons are not boldly marked as to their purpose. It's worth spending a half hour with the Owners Manual to learn how to access all of the many useful functions.

Serious shooters may miss Manual and Semiautomatic modes. They'll also wish that the camera provided some indication of the shutter speed and f/stop selected. In other respects, the Nikon Coolpix 7900 is very versatile for a "point-and-shoot" digicam. As the chart indicates, I found some problems in low light and high ISO shooting but made some gorgeous images on bright days and in flash photography. For the best results, it's worth boosting low ISO sharpness in camera, or in image-editing software.
C-7070 Features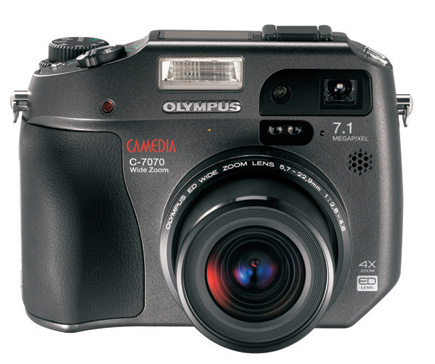 Lens: Olympus 27-110mm (equivalent) f/2.8-4.8 zoom
Viewing: Rotating 1.8" LCD monitor
Recording Modes: Raw, TIFF, and JPEG
ISO: 50-400
Extras: Panorama mode with Olympus brand xD cards; in camera redeye fix available; slot for xD-Picture Card and CompactFlash Type I or II; accepts filters, flash units, and conversion lenses
Size/Weight: 3.4x4.6x2.6"; 13.5 oz
Street Price: $499
Olympus Camedia C-7070 Wide Zoom
Competing with the PowerShot G6 for the affections of the serious photographer, this prosumer model features a 27-110mm (equivalent) zoom for those who enjoy wide angle photography. Add some conversion lenses, filters (40.5mm), and an external flash unit and the C-7070 becomes particularly versatile. Its rugged (black) magnesium-alloy body is quite large but the swiveling glare-resistant 1.8" LCD monitor is small. This camera includes lots of Program modes for simplicity but also offers most of the capabilities that serious photographers expect. These include raw and TIFF recording options, continuous predictive tracking focus for action subjects, two histograms, and a wealth of user-selectable functions.

The body sports many analog controls appreciated by experienced photographers; it's too bad that the buttons are so small and scattered around the camera. The multi-page menu contains a long list of items, some certainly not intuitive, but it's logically laid out and not difficult to navigate. The C-7070 requires a full study of the instruction manual but its vast potential makes the effort worthwhile.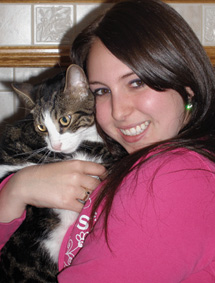 Although it was important to remain within the flash range, the Olympus C-7070 produced the best people pictures with flash of the cameras tested. In terms of the quality and intensity of lighting, contrast, and skin tone rendition, the images are often excellent. (Image made at default settings.)
Evaluation: Only a single panel member appreciated the traditional styling; all felt that the body was too large but they liked the articulating monitor. Although confused by the multitude of buttons and menu items, they agreed that the seven Scene modes were easy to find and made point-and-shoot operation a breeze. They also liked the idea of in camera fix for redeye, but the C-7070 rarely produced flash photos with that problem, an impressive performance.

This camera includes many of the capabilities we expect in a digital SLR, making it suitable for a serious photographer. Naturally, it's not as fast as a digital SLR in response or framing rate. In low light, the C-7070 was slow, especially at telephoto zoom settings, sometimes frustrating in candid picture taking. Outdoors the camera was much quicker to respond. Its framing rate was also quite fast, allowing me to shoot full-resolution JPEG SHQ images at 2.4 fps; although I was able to take only two frames in a series, the performance is very fast for a 7-megapixel digicam.

The Olympus Camedia C-7070 Wide Zoom is capable of superb image quality in outdoor shooting and very good quality in low light at ISO 400. The moderate color saturation and contrast do not make for punchy photos, easily solved with in camera overrides if desired. For people pictures with flash, this was my favorite of the seven, although flash range was a bit short at low ISO. Image quality is particularly impressive in TIFF or raw capture but the processing time is long in these formats, as it is with any digicam. Still, it's worth using these options when speed is not essential, as in serious landscape photography.
750Z Features
Lens: Pentax 38-188mm (equivalent) f/2.8-4.6 zoom
Viewing: 1.8" swivel/tilt LCD monitor
Recording Modes: JPEG and TIFF
ISO: ISO 80-400
Extras: Panorama Assist, Interval Shooting, Multiple Exposure; Digital Filter options, including black and white
Size/Weight: 3.9x2.4x1.7"; 7.4 oz
Street Price: $459
Pentax Optio 750Z
Unlike most of the Optio cameras, this 7-megapixel model with a long 5x optical zoom is quite large and features retro-styling with faux leather front trim on its aluminum-alloy casing. The 1.8" LCD monitor is surprisingly small, but it does swivel and tilt and the optical viewfinder is not as small as some others. This prosumer camera features several analog controls (some not intuitive), including a large mode selector dial.

The menu provides a full slate of advanced modes and capabilities such as TIFF recording, second curtain flash sync, interval shooting, Panorama Assist, five bracketing functions, live histogram plus a warning for excessively bright or dark areas. Novices will love the 12 automatic Scene modes for nice shots of many common subject types. However, this fully loaded camera would probably be best for photo enthusiasts with previous digicam experience, ready to explore some entirely new capabilities and operating sequences.

Evaluation: While classic styling is popular with those of us over 40, the younger panel members simply did not care for the look of this camera. "It's too 1990s and it's too thick," one commented. While selecting an operating mode is simple, the panelists were less impressed by the numerous menu items--some not intuitive--displayed in a small font. Because I was determined to get the most from this camera, I was happy to make a 30-minute commitment setting it up to meet all of my own preferences. Afterward, I rarely needed to access the menu, using the analog controls, including the Function button.



LATEST VIDEO

SPONSORED VIDEO
Testing Tamron's SP 150-60mm G2 lens while capturing birds and alligators in Apalachicola, Florida.