"An American Odyssey" Is a Color Postcard Trip Through a Picture Perfect 19th Century American Landscape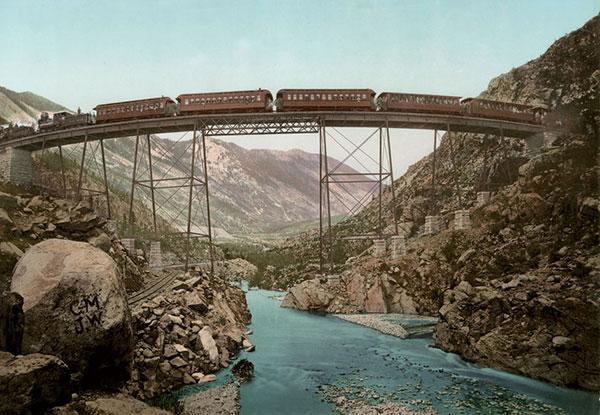 An American Odyssey (Taschen 2014) is a spectacular photo scrapbook voyage across turn-of-the-century America. Gathered from the 19th and early 20th century "color" print and picture postcard collection of photographer Marc Walter, with the assistance of documentarian Sabine Arqué, it is a huge 612-page coffee table book that tips the scales at nearly 16 pounds.
I first learned about An American Odyssey from a book review posted in The Mail Online (UK) entitled "Once upon a time in America: Rediscovering the first color photographs of the New World." The title is intriguing and the original posting was quoted by many news services and bloggers. Unfortunately it is wrong and misleading.
The pictures in An American Odyssey are not color photographs at all. They are lithographic prints made from black-and-white negatives. The colors were in no way part of the original images but were added in the printing process. Even the publisher, Taschen doesn't claim that they are color photographs. And "Once Upon a Time in America" is the title of a movie by Italian director Sergio Leone which has nothing to do with 19th century America. It is a film about gangsters in the 1930s and 1940s. The review's author(s) confused this title with Leone's Western masterpiece "Once Upon a Time in the West" which is about the construction of the railroad in the West in the 1880s.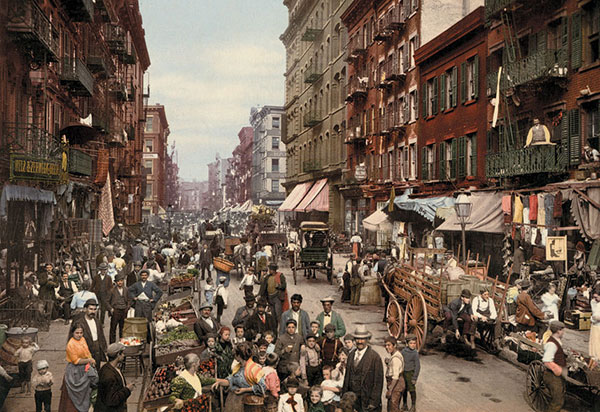 Works of the Imagination
However Leone's movies do have something in common with An American Odyssey, they are both works of the imagination. Leone's Westerns weren't shot in America but in locations like Spain and Morocco. They are a vision of the West out of Leone's imagination. Similarly the "color" images in An American Odyssey were filtered through the imaginations of highly skilled Midwestern printers who had never seen the places they were coloring. Their color choices resulted in very beautiful images, very Pictorial images that nonetheless are not quite real.
Most of the photographs in An American Odyssey were taken by unknown photographers but there are several made by William Henry Jackson, one of America's leading 19th century landscape photographers. Jackson was one of Matthew Brady's photographers and after the Civil War he loaded up a wagon with wet-plate collodion equipment and headed west. With the completion of the Union Pacific Railroad completed in May 1869 Jackson knew that the American frontier and its virgin wilderness would soon disappear. Best known for the sweeping landscapes of his first Western expeditions his images in An American Odyssey, made just a decade or two later, are very different, the frontier is gone and the landscape is now filled with people and machines.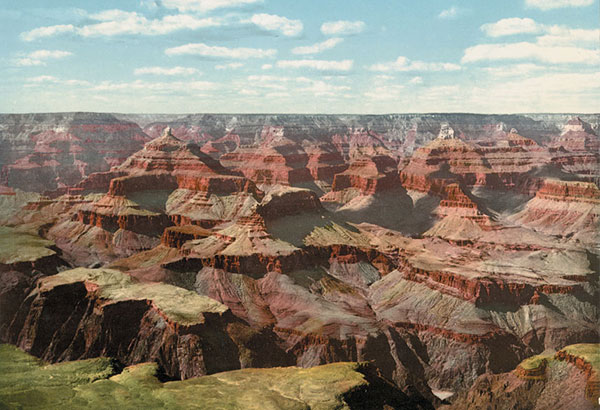 Especially striking in this respect are the photographs "Mount Lowe Railway on the Circular Bridge, California" and "Clear Creek Canyon Bridge." In "Mount Lowe Railway," Jackson captures a tramcar on the hairpin turn of a bridge suspended on the side of a mountain. Remarkably, the well dressed Victorian passengers seem oblivious to their vertiginous surroundings.
Earlier Jackson photographs had emphasized the majesty of the mountains and the smallness of man in comparison. Now what had once been awe inspiring had become just another boring part of a daily commute. In the "Clear Creek Canyon" picture, a train crosses a creek on a spidery, lacework railroad bridge. Significantly it is a passenger train probably filled with migrants to California--another symbol for Jackson of the end of the frontier.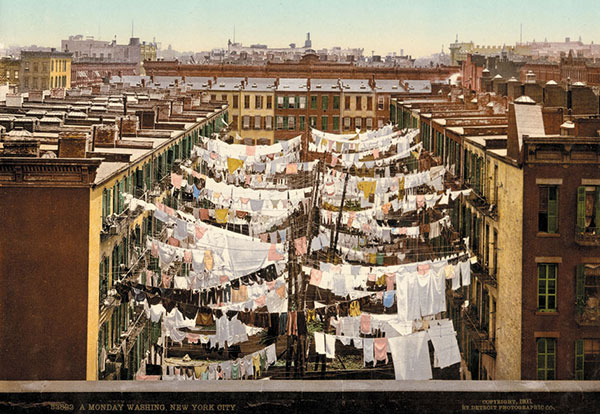 Color Images By Photochrom
The first true color photographs were "autochromes" and these weren't invented until 1905. The photographs in An American Odyssey are "colored" images made through what was called the Photochrom process. Invented in 1889 by Hans Jakob Schmidt, the chief lithographer at the Swiss firm Orell Füssli Printworks, it was brought to America by one of their engravers, Albert Schuler, who went to work for the Detroit Photographic Company. Soon the company was mass producing colored images and the hundreds of examples reproduced in An American Odyssey are just a sampling of the thousands produced by Detroit Photographic during the period of 1888 to 1924.
The Photochrom process involved copying an original black-and-white negative onto multiple lithographic stones. These printing stones were then coated with transparent inks, one color per stone. When pressed against photographic printing paper, the color on the stone was transferred to the paper. Each Photochrom required a minimum of four stones; one for each color red, blue, yellow, and black. However most of them actually had 10 individually applied colored ink layers and some had as many as 14.
Because the images were made from large glass plate negatives Photochroms were very sharp. When combined with the delicate colors of the transparent inks the prints have a kind of hyper-reality. Skies are always pale blue and foliage is always soft green. City tenements are pastel browns and yellows and clothing is colorful but never too colorful; black have been banished. This makes gritty Western mining towns and Eastern urban ghettos equally enchanting and lyrical.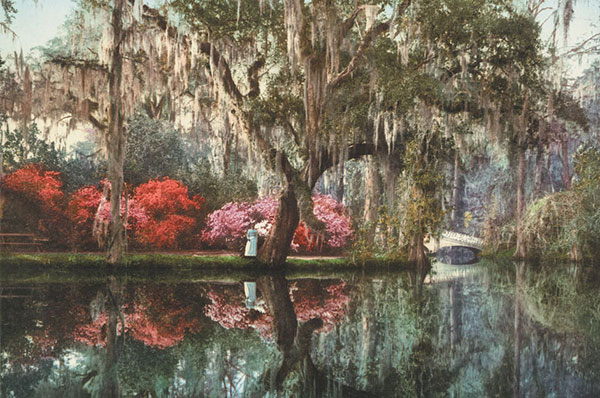 Despite this artificiality Photochroms must have had a powerful impact on turn-of-the century Americans. Aside from the occasional hand painted photograph, these were the first "color" images most people had ever seen of anything. Photochrom printed pages and albums were big sellers in cities and remote tourist locations alike. In the wake of their success and the 19th century demand for picture postcards, Detroit Photographic began printing small postcard versions of these images called "Phostints." These sold in the millions.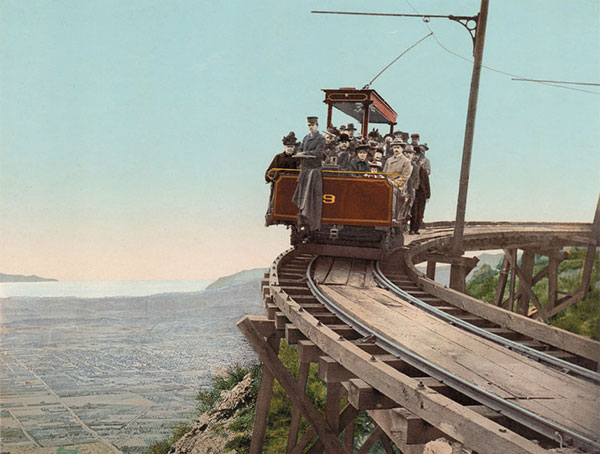 An American Odyssey is a massive visual experience and its hundreds of color images create a world of their own. With their wonderful muted colors and often humorous and odd subjects, they create a beautiful and impressive evocation of the optimism and the frivolity of turn-of-the-century "Belle Époque" America.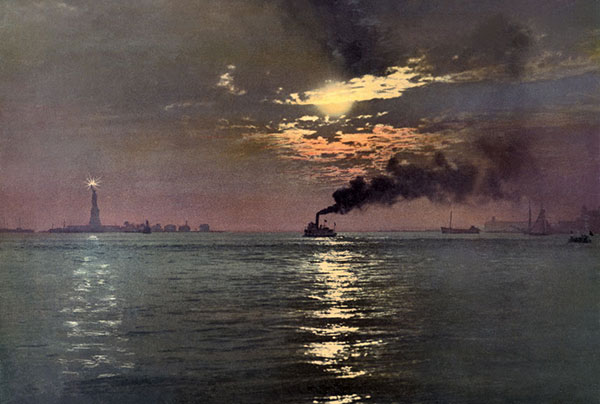 An American Odyssey by Marc Walter, Sabine Arqué. Hardcover, clothbound with jacket, with 6 fold-outs and ribbon bookmark, 29 x 39,5 cm, 612 pages, Taschen Press 2014. Top of Form Multilingual Edition: English, French, German $200/160€.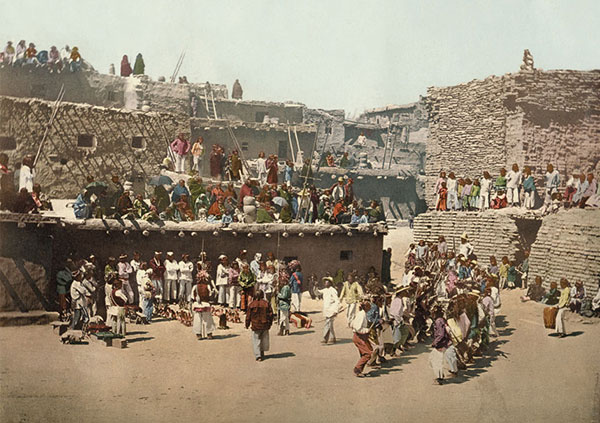 FEATURED VIDEO