David vs Goliath - Can This Portrait Editor Rival Adobe Giants?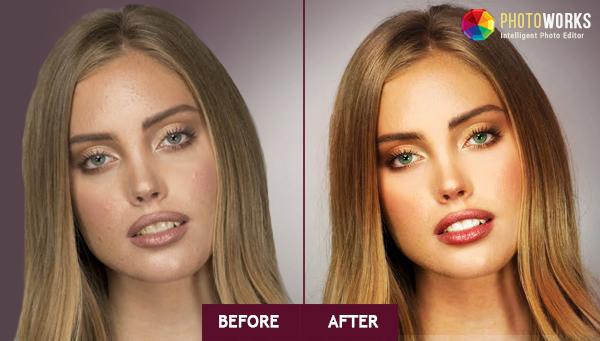 (Editor's note: This is a sponsored post.)
No human being is created perfect, and photographers probably know that firsthand. Still, everyone wants to look best in their portraits. That desire usually translates into hours of tedious retouching with Photoshop or the likes of it. Whether you are a fashion, an event, or a wedding photographer, you probably wish to make portrait enhancing a breeze. Well, there is software that can grant you that wish.
In this story, we'll be looking at PhotoWorks, a relatively new portrait editor that is quickly gaining recognition. Let's try out this software to see whether it can make the retouching process quick without sacrificing the end result. Possessing almost all the features of more renowned softwares, PhotoWorks is notably less demanding hardware-wise and can work just as smoothly even on a moderately powerful computer. Want to see this program in action? Let's take a flawed Raw shot - and turn it into a cover-worthy picture.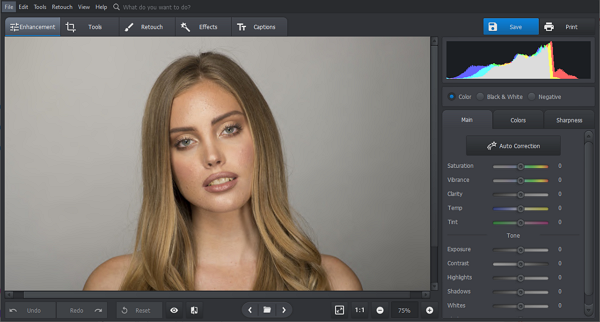 Cut Corners with Portrait Magic
Forget how you used to spend hours retouching portraits with masks and brushes and try an easy-to-use beautifying module called Portrait Magic. Harboring surprisingly efficient presets, it will instantly change your pictures, fixing the most common imperfections. Remove face shine, add a little tan, smoothen skin, whiten teeth - all done in one click. Let's apply the Glamorous Portrait preset to the picture in hand to instantly fix an array of flaws. You can see how the model's skin looks smooth and more even now. Her face loses its nasty glare and blotchiness without turning waxy. Note that we did nothing by hand, but rather let the content-aware AI do its job.
Touch Up with the Custom Settings
Even though the change is drastic, the portrait - like any other - can benefit from fine-tuning. This is when manual adjustment is called upon. Under the Custom settings tab you'll find multiple features that will help you perfect the model's face. A single slider drag allows you to whiten the teeth, remove dark circles under the eyes, add sharpness to the eyes and lips to make the face more expressive - all while keeping the model's look natural. What we are going to do now is to get rid of the remaining face shine, add a slight tan and make the teeth pearly white. Portrait photo editing hardly gets easier than that.
Do Wonders with the Healing Brush
Sometimes you have to deal with skin flaws that are out of reach for some tools, even as efficient as Portrait Magic. No sweat, however. PhotoWorks has the Healing Brush that can remove scars, blemishes, moles, face tattoos hassle-free. Use this nifty tool to erase any distracting and plain unflattering blemishes without a trace. All you have to do is to carefully brush over them and - boom! - the imperfections are gone, leaving only a fresh and smooth face. Granted, this tool might seem sub-par to a similar tool of, say, Adobe products in terms of swiftness, but it's nonetheless just as efficient in its result. Let's get rid of the little blemishes that still plague the model's face with just a few clicks.
Restore the Natural Look with Face Sculpt
The camera can be brutally honest, exposing every little flaw of our faces, but it also can sometimes lie. A wrong lens, an odd angle, or poor lighting can warp facial features right to the point that you can barely recognize them. This is when the Face Sculpt tool comes to the rescue. Driven by a content-aware AI, this tool allows you to slightly tweak the model's facial features to restore their natural look without turning them into a caricature. Slim the face, add a little smile, change the shape of the eyes, nose, brows, and lips with a single slider drag. And no, this software does not require a two-digit RAM to make it happen. Easy to apply, Face Sculpt is a great way to make your model look good in pictures. Isn't it what every client wants?
Masterpiece Out of an Ordinary Portrait Photo
Portrait photo filters can be a true blessing for those who want to artistically enhance their work. Imagine this - one click and your picture's mood and feel alter. PhotoWorks has 150+ effects that can keep you busy for days since you will be compelled to try each of them. Split into categories for your convenience, these filters will give your portrait a retro vibe, drastically change the picture's color palette or temperature, or turn it into a still frame from a movie with a recognizable color scheme. If the effect is too drastic, you can easily turn the volume down by dragging the amount slider. If you can't find an effect to your liking, just create one of your own.
What Other Tricks PhotoWorks Has Up Its Sleeve?
Perhaps, lacking some of the more advanced features of other industry mammoths, PhotoWorks still possesses an impressive range of capabilities that are not limited to mere portrait enhancement. This photo editor for portraits is rich in tools and features that allow you to turn any picture into a bona fide masterpiece. Transform your picture with content-aware auto correction, fix lens and perspective distortions, blur or change the background of your picture with just a few clicks. Style up your photo with 3D LUT presets, remove unwanted objects or digital noise from it. If you are a pro, make use of tone mapping and curves to really fine-tune your shot. All the tools, from basic to topnotch, are equally quick to master and easy to apply. PhotoWorks is a gift that truly keeps on giving.
Is PhotoWorks What You Have Been Looking For?
Granted, Photoshop and Lightroom are usually perceived as more sophisticated and powerful pieces of software. But even these programs allegedly aren't sinless. Demanding high-end hardware, being plagued by bugs, and just plain being intolerably slow - just to name a few issues. So why not try something different for a change, especially if you have no desire to fight technical issues, and would rather dedicate your time to something that you really love - shooting pictures?
Free from a stigma of being a Photoshop wannabe, PhotoWorks attempts to be a powerful trendsetting portrait photo editor in its own right. With its modest system requirements, clear interface, powerful tools, and content-aware AI, PhotoWorks is software that can be enjoyed by both new at portrait photography, and by seasoned pros. This portrait editor comes with a free trial version so that you can learn firsthand what a time savior it is. If PhotoWorks got you hooked, be sure to use this exclusive coupon to purchase this software at a 50% discount. Let the tedious retouching be a thing of the past with PhotoWorks!

FEATURED VIDEO