It's Back To School Time: New Tools For A New Semester Of Imaging
"Love goes toward love, as schoolboys from their books; but love from love, toward school with heavy looks."
—William Shakespeare (or whoever wrote all those plays)
At this time of year some Shutterbug readers are getting ready to go back to school while others, like me, feel they've already put in enough classroom seat time, but that doesn't mean we should stop learning. One of the best ways to improve your photography is the self-assignment. Many people think they need to travel to exotic locations to do this, when chances are there are great photo ops just around the corner. For the past 30 years my personal self-assignment has been making images near my home. How close? I prefer making photographs I can easily walk to from my front door. This self-assignment wasn't done for any commercial purpose and it's personal projects like this that help us stretch our talents, skills, and imagination. What's your self-assignment?
Video For SLRs
More and more these days, camera makers are touting the video capabilities of their SLRs. Heck, I recently bought a Canon EOS 60D and even though my review of the camera was less than enthusiastic, I purchased it mainly because of its high-quality video capabilities. How much SLR video do you personally shoot for fun or business? Drop me a note via the Contact page of my website (www.joefarace.com) and let me know.
To me, the biggest downfall of using an SLR for shooting video is the shape of a camera that has been designed primarily to capture still images, but more and more companies, such as VizTools (www.viztools.tv), are offering accessories that take the awkwardness out of shooting video with an SLR. The HandiZoom by VizTools is a combination handgrip and control unit designed for smooth zoom control and stable handheld shooting.
The controls include an ergonomic handgrip for stability with handheld video shots; a motorized zoom lens drive for zoom control and easy access to controls for zoom speed and direction; record start and stop; auto/manual iris and set iris; fine focus magnification; maximum zoom speed; set zoom range at lens change; and still photo shots. For fine focus, the HandiZoom's Magnify button lets you increase image size to 5x, 10x, and then back to normal view. If some of these features don't make sense for traditional still photography, they're indispensable for shooting video.
LensPen Is Mightier Than The Sword
I keep at least one LensPen in every camera bag that I own and find it to be an indispensable photographic accessory for keeping my lenses and filters clean. I was surprised to learn that LensPen (www.lenspen.com) has been around for 20 years helping photographers and outdoor enthusiasts keep their cameras, binoculars, and other optics clean. As digital capture replaced film, the company introduced new models to clean LCD screens, compact camera lenses, viewfinders, and filters.
Now, the five basic LensPen models that include the Original, DigiKlear, MiniPro, MicroPro, and FilterKlear are sporting a smaller and more stylish design. The cleaning surface used is still safe for all lens, filter, and preview screens.
The secret to the LensPen cleaning surface's long life (more than 500 cleanings) is a grease-cutting carbon compound that safely and effectively removes fingerprints from optics. It's similar to the one used in printer's ink, which is one reason why old newspapers have long been an effective way of cleaning windows and mirrors. A protective cap screws on to ensure that the carbon is replenished on the cleaning pad. Using a LensPen is simple: you use the retractable natural brush to remove any loose dust from the lens surface and then just gently rub with the flexible carbon tip. Voilà! It's clean.
Organize Those Cables
If you hate dealing with long, twisted, and messy cables when transferring data between devices, AViiQ's (www.aviiq.com) Ready Clips offer a convenient way of charging or transferring image data to and from any USB 2.0 to your Micro USB, Mini USB, and Apple dock devices. AViiQ Ready Clips have a stylish and minimalistic pen-sized design and are available for Micro, Mini, and Apple devices. Each Ready Clip measures 5.5x0.25" thick and weighs less than a half pound. They're bendable for easy storage and feature a clip that allows them to be secured to a pocket, strap, or notebook. AViiQ Ready Clips come with a 100 percent satisfaction guarantee and are available individually or in sets from $19.99 to $29.99.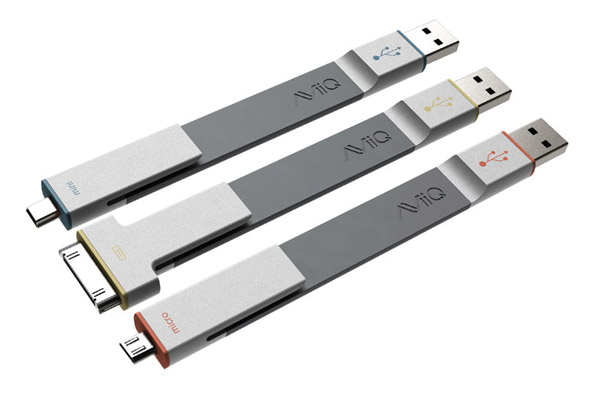 Zoner Photo Studio
Zoner Photo Studio 14 is a Windows-only image management and editing program that includes direct integration with the Zonerama.com photo-sharing website. When image editing, its features, such as clone stamping, curves, and redeye reduction, are enhanced in the latest version and new functions and tools have been added. Tone Mapping makes it easy for anyone to create scenes from even a single photograph by adding an element of HDR photography. The new Deform tool can be used for tasks like slimming a person's figure or facial adjustments. Fill with Surroundings can be used to remove an object from a picture, replacing it with its surroundings so you'd never know it was even there.
Zonerama is a web photo-sharing service that does little compression of photographs during uploading and users get their own easily edited web gallery. Zoner Photo Studio 14 PRO costs $69.99 and includes Raw capabilities, HDR, tone mapping, and batch photo processing. The HOME edition is $34.99 and offers 3D photos and panoramas, sharing on Facebook, Flickr, Picasa Web Albums, the web, and DVD presentations. A license to extend usage to all computers in a household costs $29.99. You can try a fully functional version of Zoner Photo Studio 14 free for 30 days by downloading it from www.zoner.com.
App Of The Month:
MonoPhix For iPhone And iPad
This month's Web Profiles column features four masters of monochrome photography and if you'd like to add a cool monochrome touch to your mobile photography take a look at MonoPhix (www.phoenxsoftware.com). The app gives total control over the intensity of the dark and light tones in your image, allowing contrast variations, two types of adjustable vignetting, and the ability to make the black-and-white layer transparent while layered over your original image to produce handcolored effects. MonoPhix has a vintage—it looks like wood—interface that's easy to use and gives you a preview of any changes. Its two main sliders let you separately adjust the intensity of dark and light tones and allow you to tone the finished monochrome image. MonoPhix has presets that allow you to quickly switch between black and white, sepia, or faded yellow antique. It also has a Grain Generator that lets you adjust the amount of grain to add the appropriate vintage look. The app is optimized for iOS 4 and costs 99 cents.