Yet Another Auld Lang Syne: What's Your Digital New Year's Resolution?
"It has taken me many years as an active image-maker to fully embrace the idea that the entire photographic process is an act of metamorphosis."—Jerry Uelsmann
Many people's New Year's resolution is to lose weight and since, as of this writing, I've lost 53 lbs, that's low on my list of possibilities. Last year in this column I announced a resolution to make a new photograph every day and post in a gallery called "2011 Photo of the Day" (http://farace.smugmug.com). If you visit it, you'll see that I've only partially succeeded. The project turned out to be much harder than I expected and only heightened my appreciation of some of the Picture-a-Day blogs and websites featured in Web Profiles during 2011. Instead, my 2012 New Year's resolution is to update all of my websites and blogs and I'm well on my way, including a long-overdue update to www.joefarace.com. In the meantime, you can draw some inspiration from the websites and blogs that are featured to kick off the New Year.
www.thomasleephoto.com
Thomas Lee works throughout the American West photographing the people and places that make this part of the world so "harsh, tender and dramatic," which can plainly be seen in the five portfolios of his well-designed website. Images can be viewed individually or as a slide show, so run the show first and then go back and examine the thorough craftsmanship that's evident in his work. This is most apparent in a mountainscapes section (Montanascapes) that introduces you to aspects of Montana not often seen in similar landscape photographs. Lee's images have a delicacy of touch and soft use of color that favors mood over form and are almost musical in their execution.
In Montanans he takes you on a tour of the faces of his state and while you'll see the inevitable cowboys, there are also strong insightful portraits of musicians and the everyday people who populate the state. In Rural Life he takes a photojournalistic view of the people and places—and animals—of Montana in fresh and unexpected ways. In Natural Textures he embraces monochrome, even when shot in color, with achingly beautiful photographs that show the quiet places and moods of his state. Lee tops it off with a look at Yellowstone, an iconic American experience, and photographs it at different times of day and seasons of the year, creating a subtle portrait of a special place. Thomas Lee's work features an artist's eye and as someone who knows his way around Montana, he takes you on a guided tour of the less traveled parts of his state and through his prodigious talent shares them with the rest of the world.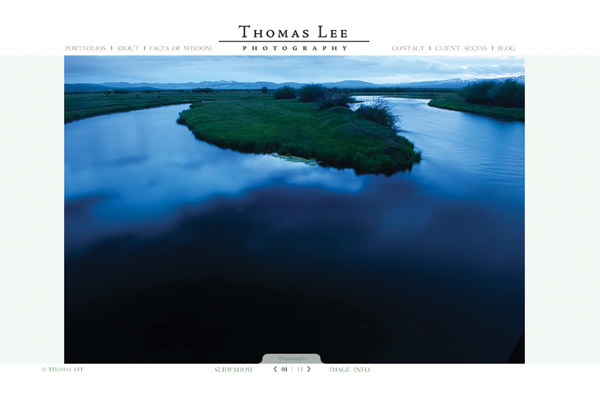 www.davewendt.com
Anybody who doesn't believe automobiles are not sculpture and that car photography can't be art needs to take a hard look at Dave Wendt's elegant site. His incredible-looking images are collected in five portfolios, four assignment areas, and four stock collections, including one on toy trains that shows the construction of a dream layout. But it's his cars that attracted me to Wendt's work and one glimpse at the images in Muscle Cars in the Assignments section should blow the mind of any car aficionado and make photographers sit up and take notice on how they are impeccably lit, styled, and captured. Click on Slideshow and prepare to be amazed. Nobody has created images of iconic cars like this—nobody.
Similarly, take a look at the images in any one—preferably all—of the three Car collections in his Portfolios and the astonishing looks he has produced. Corvette fans will want to check out the Vettes portfolio, especially the image of a 1953 model in a garage filled with Corvettes (I'm guessing) with that model being the only one not covered, but lit by spotlight. Wow! Want to see Wendt at work? Take a look at Back Stage for interesting production shots of him photographing a Ferrari Enzo in a forest demonstrating the multiple exposure techniques he used to create this image. In Profile, Wendt says he's "developed unique lighting and post-production techniques" and looking at the photograph of him working seems to indicate he's doing some kind of "painting with light," but who knows, the results speak for themselves and they speak loud and clear: Dave Wendt is the finest car photographer working today.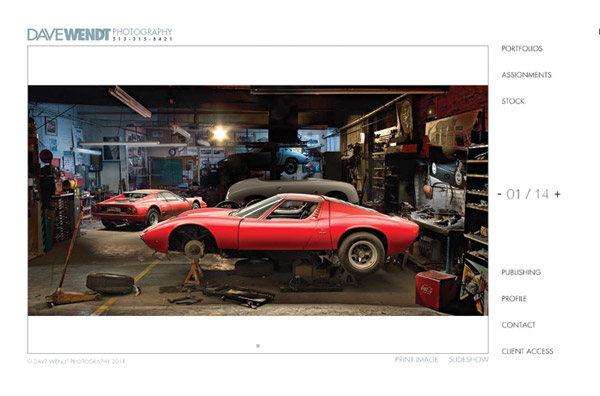 www.ghillphotography.com
The Shutterbug reader's website this month belongs to Gerald Hill whose breathtaking images in either black and white or color are displayed on a Joomla-based website (www.joomla.org). There are three galleries here, each separated into monochrome or color collections. The black-and-white version of Abstract/Contemporary features architectural images of beautiful and not-so-beautiful structures, yet even those not quite Architectural Digest interior and exterior images are lovingly captured with an amazing eye for detail and a total grasp of his craft. When shifting to color in Abstract/Contemporary, Hill changes style only slightly, making color part of the composition and making the images, well, a bit more abstract, yet also softer, more rounded, and lacking the hard edges found in his monochrome work.
In Classic Americana, Hill's images continue to impress using architectural images and sometimes, as in "Car Crossing Rio Grande River," making architectural photographs out of subject matter that could only be remotely called architecture. There are only a few images in his color collection but they are well worth a look. They are quite different from the formality of his monochrome imagery. When you get into Traditional Landscapes, the black-and-white photographs there are truly astounding and their composition and lighting define what a great landscape image should look like. We've all seen images of Yosemite, but you've never seen it as in "Light Dances in the Valley" that is a magnificent tribute to nature as well as Hill's artistry. In color, his style shifts to accommodate the media, yet Gerald Hill's ability to take even a quiet natural moment, as in an untitled woodland scene—or his aspen trees—elevates the landscape genre from just pretty pictures to images that make a statement.
http://blog.batdorffphotography.com/blog/
This month's Blog-of-the-Month is from John Batdorff, who wrote Nikon D7000: From Snapshots to Great Shots as well as Black and White: From Snapshots to Great Shots. Not surprisingly, his blog is full of black-and-white images and great shots but instead of the linear format used by most blogs, the design of Batdorff's blog uses a moving window of thumbnails that lets you scroll through and pick out topics of interest. Most blog posts, like "Elephant Ears, Corn Dogs and 4H Barns = Good Times," feature text that illuminates but does not overpower his extremely well-crafted images. In this post he uses monochrome photographs to focus the viewer's attention on the real subject of the image, not its ephemera.
The blog's clever design sometimes behaves like a website, offering drop-down menus from various categories giving you access to all aspects of the blog, including galleries. I had to poke my nose in there to look at a few. Clicking the thumbnail for a specific category opens an interface that lets you look at the photographs by flipping through them or viewing as a slide show. There's Black and White, natch, so I decided to look into his HDR collection and while there are only a few images, such as "HDR of a tree in Montana," they are impressive. For a change of pace I peeked into Batdorff's India collection and was rewarded with beautifully subtle images that combine the genres of portraiture and travel photography with his graceful use of color and composition. Whether it's black and white or color, Batdorff is a talented photographer who is able to handle a variety of situations with an artful eye and an abundance of talent.