Year-End Wrap-Up
New 35mm SLR Cameras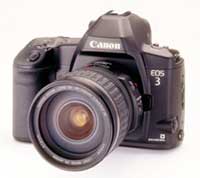 As the economy improved in 1998, the market was ready for new and improved SLR cameras in 1999. And the manufacturers delivered, with emphasis on two categories: "Pro" models packed with every capability imaginable and entry-level cameras that are simpler to operate than previous versions.

New Pro Canon. Although the EOS-3 was briefly mentioned in our "Best Of 1998" issue, that coverage was based only on a preliminary press release. Since then, I have had an opportunity of testing this ultrahigh tech model and becoming more familiar with its many innovations. The most significant is the entirely new "Area AF CMOS Sensor" the heart of a more effective autofocus system with an extremely large (15x8mm) 45 point focusing area with Eye Controlled AF.

Previously, autofocus SLR cameras used the more conventional CCD (Charge Coupled Device) AF sensors, and these were indeed very effective with the earlier systems. However, for maximum efficiency with the 45 point system of the EOS-3, an entirely new approach was required. Canon engineers switched to CMOS (Complemen-tary Metal Oxide Semiconductor) with 10,724 pixels, some 30 times more than the pixels in the Multi-BASIS CCD sensor system of the EOS-1N. The pixel size was reduced to 1/4 of those found in the EOS-1N to maintain excellent autofocus response in low light and in low-contrast situations.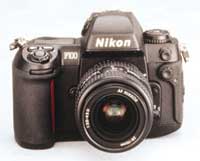 As well, the central focus detection point maintains its cross-type operation, ensuring quick focus on patterns of any type, with lenses that have a maximum aperture of f/4 or larger. (The EOS-1N maintained cross-type detection only with lenses of f/2.8 or faster.) Autofocus operation--employing the central sensor with horizontal-line AF--is maintained even with a maximum aperture of f/8 so that autofocus is maintained with many EF telephoto lenses even when a tele-converter is used.

The EOS-3 also includes numerous other capabilities: 32-bit microcomputer for faster eye controlled focus response; seven cross-type AF sensors; two CPUs that operate at double the clock speed of those in the EOS-1N; higher autofocus speed; a 21 zone evaluative metering system plus five other options including multi-spot metering; 7 fps film advance with the new Power Booster E2 in manual and autofocus; extremely sophisticated and versatile flash metering with 21 metering zones; additional flash capabilities; reflex mirror pre-lock; and all the operating modes, 18 custom functions, moisture and shock resistance, etc. that you would expect from a pro Canon camera.

After testing the EOS-3, I wrote the following summary. "Designed to entice the working professional, the EOS-3 system will also appeal to advanced photo enthusiasts, particularly those who want the latest technology, extra features, and more speed. Far more than a series of high capacity computers, the new camera with its accessories, provides incredible flexibility in real world photography. The additional creative options of the EOS-3 should augment the photographer's ability to capture the decisive moment."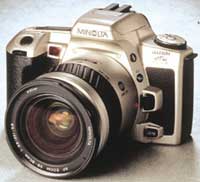 Rebel With A Cause. The EOS-3 garnered all the headlines for Canon this year, but the new EOS Rebel 2000 is every bit as impressive considering its modest price. A handsome camera, the new model is competitive with the more expensive EOS Elan II.

The two most impressive features are the seven point CMOS autofocus system (less complex than that of the EOS-3) and the 35 zone evaluative metering system but there's plenty more in addition to the familiar 10 operating modes. You'll find improved low-light autofocus response; faster (1.5 fps) film advance plus mid roll rewind; depth of field preview; autoexposure bracketing; advanced E-TTL auto flash, high-speed synch, and flash exposure lock with EX-series Speedlites; 35 zone evaluative flash metering; superior focus assist and redeye reduction Krypton light; and a slightly smaller/lighter body when compared to the Rebel G.

In spite of all the extra capabilities, I found the Rebel 2000 as simple and intuitive to operate as its predecessors. But it proved to be a more effective photographic tool, with and without flash, especially when used with the EX-series Speedlites. Not merely an SLR intended for the beginner, the EOS Rebel 2000 is an entry-level model that should continue to satisfy its owner for years, even as his or her skills and needs increase.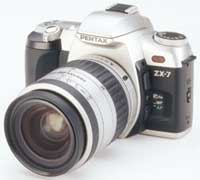 Affordable Maxxum Trio. This year, Minolta released several models, starting with the STsi and HTsi Plus with the new style controls and the budget-priced QTsi that offers a combination of new and old controls.

The HTsi Plus is an upgraded version of the HTsi with a new silver metallic finish. Otherwise it's identical to the HTsi but with two significant additions: wireless off-camera TTL flash control and a terminal that accepts a remote control cable for tripping the shutter without creating shake. Naturally, the Maxxum HTsi Plus maintains all HTsi capabilities: three point autofocus sensor (with the central point cross-hatched); continuous predictive follow focus; numerous operating modes; 14 segment Honeycomb pattern plus spot metering; the usual overrides; high-speed synch with certain Maxxum flash units; a full nine custom functions; and more.

The Maxxum STsi was announced just before the deadline for this issue. This camera, with silver metallic finish, is an entry-level model but is well specified, with all the essentials for taking good pictures. You'll find six program modes plus the semiautomatic and manual modes; spot and eight segment Honeycomb pattern metering; exposure bracketing and compensation; single shot and continuous predictive autofocus with central sensor, remote release terminal, and wireless remote (off-camera) TTL flash control with certain Maxxum flash units. High-speed synch is not available and the top synch speed is 1/90 sec. Maximum film advance is 1 fps and the top shutter speed is 1/2000 sec (vs. 1/4000 sec for the more expensive models) but both are adequate for most subjects.
One of the smallest/lightest SLR cameras in the world, the STsi omits advanced features that some find complicated; consequently, it handles more like a compact lens/shutter camera than most SLRs.

Minolta intentionally omitted manual and semiautomatic modes as well as overrides. Instead, they provided a full automatic programmed AE mode plus five subject specific programs. Other necessities are included, too: true Through The Lens viewing; self-timer; wide-area autofocus with continuous predictive AF for moving subjects; focus assist illuminator; 1 fps motor drive; multi-segment metering system; AE and AF lock; and multimode automatic pop-up flash. Surprisingly, it even includes wireless remote TTL flash control capability with certain Maxxum flash units. The QTsi certainly seems like a camera that would be a fine gift for someone who previously considered an SLR "too complicated."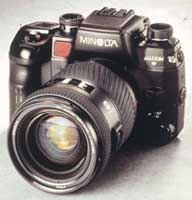 Professional Maxxum System. In some countries, many professional photographers shoot with a Minolta system. This trend deserves to reach North America, too, especially since the advent of the Maxxum 9: the ultimate pro camera from this manufacturer.

All of the characteristics required in a true pro camera are built-in: reflex mirror lock-up with the self-timer; an extremely rugged chassis with stainless steel, aluminum, and zinc components; excellent dust and moisture resistance; high-speed continuous predictive autofocus capable of keeping up with 4.5 fps film advance; a built-in 5.5 fps motor drive; the highest available shutter speed (1/12,000 sec); a full 1/300 sec flash synch speed plus higher speed synch with certain Maxxum flash units; a new (extremely bright/contrasty) viewfinder that offers a 100 percent field of view; exposure bracketing up to seven frames, in various increments; flash exposure compensation, two large mechanical knobs for quick access to some functions; shooting data storage memory for seven rolls and computer uploading capability; 21 custom functions to tailor the camera to personal preferences; and a great deal more.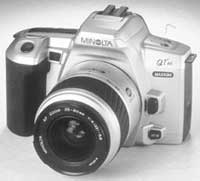 This is the only current pro camera with built-in flash, sure to be appreciated in close-up work. Naturally, Minolta has included the very best of the features from its other cameras, too. These include: three CCD autofocus sensors (one cross-hatched for greatest reliability); eye-start automation; four segment flash metering, 14 zone ambient light metering, plus center-weighted and spot; all the usual operating modes and overrides; diopter correction eyepiece; the ability to use various battery types; full information data panels; remote control terminal; depth of field preview plus screw-in PC cord terminal for studio flash systems.

There's a lot more to this camera than we can cover in a few words; check for additional information on the Minolta web site or request an informative brochure.

Professional Nikon. Photographers who consider the F5 to be too large, heavy, and expensive should love the new Nikon F100, a more compact/affordable body that shares much of the flagship's innovations. Although some F5 capabilities were not included, the F100 is an extremely versatile, high tech camera in its own right with a rugged magnesium alloy chassis, well sealed against dust and moisture. Naturally, it includes the latest multimode autofocus technology with five (three cross-hatched) focus detection sensors, overlap servo, lock-on and dynamic AF technology like the F5. High-speed tracking focus operates at a film advance rate up to 5 fps.

The most significant other capabilities include: 10 segment 3D matrix metering plus center-weighted and shiftable spot metering; intelligent multi-sensor balanced fill flash with compatible Speedlights and high-speed synch (to 1/4000 sec) capability with SB-28; numerous other flash modes; wireless off-camera flash with an accessory; five segment TTL sensor; improved controls; numerous operating modes, overrides plus AE and flash exposure bracketing; 22 custom settings; depth of field preview; and a great deal more plus many accessories including remote control devices, a vast range of lenses, Ni-MH battery pack, and multiple power sources. The F100 is also compatible with the Photo Secretary II accessories for data download to a personal computer.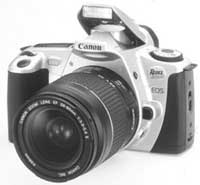 During my tests of the Nikon F100, I was impressed with all facets of this camera, particularly its highly effective, accurate, and versatile autofocus system. Especially with the new Silent Wave (AF-S) lenses, AF performance was almost on par with the F5, one of the top-rated models. The exposure metering system of the F100 (even without the RBG Color Evaluation system) proved to be almost infallible except with very difficult lighting situations. Then, I switched to more personalized control or AE bracketing. Since the F100 uses the same--superb and incredibly versatile--flash metering system as the F5, it offers accurate, predictable, beautiful, and highly controllable exposures with flash.

A new F100 owner--whether working pro or advanced hobbyist--will continue discovering useful capabilities for months. Called a "professional entry-level camera" by Nikon, the new model combines the most useful technology, automation, and overrides with uncomplicated operation.

Entry-Level Pentax. This fall, Pentax announced another addition to its ZX-series of cameras, the entry-level ZX-7. Billed as "super compact" the specs confirm that this is indeed a very small camera, likely to appeal even to those who now use a point-and-shoot lens/ shutter model. (We have yet to test this new model but hope to do so soon.)

Designed for maximum simplicity unlikely to intimidate even the novice, the ZX-7 is primarily intended to be used in one of the five program modes. The built-in flash pops up and fires automatically when necessary offering fill-in flash outdoors and full flash in darkness; redeye reducing pre-flash is also available. Correct focus is assured with a three point, wide-area autofocus sensor system, employing the successful SAFOX IV system of the ZX-5N. Should the subject begin to move, continuous predictive follow focus is automatically activated.
Once the owner is ready to progress to the next step, he or she will notice the other useful capabilities: 2 fps motor drive; semiautomatic and manual modes; remote control terminal for an optional cable release; full information data panel in the viewfinder and on the exterior; multiple-exposure mode; exposure compensation and AE lock; plus diopter-correction eyepiece. Panorama mode can be selected, too, and the viewfinder is masked to show only the actual image area. Exposure metering is achieved with the familiar Pentax six-segment multi-pattern metering system when AF lenses are used.

The ZX-7 would be great for someone first moving up from a more basic K-mount camera, because it accepts the manual focus lenses, though with some limitations.

Manual Focus Phoenix. Not everyone needs or wants an autofocus camera, so several manufacturers still offer manual focus models. The most recent is Phoenix Corp. of America's Phoenix P1 available in black and in titanium color and its sibling, the Phoenix P2, is in black and in "gold tone." Some publications have called these models "bare-bones SLRs" and indeed, there are few bells and whistles.

Fortunately, many photographers still want a no-frills camera, particularly students who want to learn the concepts without the assistance of extensive automation. Well, they'll love the P1, a model that includes only a metered manual mode. This requires the user to select both aperture and shutter speed, and provides full control over exposure, depth of field, and the depiction of motion. The shutter is fully mechanical (with speeds from 1 to 1/2000 sec) so it will operate even without battery power. Naturally, the light meter requires batteries: two LR44 button cells.

The list of other specifications is brief: hot shoe with X-contact; PC cord socket for most any type of flash system; flash synch at 1/125 sec or slower; split image focus aid; exposure warning LED lights in the viewfinder; and center-weighted TTL metering. Film advance is as quick as your thumb can operate the full-stroke lever, because there is no built-in motor drive or an accessory. Nor will you find extras like depth of field preview, self-timer, spot metering, etc.

The Phoenix P2 is a nearly identical model but uses an electronic metal focal plane shutter so it does require batteries. However, shutter speeds may be more accurate and longer exposures are possible, as long as 6 sec in the Aperture Priority AE mode. Both cameras sport a polycarbonate chassis with metal lens mount and tripod socket plus a solid glass penta-prism.

They accept a vast range of optics: any lenses with the familiar K-type bayonet mount from Phoenix or others. The P1 and P2 are not models you would buy to impress the neighbors, but they are cameras you might recommend to friends who want to learn all the basics of photography.

FEATURED VIDEO