XPan Scans; Tips And Tools For Digitizing Panoramic Film Page 2
The ArtixScan 120tf automatically recognizes the type of holder being used, whether 35mm slide, 35mm filmstrip, or 120, but it needs a nudge from the software to determine if it's a panorama. Microtek bundles LaserSoft Imaging's SilverFast Ai 6 that includes SRD (dust and scratch removal), GANE (grain and noise reduction), and NegaFix for real-time negative film optimization. I always use NegaFix because of its built-in film profiles, but don't often use the dust and scratch removal because it slows the scanning process and I worry about softening the scan.
Microtek ArtixScan 120tf.
Scanning Workflow Tips And Tools
My panoramic workflow is simple: After scanning, instead of using any kind of software dust and speck removal tool, I prefer to do my own spotting using Photoshop CS2's Clone Stamp and Healing Brush. Sure, it's slower, but it gives me total control over what and how an image is retouched. The image is then tweaked by adjusting Levels (Image>Adjustments>Levels) or Curves (Image>Adjustments>Curves) and finally sharpened using PixelGenius' PhotoKit Sharpener. This Photoshop compatible plug-in creates a separate sharpened layer (or layers) so the original image remains untouched as the background layer. I save the file as a PSD file to retain all of the layers. Any other retouching later on is performed on a flattened (Layer>Flatten Image) copy of this file, which is then saved as a TIFF file.
The Microtek ArtixScan 120tf's three hot swappable film holders include a four-frame 35mm slide holder, a six-frame 35mm filmstrip holder that also accommodates two strips of 35mm panoramic film, and a medium format holder.
Scan The Horizon
The Horizon 202 incorporates a curved film plane and a 28mm f/2.8 rotating lens. It offers six shutter speeds from 1/2-1/250 sec and six aperture choices from f/2.8-f/16. The Horizon 202S has the added shutter speed of 1/500 sec. The angle of coverage is 120Þx45Þ and an optical viewfinder shows you almost (notice emphasis) exactly what you'll get on the film. A level in the viewfinder assures accurate horizontal positioning of the camera. Both cameras use 35mm film and produce a 24x58mm format image, delivering 22 photographs on a 36-exposure roll of film.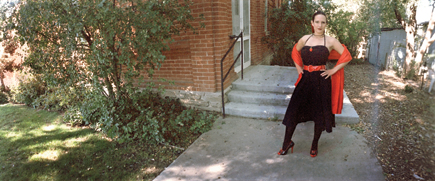 Colorado model Toni Michelle has a delightfully retro look and using the wide format possible with the Horizon 202 gives new meaning to the "Rule of Thirds." Image was shot with Kodak color negative film, processed (only) at Wal-Mart, and digitized using Epson's Perfection 4870 PHOTO
flat-bed scanner.
Manufacturers/Distributors
Adobe Systems Inc.
345 Park Ave.
San Jose, CA 95110
(800) 833-6687
(408) 536-6000
www.adobe.com
Epson America, Inc.
3840 Kilroy Airport Way
Long Beach, CA 90806
(800) 463-7766
(562) 981-3840
www.epson.com
Falcon Safety Products, Inc.
25 Imclone Dr.
Branchburg, NJ 08876
(908) 707-4900
www.falconsafety.com
Hasselblad USA Inc.
10 Madison Rd.
Fairfield, NJ 07004
(973) 227-7320
www.hasselbladusa.com
www.xpan.com
Kiev USA (Horizon)
248 Mill St.
Greenwich, CT 06830
(203) 531-0900
www.kievusa.com
LaserSoft Imaging, Inc.
546 Bay Isles Rd.
Longboat Key, FL 34228
(941) 383-7496
www.silverfast.com
Microtek
16941 Keegan Ave.
Carson, CA 90746
(310) 687-5800 (Main)
(310) 687-5940 (Customer Service)
www.microtekusa.com
PixelGenius, LLC
624 West Willow St.
Chicago, IL 60614
www.pixelgenius.com

LATEST VIDEO

SPONSORED VIDEO
Testing Tamron's SP 150-60mm G2 lens while capturing birds and alligators in Apalachicola, Florida.